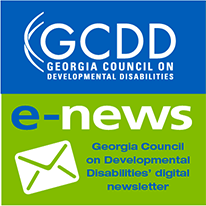 A Digital Newsletter from the Georgia Council on Developmental Disabilities • December 2019

---
In This Issue: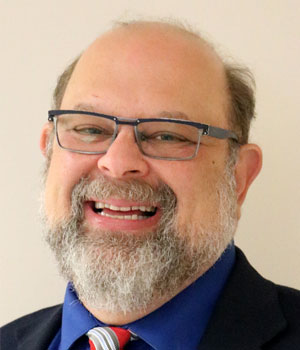 A Message from the Executive Director
It seems like everywhere we turn, politically themed images are staring us in the face. They're on TV, social media and billboards. We can't escape them. We are in the middle of a presidential campaign, and in Georgia, the beginning of a campaign to elect every member of the Georgia General Assembly and members of US Congress. Regardless of party affiliation, politics are indeed everywhere.
GCDD has also been everywhere this fall. In fact, there has been a lot going on in our community since my last column. First, we helped get the word out about a series of family forums hosted by the Department of Behavioral Health and Developmental Disabilities (DBHDD) across the state. During the forums, DBHDD heard from the constituents about services for people with intellectual and developmental disabilities. Next, hundreds gathered in Athens for the Georgia APSE 2019 Training Conference to discuss increasing employment opportunities for people with disabilities in Georgia.
Finally, GCDD has been hard at work planning for the 2020 legislative session and subsequent elections. Since politics is slated to be at the forefront of the national and statewide stages in 2020, we are preparing for a big year. One of the ways in which we are preparing includes the return of Advocacy Days. Be sure to read more below about how to get involved at the Capitol, starting in January.
As another way to gear up for elections, GCDD was recently invited to participate in a discussion about people with disabilities and the ability to vote. Many are concerned that moving to strictly paper ballots will make voting inaccessible to many people with disabilities. For example, if you can't see what's on the paper, reach the paper or write on the paper, then how can you vote?
The introduction of electronic ballot machines years ago meant that many people with disabilities could vote for the very first time without assistance. Still, others say that these machines are not secure and vulnerable to cybersecurity threats such as hacking. I am not adequately convinced of a solution, but I do know that we must continue the work of making sure that anyone, including individuals with disabilities who want to vote, are able to do so. We must also be mindful that many people with disabilities want to do this independently and not with the assistance of someone else.
This is an important time for all of us to make our voices heard. Make sure you are registered and prepared to vote, regardless of how difficult it may seem. This is your chance to have your voice heard. (Tip: Check your voter registration status, apply for mail-in voting, find your polling location and more via the Georgia Secretary of State's My Voter Page.)
Check out GCDD's website and join our advocacy network so that you can stay informed. We hope you enjoy reading this newsletter. Let us know your thoughts and comments about the magazine by writing to Managing Editor, Hillary Hibben, at .
---
Public Policy for the People: 2020 Advocacy Days are Here!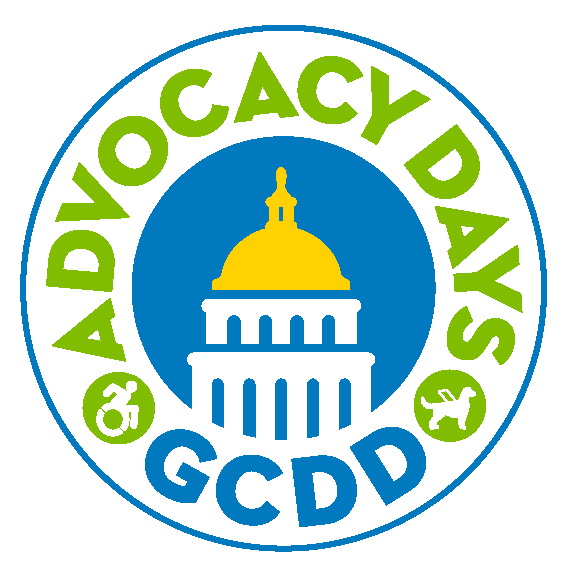 Public Policy for the People provides public policy updates as it pertains to people with disabilities here in Georgia.
MARK YOUR CALENDARS for 2020 Advocacy Days: January 29, February 6, February 19, February 27 and March 11!
Join GCDD at the Capitol during the 2020 legislative session to learn about policies affecting people with disabilities, and join advocates from across the state in speaking with elected officials about these very important issues. We need your help to educate Georgia's lawmakers about topics that affect our community.
What to expect at each Advocacy Day: Each day kicks off at 8 a.m. at the Central Presbyterian Church, across from the Gold Dome, where leaders from GCDD and other organizations will train and teach advocates how to approach legislators, make connections and discuss the topics that are important to you. After the interactive training, advocates and leaders will head over to the Gold Dome to meet with legislators.
Become a Team Lead for Advocacy Days
GCDD is seeking team leads for its 2020 Advocacy Days! Geared at preparing advocates to take a leadership role at the annual advocacy event, team lead volunteers will learn how to navigate the Georgia State Capitol and support attendees in speaking with their legislators. This is a great opportunity for anyone interested in honing their advocacy skills and leading others to raise their voices!
Team leads will earn $100 per each Advocacy Day for which they volunteer. Each individual must complete one training and fulfill all the responsibilities as determined by GCDD's public policy team.
---
Meet Our New Intern, Kayla Rodriguez
GCDD is thrilled to welcome Kayla Rodriguez to our team! As an intern in our communications and public policy departments, Kayla assists leadership on such initiatives as content creation, administrative support and more.
Earlier in 2019, Kayla participated in GCDD's 2019 Advocacy Days where she learned about public policy issues, as well as how to identify and build relationships with her legislators. It is during this experience that she also learned more about problems facing the disability community and how people can advocate to solve them.
"My experience during Advocacy Days really helped lay the foundation of what I'd be doing in my internship," Kayla said. "I left that experience feeling equipped and prepared to advocate for change."
Overall, Kayla has worked professionally in disability advocacy for three years. She became familiar with the world of disability advocacy through the Autistic Self-Advocacy Network (ASAN) and hopes to work toward improving the lives of future generations.
Prior to joining GCDD, Kayla collaborated with some of Georgia's most prominent leaders in the disability community. After high school, she joined the Bobby Dodd Institute's Ambassador Program where she trained under disability advocate Kylie Moore. Through this program, Kayla met Mark Crenshaw, a director at the Center for Leadership in Disability at Georgia State University. She worked alongside Mark as a participant in the Georgia Leadership Education of Neurodevelopmental Disabilities Program (GaLEND). Through GaLEND, Kayla was introduced to My Voice. My Participation. My Board, a leadership and advocacy program, where she trained under training and advocacy specialist Molly Tucker.
Kayla continues to hone her leadership skills as the vice president and chief ambassador of Autistic Self-Advocacy Atlanta, an affiliate group of ASAN. She is also involved with the Atlanta Autism Consortium and co-created the Emory Patient-Centered Outcome Research Institute on Young Women on the Autism Spectrum Group with Dr. Susan Brasher from Emory University.
Originally from New York, Kayla lived in Florida and Virginia before settling in Georgia nearly seven years ago. Outside the office, Kayla enjoys video games, animation, rock/indie music, YouTube and hanging out with friends.
"My favorite part of being at GCDD is how kind and understanding everyone is and how calm the work environment is," said Kayla. "I'm excited to be an intern here and look forward to making a difference!"
---

GCDD Honored by BELL Academy
In a hotel conference room sprinkled with a selection of non-visual toys and adapted board games, Raveena Alli typed out her name on a braille typewriter. Alli, a 13-year-old student mentor, started attending the BELL Academy to practice braille literacy skills when she was four years old. She was wearing a Ruth Bader Ginsberg shirt at the National Federation of the Blind of Georgia's (NFBGA) 2019 state convention.
"There are things you do differently as a blind person," Alli said while she demonstrated. "Things you wouldn't even think about as a sighted person."
On Oct. 5, the NFBGA honored the Georgia Council on Developmental Disabilities (GCDD) as a platinum-level sponsor and consistent supporter of the BELL Academy at its 2019 state convention in Augusta. BELL stands for "braille enrichment for literacy and learning," and the academy is a week-long, immersive summer program that offers blind and low-vision young people a social and educational environment to learn fundamental literacy skills.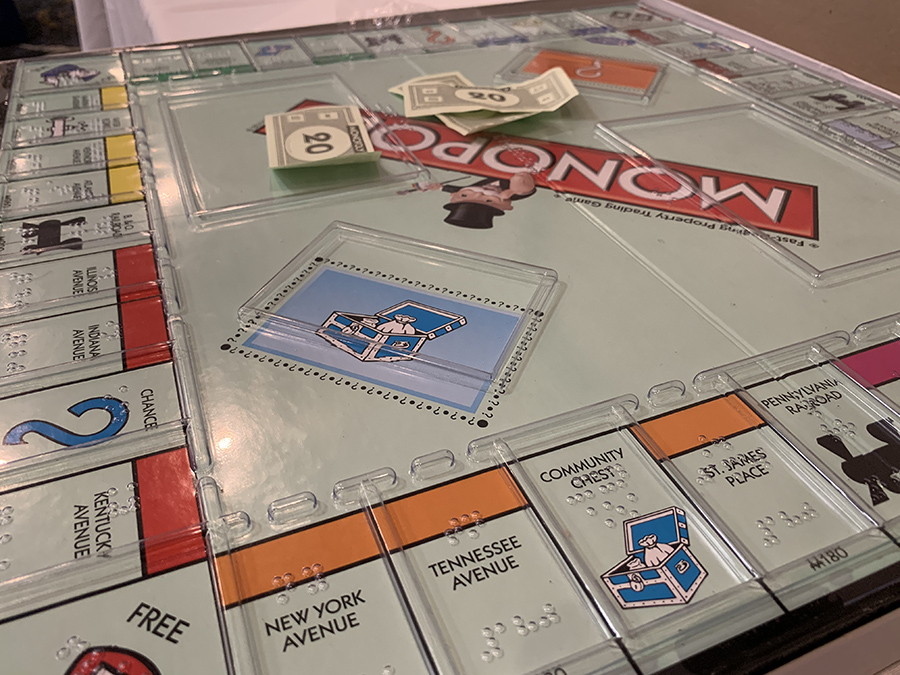 Monopoly Board adapted for use by the blind.Seventeen students attended the NFBGA's 2019 BELL Academy, which took place at Columbus State University this summer. Braille literacy and other non-visual skills have a profound effect on blind people's abilities to learn, work and live fully. The residential camp includes a rigorous academic program, but organizers also make time for field trips, socialization and fun — all meant to build self-confidence and self-determination.
GCDD is involved with the funding and coordination of efforts like BELL across the state. Students get to keep most everything they are provided with during the program, including games and tactile sketch pads that help students conceptualize and learn by drawing. While recognizing GCDD at the convention with a speech and plaque, Jackie Anderson, an instructor of blind students at the NFBGA who created the first BELL Academy in Maryland, stressed the work and funding that makes the program possible. Anderson called the council a friend who answers calls for help in a big way.
"Thank you for helping us provide our students with the skills they need so they can live the lives that they want," Anderson said.
Cheers and applause for the students, donors and organizers filled the room, and the small audience briefly seemed much larger. Community partnership is crucial to the BELL program's continued existence, level of service and growth.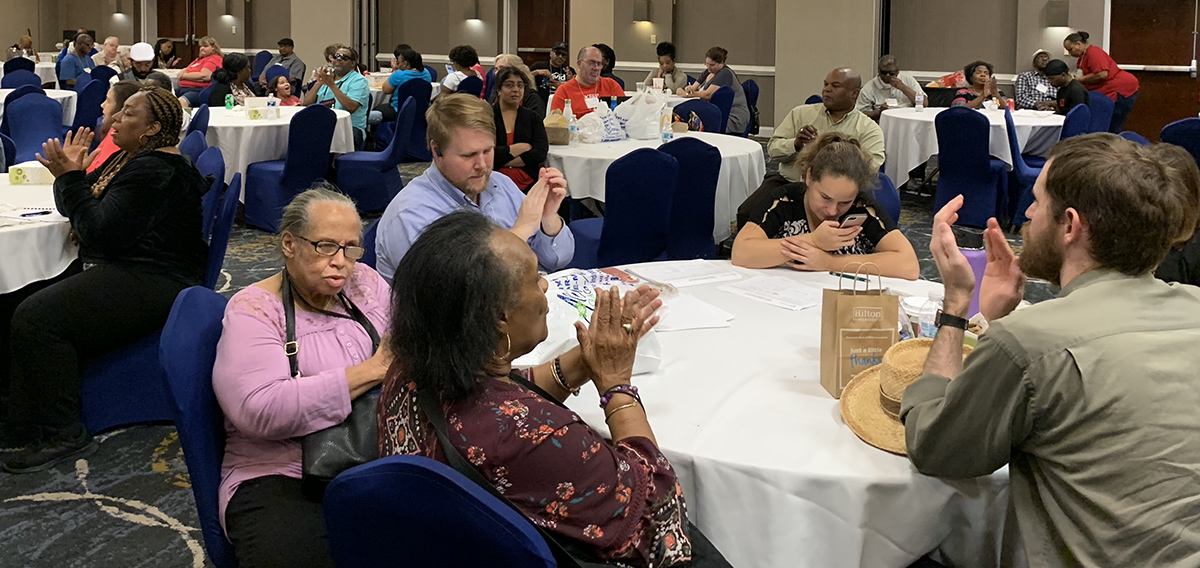 The crowd applauded as NFBGA honored the Georgia Council on Developmental Disabilities (GCDD) as a platinum-level sponsor and consistent supporter of the BELL Academy at its 2019 state convention in Augusta.Alli is too old for BELL now, but she continues with the program through BELLX, a local extension of the program where students continue their education and mentor their peers. Alli says that many blind kids don't get access to the same level of resources and individualized instruction during the school year, and she appreciates BELLX for the chance to be with her peers and make a difference in younger kids' lives.
"You need to have empathy, confidence and advocacy skills because the expectations for blind people right now are so low," said Alli. "This gives us a chance to not only be proficient ourselves but take those things that we're learning and use them for the greater good — to help younger kids who still have to learn braille."
---
Feeling Heard: Georgia Family Forums Achieve Their Goal
With the goal of gathering feedback from residents about the services they or their family members with intellectual or developmental disabilities (I/DD) receive, the Georgia Department of Behavioral Health and Developmental Disabilities (DBHDD), Division of Developmental Disabilities organized five public forums in September and October.
A total of 384 people attended the forums held in Marietta, Lawrenceville, Macon, Savannah and online.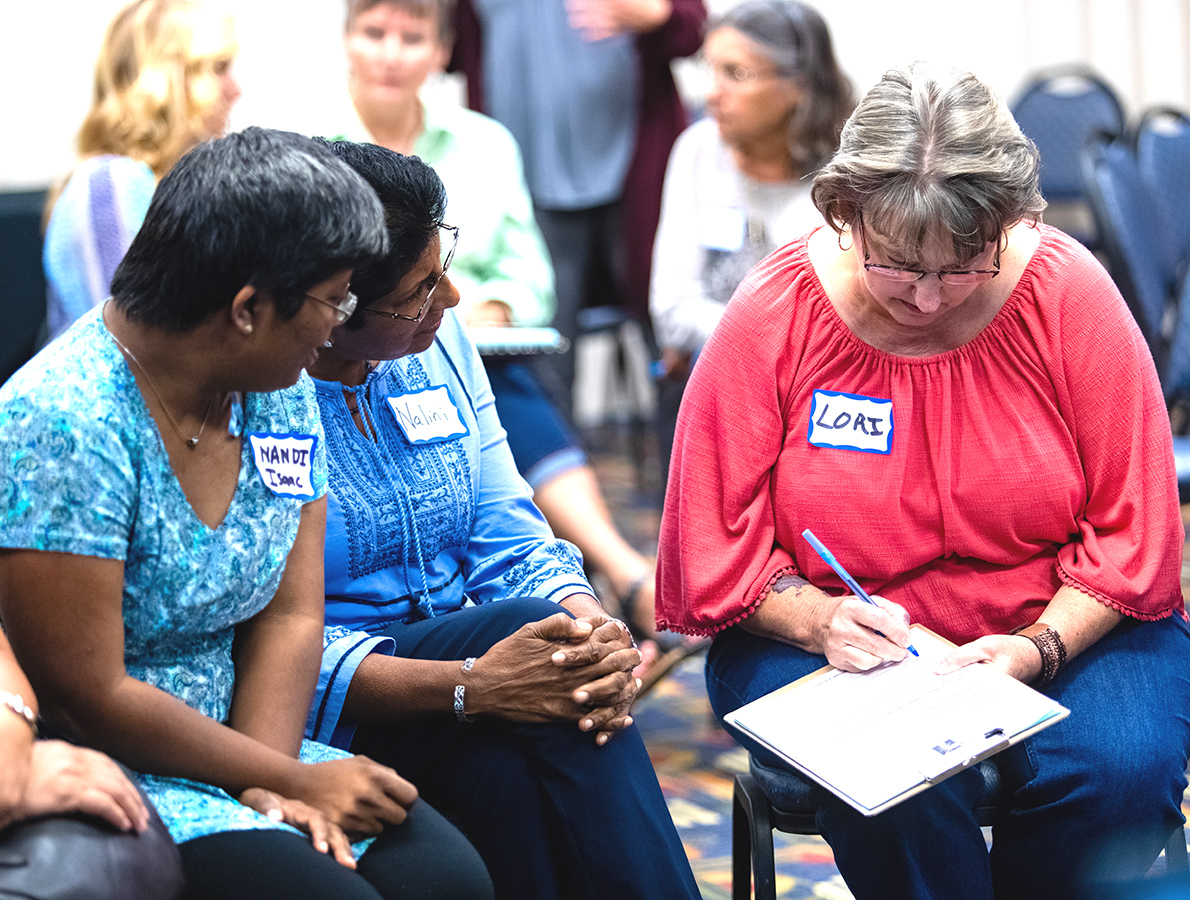 DBHDD received insight directly from forum attendees which they will use to guide future decisions.The idea behind the forums was to increase collaboration with community stakeholders. DBHDD believes it is essential for families to have not only the opportunity to learn about the resources available but also have a voice, ask questions and share concerns. Rita Young and Associates organized the forums in collaboration with DBHDD.
Forum discussions covered the New Options Waiver Program (NOW) and the Comprehensive Supports (COMP) Waiver Programs, as well as the new Individualized Service Plan (ISP) and the I/DD Connects Portal for Family Access, both of which went live on August 19, 2019. Other topics included crisis services; competitive, integrated employment; electronic visit verification; and Georgia STABLE accounts.
The forums focused on the direction of services for individuals with I/DD in Georgia and provided attendees an opportunity to meet the DBHDD division director, Ron Wakefield, and his staff, including Amy Riedesel, Director of Community Services, and Ashleigh Henneberger, Director of Waiver Services.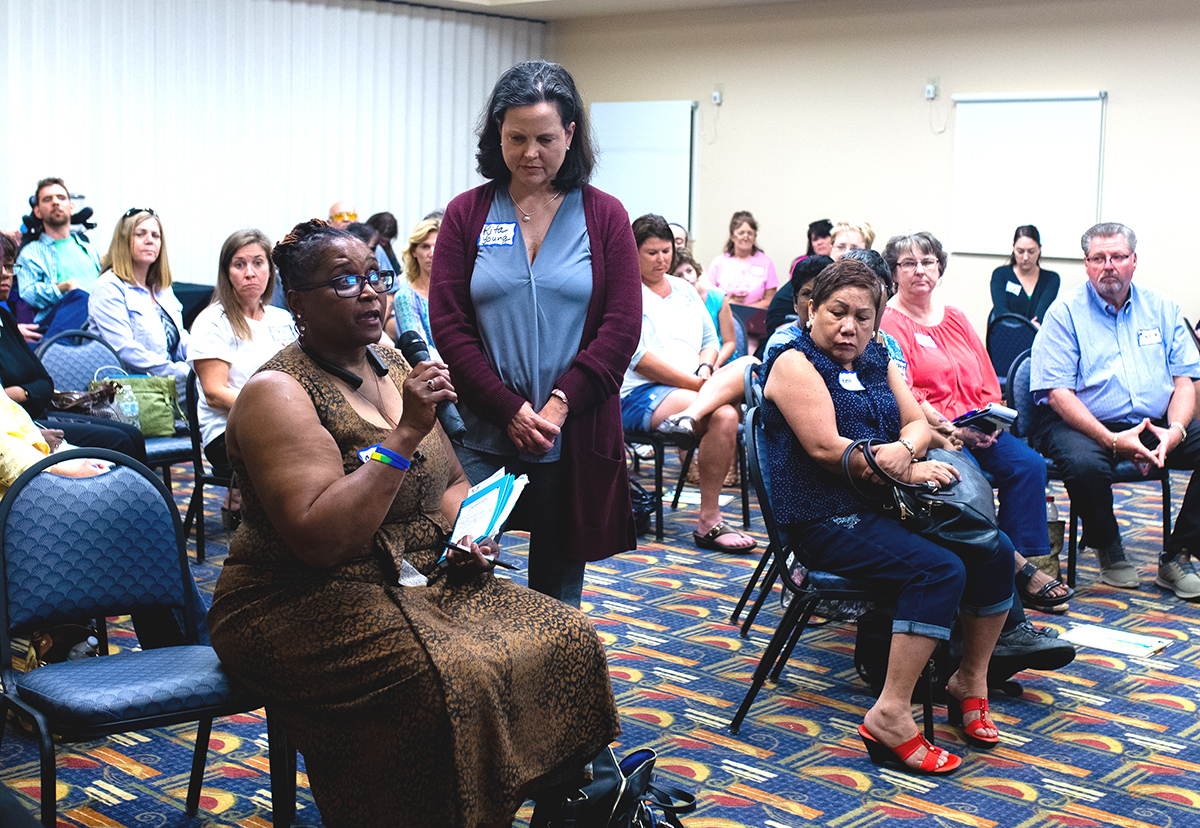 Attendees were glad to get the opportunity to be heard.
With an additional forum goal of increasing collaboration with community stakeholders, "The family forums created a space that allowed everyone to have a seat at the table. I'm honored to have the opportunity to listen and learn from individuals and their families all over the great state of Georgia," said Wakefield.
DBHDD explained the insight received directly from families was very valuable and will help guide future decisions within the Division of DD. In addition, the agency learned about system barriers and suggestions on how to address those barriers. The goal of hearing directly from families about what's working for them and recommendations for areas for improvement was met. One key insight DBHDD heard was individuals value the services they have and want to continue to have both access and choice regarding their services. One Lawrenceville attendee's evaluation of the forum was, "It was wonderful to 'feel heard'."
Plans by the DBHDD for the future include:
Having a clinical contributor for correspondence, informing providers and families of the services and trends related to I/DD services and supports.
Providing a developer of content that promotes skills of health advocacy, targeting members of support systems of individuals with I/DD.
Developing clinical partner participation in initiatives, promoting access to clinical resources.
For more information about what was presented at the family forums, the PowerPoint, as well as frequently asked questions (FAQs), is posted on the DBHDD website.
---

Save
Wednesday, January 29
Thursday, February 6
Wednesday, February 19
Thursday, February 27
Wednesday, March 11
8 AM - 12:15 PM
Central Presbyterian Church
201 Washington St SW, Atlanta, GA 30334