Developmental Disabilities Services and Resources
You can find many services and resources listed in our
resources section.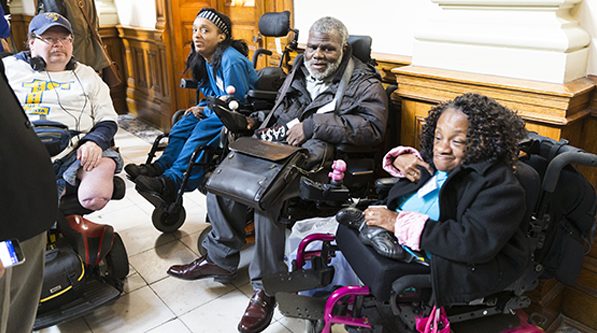 Find your question below and click on it for the answer:
There are several places that you can contact to find out about resources in your community. GCDD considers Parent to Parent of Georgia to be the "first stop." They have an extensive database with over 5000 entries. They have staff, including some bilingual personnel, who can assist in finding the resources that you might need. Their information can be accessed by county.

Also, GCDD has been working closely with Parent to Parent in the development of Navigator Teams. These teams are comprised of experienced parents who are willing to help guide other families to the resources that they need. The goal is to have a navigator team in each of the 159 counties in Georgia. Check with Parent to Parent to see if there is a navigator team in the county where you live. Their phone number is (770) 451-5484 or toll free 1-800-229-2038. Their website is www.p2pga.org.

If you are looking for inclusive child care, there are the Georgia Child Care Resource and Referral Agencies. See the different regions at https://www.gaccrra.org/child-care-providers/. There are Inclusion Coordinators who can assist you in finding child care or after school care for your child with special needs. They can also provide technical assistance and training to the child care provider so that they are better equipped to meet the child's needs.

There are also Aging and Disability Resource Centers serving 118 counties in the state. For more information about this resource, go to their website at www.georgiaadrc.com

Many Georgia communities are linked into the 211 system which can also be used to assist you with referrals.

There is a web-based resource called Wrights Law Georgia Yellow Pages for Kids. You will find listings for educational consultants, psychologists, educational diagnosticians, health care providers, academic therapists, tutors, speech language therapists, occupational therapists, coaches, advocates, and attorneys for children with disabilities on the Yellow Pages for Kids for your state. You will also find special education schools, learning centers, treatment programs, parent groups, respite care, community centers, grassroots organizations, and government programs for children with disabilities. www.yellowpagesforkids.com/help/ga.htm

To access services through the Department of Behavioral Health and Developmental Disabilities, there are six regional offices. Each region has an intake and evaluation team who will determine if your family member with a disability is eligible for services. There is an application form to complete and additional documentation that must be sent in for the determination to be made. See http://dbhdd.georgia.gov/. The regional offices can give you with a list of providers who are approved to offer services in that region. It is up to the family after receiving notice of funding availability to decide which provider they would like to use or to decide if they are interested in self-directing their services. For more information on DBHDD, view the

DBHDD 2013 Agency Guide

.

GCDD does not endorse any of these particular providers and encourage families to develop a set of questions that can be used to help you determine if a provider is a good match for your family member.
It is a complex service system and there are different departments involved in the delivery of services. This explanation of each one may assist you in knowing where to begin:

Babies Can't Wait (BCW) – BCW is Georgia's statewide interagency service delivery system for infants and toddlers with developmental delays or disabilities and their families. Through the 18 district offices across the state, families can access early intervention services. To access BCW, you can call 1-800-229-2038 or 770-451-5484 (in Atlanta).

Georgia Department of Education Divisions for Special Education Services and Supports – The DOE offers programs and services that support local school districts in their efforts to provide special education and related services to students with disabilities. Services include: development of an Individual Education Plan (IEP) for each child; creation of transition plan when a child is transition into or out of school; provision of occupational therapy, physical therapy and speech therapy services and transportation services. Contact your local school district and ask for their special education department.

The Department of Behavioral Health and Developmental Disabilities - DBHDD provides support to people with developmental disabilities. DBHDD serves people of all ages with the most severe and likely to be long-term conditions. They offer family support including respite care, home and community-based waivers. There are six regional offices throughout the state. To apply for support, call the Intake and Evaluation team at the regional office nearest you. Please note that there are long waiting lists for services. Apply early. For more information on DBHDD, view the

DBHDD 2013 Agency Guide

.

Social Security Administration – Supplemental Security Income (SSI) and Social Security Disability Income (SSDI) serves children and adults. There is an income criteria. The parents' incomes are taken into consideration when the child is under 18. The person is considered a family of one at age 18 and only their income is counted even if they are still living at home. Please note that a person can get switched from Medicaid to Medicare if parent retires or dies. This has implications for accessing services. Contact your local Social Security Office to apply of call the toll free number (800) 772-1213

Georgia Department of Human Services (DHS) – DHS provides Georgia with customer-focused human services that promote child and adult protection, child welfare, stronger families and self-sufficiency. Two divisions that may be of help are:

The Division of Aging offers the Community Care Service Program (CCSP) waiver to provide in-home supports for people with disabilities and people who are elderly. They also serve children. Contact your local Area Agency on Aging to apply. The Department of Family and Children Service offers the Katie Beckett (Deeming Waiver), an eligibility category for Medicaid when family's income is too high for them to qualify for SSI. Contact your local DFCS office to apply. Ask for the Medicaid Worker.

Department of Community Health – DCH is the state's lead agency for health care planning and the single state agency for Medicaid. Through "PeachCare for Kids," they offer children's medical services. "Georgia Families" provides health care services to enrolled members of Medicaid and PeachCare for Kids. They also offer a variety of medical specialty clinics. Contact your local health department for specific information. They also offer a variety of long-term care and waiver programs. To learn more about the waivers, see the question "what kind of waivers are available?" below.
A Medicaid Waiver is money that may be used to pay for services for a person who has developmental disabilities. These services can take place in the person's home or in the community. Medicaid usually pays for doctor appointments, hospital expenses, medicine, therapy and some supplies and equipment. The waiver also allows for Medicaid dollars to be used to pay for additional services. Learn more by clicking http://www.gcdd.org/resources/real-supports-resources/
The NOW Waiver stands for New Options Waiver. It provides supports to people who do not need 24-hour care. It was designed for people with disabilities who live with family members or in their own home. There is a limit of $25,000 a year for services under the NOW Waiver. This waiver is for people who need less intensive services and supports. It is administered through the Department of Behavioral Health and Developmental Disabilities.
The COMP Waiver stands for Comprehensive Supports Waiver. It was designed for people who need a full range of out-of-home services or intensive in-home services. The COMP Waiver is also used for people who are transitioning out of institutions into community living. It is administered through the Department of Behavioral Health and Developmental Disabilities. Click here to learn more about the COMP Waiver. (ICWP) is for people who have physical disabilities or traumatic brain injuries. A person must be between the ages of 21-64 to qualify for the ICWP. It is administered through the Department of Community Health. Their web site is: http://dch.georgia.gov

The Georgia Pediatric Program (GAPP) waiver is for children who are medically fragile. It provides specialized day care and transportation to get there. It is administered through the Department of Community Health. Visit their web site at: http://dch.georgia.gov or Contact Sherri Collins at (404) 657-0623 for more information

The Community Care Services Program waiver (CCSP) is a program that serves people who are elderly or people with disabilities. It is administered by the Area Agency on Aging. It provides some in-home services, respite care or supports like meals on wheels. The Area Agency on Aging provides services by region. Please contact your local Regional office. You can find them under our Real Support Resources.

SOURCE, short for Service Options Using Resources in a Community Environment, is a state plan that serves frail elderly and disabled beneficiaries to improve the health outcomes of persons with chronic health conditions, by linking primary medical care with home and community-based services. It is a primary care case management program administered by the Department of Community Health. You can visit DCH's web site to learn more, http://dch.georgia.gov
The Katie Beckett or Deeming Waiver is an eligibility category for Medicaid, not a home or community-based waiver. It is for children under 18 whose parents income exceeds the limits required for them to qualify for Supplemental Security Income (SSI). The Deeming Waiver takes the parents' income out of the picture and bases the decision on the child's needs. If the child qualifies for the Katie Beckett Waiver, they become eligible for services that are available under the regular state Medicaid plan. A family must first receive a denial letter from Social Security and then they can apply for the Katie Beckett Waiver through their local DFCS Office. For more information on the Katie Beckett Waiver, please click here.
Individuals with significant intellectual and/or developmental disabilities such as cerebral palsy, epilepsy, autism or neurological impairments may be eligible for the NOW or COMP waivers. Individuals with physical disabilities or traumatic brain injury acquired between the ages of 21-64 could be eligible for the ICWP waiver. Individuals need to contact the point of entry appropriate for each waiver.
To find out if you are eligible for developmental disabilities services, you must submit an application to the Department of Behavioral Health and Developmental Disabilities (DBHDD) and supporting documentation of a developmental disability. Mail the information to your local (DBHDD) Intake and Evaluation Office. To find your local Intake and Evaluation office at http://dbhdd.georgia.gov/. The Intake and Evaluation office will contact you within 14 days of receipt of your application to make arrangements to conduct a screening in order to make a preliminary eligibility determination. Once the determination is made, a letter will be sent notifying you of your eligibility status.
Respite services provide brief periods of support or relief for caregivers of individuals with disabilities. The services may be planned, scheduled or used in emergency situations. Respite services may be provided in the individual's own or family home, outside the individual's home, in a private residence of a Respite Services provider, or in a licensed Personal Care Home. Respite services include short-term services during a day or overnight services basis.