A Digital Newsletter from the Georgia Council on Developmental Disabilities • September 2020

---
In This Issue:
---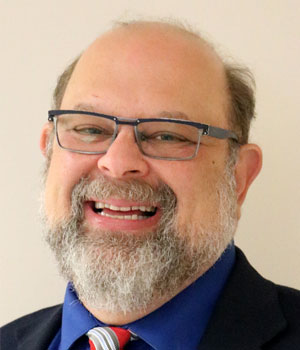 A Message from the Executive Director
We recently lost one of the greatest Americans and a leader in the Civil Rights movement. John Lewis was more than a member of the U.S. Congress or even a civil rights leader – he was a hero to many people across the world. Those who had the honor to meet with John Lewis will never forget their first time – nor the conversations, stories and the connections he made between human rights for people of color, people with disabilities and any other marginalized community with which you may identify.
I had the opportunity to meet with John Lewis several times. Every time, I learned something new about how we should treat people. One of the most important lessons that John Lewis spoke about was the importance of voting. This fundamental right in a democracy is the best way to create change. GCDD has written about and supported efforts to assert that the "Disability Vote Counts," and as we get closer to November 3, 2020, it is important that each of us get educated on where the candidates stand, and how we plan to vote during the pandemic. We are being told that if you want your absentee ballot to be counted, get it in early. Remember what Justin Dart, the great disability advocate wrote: "Vote like your life depends on it, because it does."
Also, in this newsletter, you will learn about GCDD's Five Year Strategic Planning effort. Council members and staff are currently working on this plan that will be completed by August 2021, and we need your involvement. We recently held three townhall-style forums, and there are more ways you can be involved. Our survey is open till September 4, so take some time to complete it. And coming up, we plan to host a series of focus groups. This input will assist council members and staff in understanding the issues impacting you and your family. This information will be reflected in the goals and projects that GCDD supports in our next five-year plan. Read more about the many ways you can provide input into this effort.
Finally, GCDD is proud to announce that that we have renamed our "Learning Support Fund" to the Dottie Adams Scholarship Fund. Dottie worked for GCDD for many years and passed away in 2016. She is best known for helping individuals with developmental disabilities and families find the resources they need to live their best lives. The scholarship fund will provide up to $2,500 per applicant to assist individuals and family members to attend conferences and other learning events – and then bring what they learned back to their communities.
We hope you enjoy reading this newsletter, and we want to hear from you. Let us know your thoughts and comments about this edition by writing to Managing Editor Hillary Hibben at .
---
Public Policy for the People: Advocacy Outside of the Legislative Session: Let's Talk Budget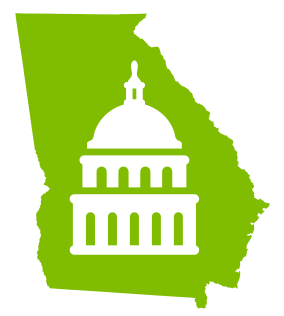 — Alyssa Lee, PsyD, GCDD Public Policy Research and Development Director
Public Policy for the People provides public policy updates as it pertains to people with disabilities here in Georgia.
During Georgia's 2020 legislative session, we saw historic levels of engagement from our advocates, whether that meant showing up to GCDD's advocacy days (pre-COVID, of course) or joining one of our call-in days. Although most of our time and attention goes to preparing for and engaging in Georgia's legislative session, we want to take some time to talk about the importance of continuing our advocacy efforts year-round.
This conversation will focus on an extremely important, yet often overlooked, opportunity to make our voices heard: the budget process! Many of you are familiar with our advocacy efforts surrounding the budget during session, but there are actually numerous opportunities to engage in advocacy around our state's budget before the session even begins. To effectively advocate for our budget priorities, we first need to understand Georgia's budget process. We will provide a brief overview, but to access the detailed, seven-phase process, please visit the Governor's Office of Planning and Budget (OPB) website.
Each year, the governor requests all state agencies to develop a budget for the upcoming year (note: Georgia is currently working on the creation of its fiscal year 2022 budget which starts on July 1, 2021). State agencies do most of their budget development during the summer and typically deliver their budget recommendations to the governor's office in September. While state agencies are developing their budgets, we can advocate for our needs by meeting with state agency officials and attending board meetings.
An example of a common state agency we often work with is the Department of Behavioral Health and Developmental Disabilities (DBHDD). This state agency is responsible for requesting new NOW/COMP waiver slots in the upcoming budget. Although this year's opportunity to engage state agencies during their budget development has passed (Governor Kemp requested all budgets be sent to his office today, September 1!), there is still plenty of time for you to advocate for the issues important to you and your family.
Now that the state agencies have passed their recommendations on to the governor's office, our advocacy efforts will be focused on educating the governor's office on the supports and services you need. First, you might want to look over the recommendations from the state agencies so that you know what was included and what was left out. You can typically find the recommendations from state agencies on this OPB budget page. Once you have that information, you can start by requesting meetings with the governor's staff. The governor usually has a staff person knowledgeable in specific topics, and it is most effective to discuss your issues with that staff person.
In addition to meeting with a staff person of the governor, you can also call and email your concerns and requests. The governor's office will work throughout the autumn months on creating the governor's budget proposal, which is often distributed in January at the start of Georgia's new legislative session.
For administration contact information, please visit the governor's website. And please reach out to our Public Policy team if you need help locating contact information or drafting talking points!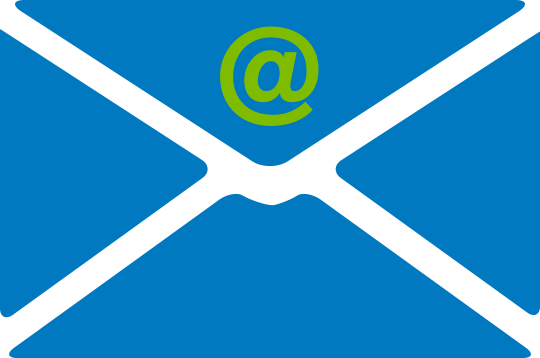 GCDD Public Policy Team
Public Policy Research & Development Director Dr. Alyssa Lee:
Legislative Advocacy Director Charlie Miller:
---
GCDD'S Five Year Planning Process Update – August 2020
In the past few weeks, GCDD has held three townhalls, released a survey and will be hosting focus groups to learn what is important to people with developmental disabilities across the state. The final townhall wrapped up last Thursday, and over the course of three different meetings, we learned a lot about what people are seeking from their communities, the state and even GCDD.
Read more about the townhall meetings and how you can still advocate
for yourself, your family member or someone you know.
---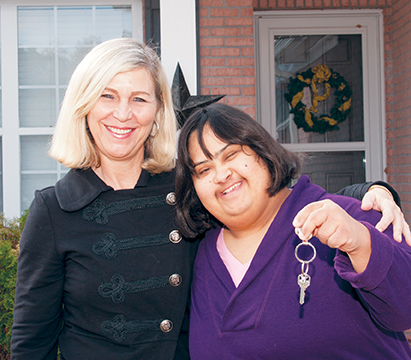 Pat Nobbie, GCDD' former deputy director, who wrote the column Mia's Space for Making A Difference magazine, shares an important story that affected her daughter, Mia. Having worked in Washington, DC while Mia lives and works in Athens, GA, Nobbie shared stories of Mia's growing independence and advocacy for herself through employment, education and more. Most recently, Mia needed to advocate for herself medically. Nobbie writes about the importance of effectively communicating and advocating for medical needs.
Mia has lived with a family for 11 years, in her own apartment in their home, participating in lots of typical family routines while also maintaining her own friendships, church affiliation and employment. It's the best arrangement I could have imagined, and the advent of the virus only confirmed its value because Laura and Joe, with whom Mia lives, kept Mia safe from exposure like they did for themselves and their three children, while also keeping her busy after she was furloughed from her job in the short-stay surgery unit in early March.
Mia got COVID. Continue reading.

---
GCDD's Storytelling Project Wants to Hear Your Story!
In 2018, the Georgia Council on Developmental Disabilities (GCDD) partnered with Resurgens Impact Consulting and L'Arche Atlanta to collect stories from people with developmental disabilities in Georgia. The Storytelling Project was born.
Despite the ongoing COVID-19 pandemic, the project will continue this year with Over the Wire — a virtual, crowd-sourced collection of video stories.
"We really want to hear people's stories and experiences," said Irene Turner, the director of GCDD's Storytelling Project. "This is a really good way for anyone who wants to tell their story through the Storytelling Project to do that."
The GCDD is asking people to submit short video clips of themselves online, answering some questions that speak to their personal experience and story. Turner says the questions are meant as a guide, and she wants people to have fun with the project.
Those interested in participating can visit the Storytelling Project's website, which has a designated page for Over the Wire with information and instructions. The webpage currently has a sample video of Martha Haythorn, a rising freshman at Georgia Tech who hopes to become a lobbyist in Washington, D.C. and effect national change. There is a Google form where videos can be submitted.
The project is now open for submissions and will continue for the next six months. Videos will be released on a rolling basis a few weeks after they're submitted. Goodier Creative will be completing the videos with finishing touches and an introduction, and they'll be promoted on social media continually through the spring.
"We wanted to do something that fit with the current flow of culture, so Over the Wire was conceived," said Turner. "Over the Wire is responsive to our current time and place, in that people are consuming media and connecting online."

Learn more about Over the Wire and how to submit your story on its website.
---
Grant Opportunity - Welcoming Community Movement Opens Grant for Social Justice Movement

The Real Communities Partnership (RCP) is an award-winning, signature concept that has received national attention for its innovation and diversity. To best address the many urgent issues we are now facing in society, the RCP is transitioning to the Welcoming Community Movement Fund (WCMF). The WCMF is the natural evolution of the RCP and we are excited about the collaboration and progress that we expect it to engender. The WCMF is funded by GCDD and managed by Global Ubuntu.

In the same spirit of collaboration and progress, WCMF is launching a social justice movement grant that is open for local organizations and movement coaches.
Grant Name: Welcoming Community Movement Fund - a social justice movement
Application Submission Deadline: October 10, 2020
Grant Period: Once awarded, the grant period is 11/01/2020 – 10/30/2021.
Area of Emphasis: Equity from racial and disabilities justice lens.
Number Funding Awards: There are 6-10 awards available. At least six (6) groups must be at least 70 miles outside of Atlanta.
Funding Descriptions: Local Initiatives & Movement Coaches
Deadline to apply is October 10, 2020.
Visit Global Ubuntu's website to learn more and how you can apply.
---
GCDD Announces Dottie Adams Scholarship Fund

For the last 25 years, the Georgia Council on Developmental Disabilities (GCDD) has used the Learning Opportunities Support Fund to award small grants (up to $2,500) to individuals with disabilities and their family members. GCDD recently announced the endowment will now be known as the Dottie Adams Scholarship Fund.
The new name was announced on Aug. 5, Dottie's birthday, and is meant to support dedicated advocates in her memory. Money from the grants allows families to attend conferences and educational events for advocates. They're then able to come back and educate their own communities on possible service improvements and new solutions.
The fund's redesignation honors the nearly 35 years of service Dottie Adams gave to people with intellectual and developmental disabilities during her life as an advocate. Dottie was a creative and fearless pioneer who fought for more person-centered planning and brought the Project SEARCH employment program to Georgia. She served as its State Coordinator for the Council.
"I've never met anybody that has been known and been admired by more people with disabilities and their families than Dottie was," said Eric Jacobson, the executive director of GCDD. "She worked across the state to help people get the resources they need and was beloved by many."
The fund is open to anyone in the state with a disability or their families, and the money can be used for in state or out-of-state events. Families only cannot receive these funds in successive years. There is a quick application online, and all funds are released as reimbursements. Completed applications should be submitted 30 days before the event.
Currently, there aren't many in-person conferences or events due to the ongoing COVID-19 pandemic, but the fund is always open for applications. Questions may be emailed to Lisa Eaves, Grants and Contracts Manager at GCDD, at .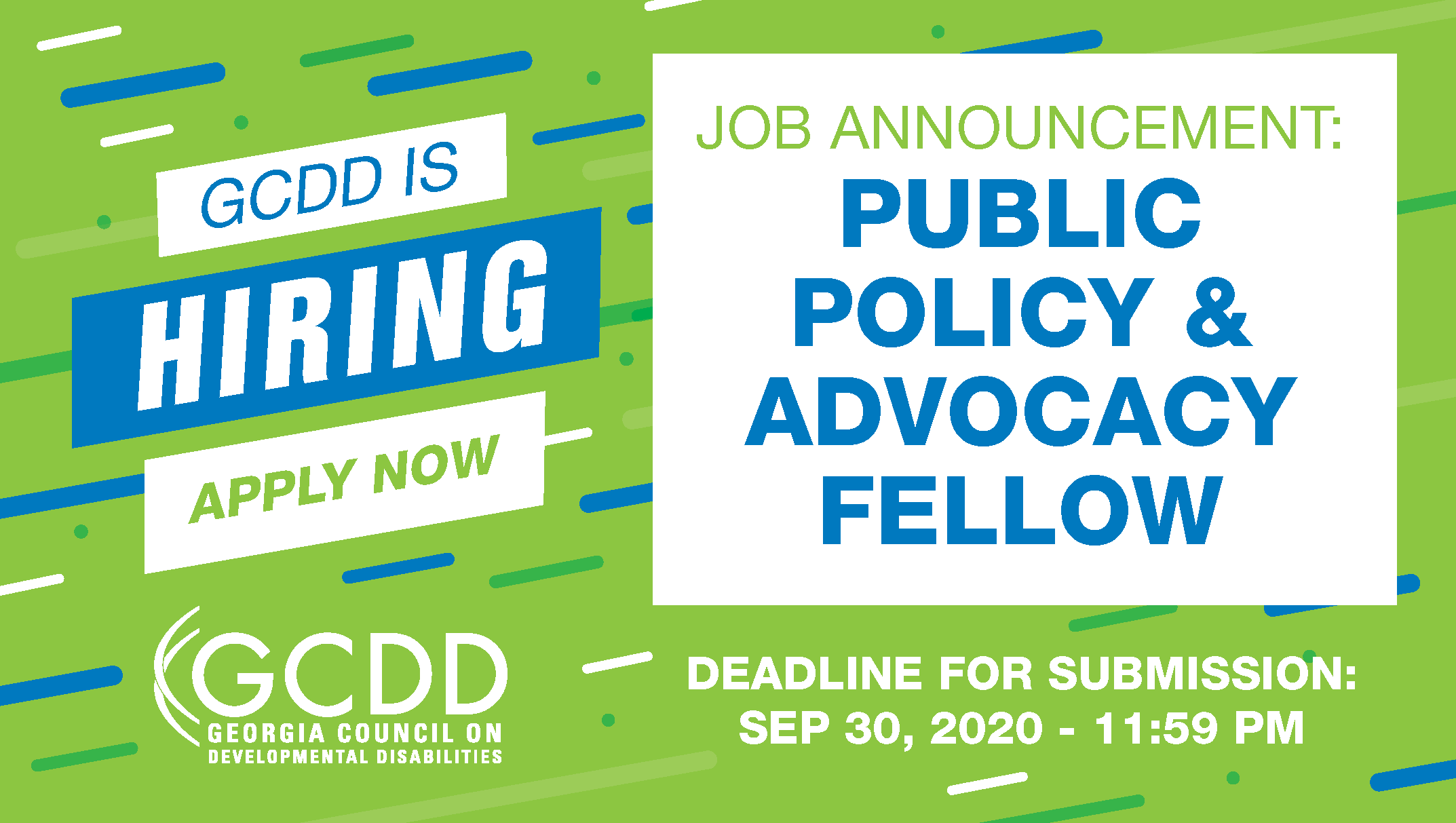 ---
Announcing an exciting new opportunity! GCDD has created a Public Policy and Advocacy Fellowship Program, and we are looking to recruit our first fellow!
The application process opens TODAY.
Visit our website page to learn more and apply!
---

Dates to Remember
Now open – Absentee ballot requests
October 5 – Deadline to register to vote
October 12 – Early voting opens
October 24 – Saturday voting
November 3 – Election Day
Visit My Voter Page to check your voter registration, register to vote, or request your absentee/mail-in ballot.
More Don't-Miss Events!


• Save the Date! Virtual Inclusive Georgia College Fair: October 29, 2020 from 3 – 4:30 pm
Tags: GCDD, Developmental Disabilities, enews, newsletter