A Digital Newsletter from the Georgia Council on Developmental Disabilities • December 2018

---
In This Issue: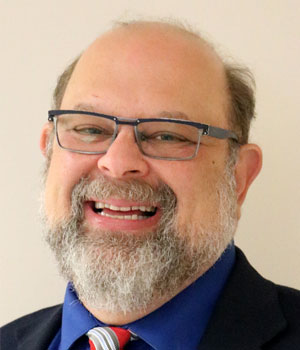 Since our last newsletter, citizens across Georgia voted for local, state and federal representatives. These include constitutional officers, like Governor Brian Kemp, as well as new and returning members of the General Assembly. The election means it is time for us, as advocates, to begin educating these elected officials about the needs of individuals with developmental disabilities and their families.
Specifically, we should talk with our local, elected officials about the waiting list for home- and community-based services; the need for more competitive, integrated employment options; the demand for schools that include students with disabilities and the efforts to advocate for robust, quality services and supports.
GCDD has already begun its efforts to support individuals and families who want to participate in advocating at the General Assembly, which begins its 2019 session in January. We have planned five Advocacy Days at the Capitol, during which citizens can interface with their legislators. We also have transportation funds available for those who need assistance to travel to Atlanta.
We hope that you register, come to the Capitol, meet with your legislators and tell them your story. It is your story that will help persuade elected officials to appropriate new funds or change policies. GCDD will make sure you have information about what is taking place during the session by publishing a bi-weekly Public Policy for the People newsletter and by hosting weekly conference calls.
You might recall that earlier this year, we announced an initiative to collect stories from people receiving long-term services and supports or those on the waiting list. Our primary purpose is to put a distinctive touch on the issues when advocating at the General Assembly. We are also sharing one of these stories in this edition of the newsletter.
We hope that when you read the stories of these dynamic Georgians, you will decide to write your own story. By putting your story on paper or in digital form, you can be better equipped to meet with your elected officials. This is the best way to prepare and personalize the many issues that you, your family and friends face.
Let us know your thoughts and comments about the newsletter by writing to
Eric E. Jacobson, Executive Director, GCDD
---
Public Policy for the People provides public policy updates as it pertains to people with disabilities here in Georgia.
For the first time since 2011, Governor Nathan Deal convened a special legislative session to address the devastation Hurricane Michael brought to South Georgia. With many farmers in the process of harvesting their crops or preparing for harvest, our agricultural community was hit particularly hard. Legislators approved a $270 million increase to the budget to address some of our state's most pressing needs, with much of the funding directed to the Governor's Emergency Fund and the Georgia Development Fund.
Assisting farmers production loans, meeting the state's obligatory match for all FEMA expenses, and reimbursing state agencies for unforeseen expenditures related to hurricane relief work were a few of the key priorities addressed. All in all, legislators met for five days under the Gold Dome – some for the last time due to resignation or lost elections.
With that in mind, now is an excellent time to confirm the identify of your state representative and state senator. Whether you have a fresh face representing you at the Gold Dome or a more familiar visage, it is important that we remind our elected officials about the concerns of their constituents with disabilities.
On the topic of building relationships, we hope you will consider joining us for one of our Advocacy Days this winter.
Registration will open December 5 and be sure to save the date for the following advocacy opportunities.
January 30, 2019: Inclusive Post-Secondary Education (IPSE) Day – Join current students, future enrollees and alumni of Inclusive Post-Secondary Education programs here in Georgia as we educate our legislators about the increased employment opportunities these programs provide.
February 12, 2019: Home & Community Based Services (HCBS) Waivers Day – Join us to advocate for the protection and increase of more funding to reduce waiting lists for HCBS services like Katie Beckett, NOW, COMP, ICWP, CCSP and SOURCE waivers.
February 14, 2019: Everyone Out! – Let's advocate for all those with disabilities stuck in institutional settings here in Georgia!
February 27, 2019: Direct Support Professional (DSP) Day – Come speak with your legislators about the workforce shortage of DSPs here in Georgia as well as the importance of a caregiver registry open to all HCBS waivers.
March 6, 2019: Supported Decision-Making Day – Join us to educate our law makers on Supported Decision-Making as an alternative to guardianship for adults with disabilities.
Finally, GCDD is excited to announce three upcoming Team Lead Volunteer trainings on December 13, January 15 and February 4. Geared at preparing advocates to take a leadership role at GCDD's Advocacy Days, Team Lead Volunteers will learn how to navigate the Georgia State Capitol and support attendees in speaking with their legislators. This is a great opportunity for anyone interested in honing their advocacy skills and supporting others to raise their voice!
---
Public Policy for the People: Dear Governor . . .
With the Midterm Elections decided, Georgia will inaugurate a new Governor in January 2019. And, Making a Difference magazine wants your voice!

For its Winter issue, GCDD wants self-advocates, family members, educators and overall community members to provide 2-3 sentences to share with Governor-Elect Brian Kemp on what issues you hope his administration will focus on in this term to support people with developmental disabilities to live, work and play in the communities of their choice.

Complete this form in its entirety and you might be featured in the magazine!
---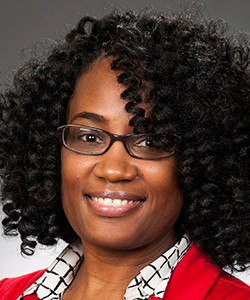 GCDD is thrilled to welcome two new staff members! With the addition of these talented women, we look forward to beginning 2019 with a fully-staffed team.
Kina Jackson joins GCDD as our financial manager. With over 20 years of accounting-related experience, she has worked with various state agencies since 2000 and now shares her expertise with us.
Kina began her career as a part-time accounting clerk for the federal government during college. There, she was bitten by the proverbial accounting bug and decided to pursue finance as a major and as a career. In addition to having a passion for numbers, Kina has a knack for overcoming challenges. She values the opportunities for adaptation and education she has encountered during her tenure in the field of financial management and looks forward to more at GCDD.
To further hone her financial management skills, Kina has successfully completed the State of Georgia's Governmental Accounting Series I and II, as well as the inaugural Department of Behavioral Health and Developmental Disabilities' Management Leadership Academy, both administered by the Carl Vincent Institute of Government at the University of Georgia.
Outside the office, Kina enjoys spending time with her two adult children and her dog, who she considers her canine child. She also likes to bake cakes, explore DIY crafts and exercise her teamwork skills on the field as part of a ladies' kickball team.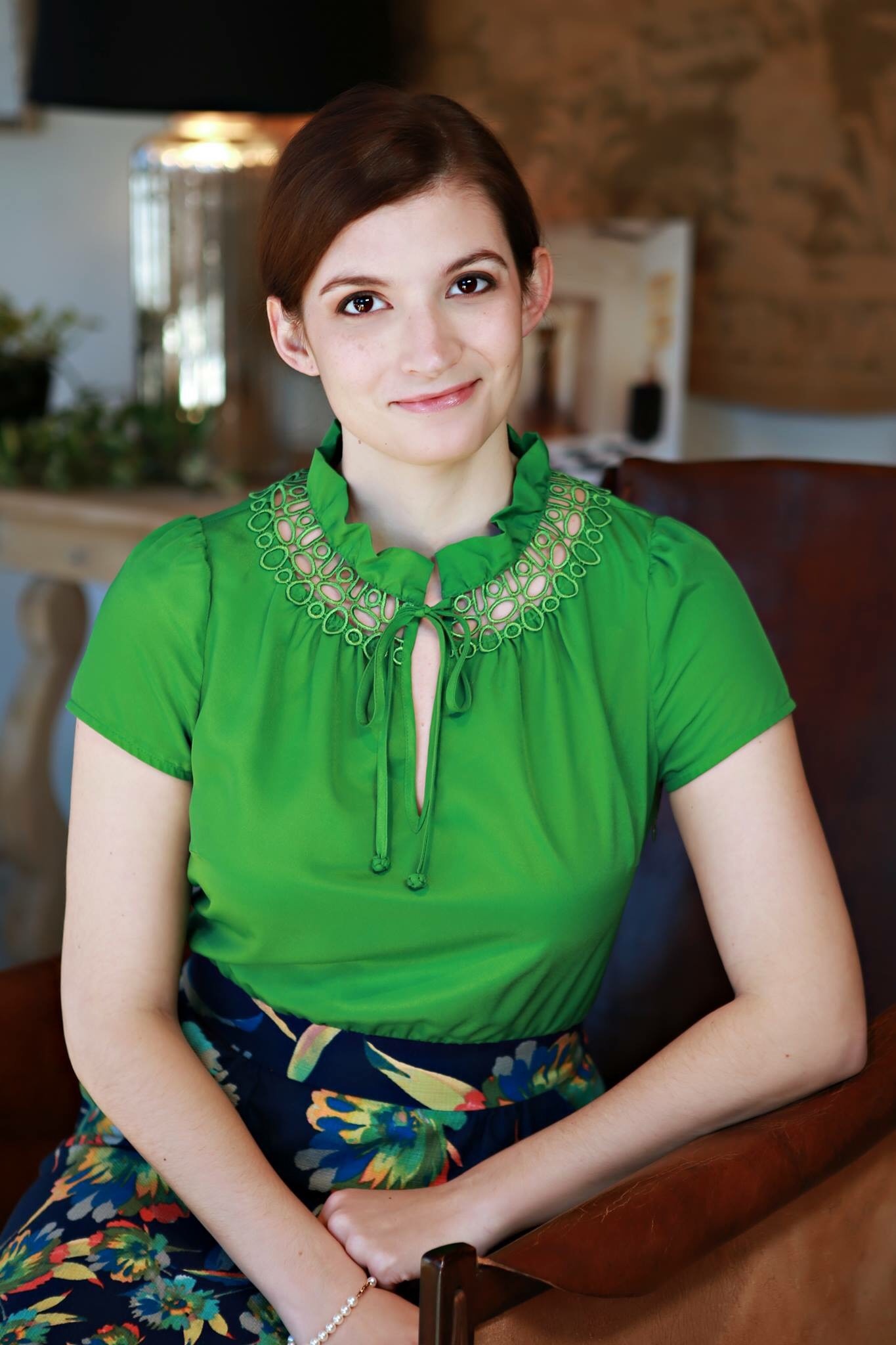 Starr Bruner joins GCDD as our IPSE transition specialist. IPSE programs, or inclusive post-secondary education programs, include possibilities for students with intellectual and developmental disabilities. Currently, nine colleges throughout Georgia offer IPSE programs.
In her role, Starr manages the necessary research and administrative and programmatic support related to inclusive post-secondary education, K-12 education and the related transition through which students must navigate. She is passionate about collecting data, forming relationships and working to advance the needs of Georgians with disabilities.
Starr brings nearly 12 years of experience serving families and children with developmental disabilities to the GCDD team. Her expertise includes applied behavior analysis, behavior management and early-childhood education. In addition, her passion for supporting underserved and under-resourced populations strengthens her desire to make connections, which she is eager to do at GCDD.
A cum laude graduate of Kennesaw State University, Starr earned a bachelor's degree in psychology with a minor in professional writing in 2007. She received her foundational ABA training from the Marcus Autism Center in Atlanta. There, she continued her professional development in the Language and Learning Clinic, the Severe Behavior Clinic and the Pediatric Feeding Disorder Clinic.
Originally from Blakely, Ga., Starr now calls Buckhead home and lives with her Siberian husky, Mia. When she's not at her desk, Starr can be found perusing thrift stores, diving into science fiction, listening to Fleetwood Mac and brushing up on her Japanese.
---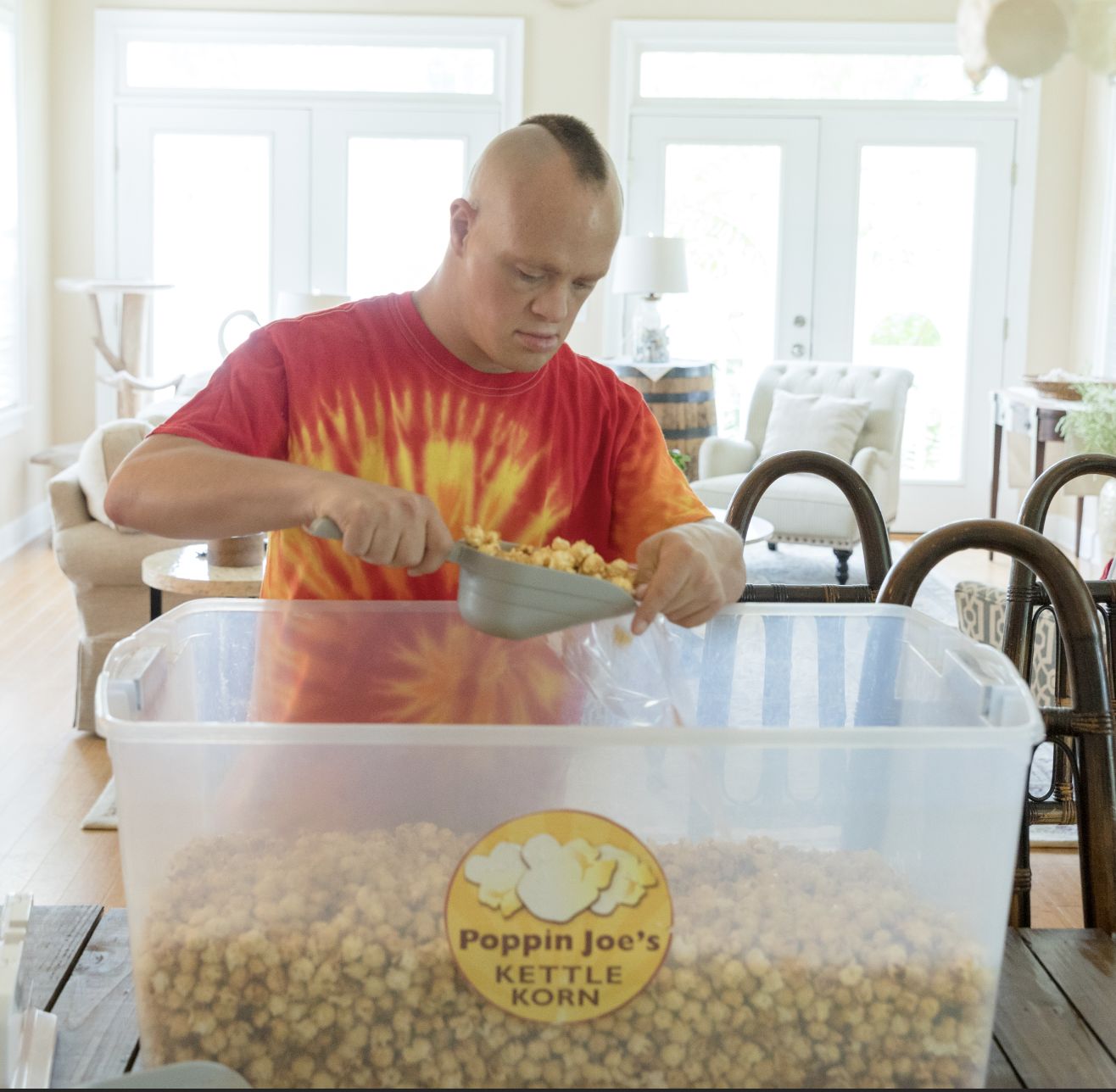 Joe Steffy working in his popcorn businessAs Joe Steffy approached the end of high school, his family knew they didn't want him to be completely dependent on the government to live a good life of financial independence. Right about that time, his parents happened to be traveling in Anchorage, Alaska and saw kettle corn being popped at a festival. His dad started thinking – this is something Joe could do! He also knew that, because of Joe's autism and the way his brain works with appreciating routines and processes, it could be a great way for him to work and earn money. Grants from the Kansas Council on Developmental Disabilities, Voc Rehab and Social Security totaling $25,000 helped with start-up costs, including purchasing his first popping machine, a computer, and a laser printer. Thus Poppin Joe's Gourmet Kettle Korn was born. Since that time, Joe has re-invested his money and purchased four other kettles to expand his business. He also has three trailers to haul his equipment to festivals.

Joe is a 32-year-old man with Down syndrome and autism. He is almost non-verbal, although with some encouragement he will say a few words. He spends part of his time here in Brunswick, Georgia with his sister and brother-in-law. He will eventually move here permanently. Joe previously communicated with the assistance of a device called a Dynavox Maestro. As he waits for his new device, he's getting by with sign language and facial gestures.
Joe has the Medicaid Waiver HCBS funding in Kansas and lives in his own home with a mentor who shares his home with him. When Joe is ready to transition fully to Georgia, he will lose his supports in Kansas and start them in Georgia. Jennifer says they hope to have an option for him to have self-directed services and enable him to live in his own place again with a mentor roommate. They also would want a day services support person to help him 20-30 hours a week to continue to establish and grow his business in Georgia. Joe requires someone with him round the clock, so additional supports will be needed as well. They are open to learning what Georgia programs will offer to him once he is here and assessed and ready to receive the services.
While the speech and language therapists have been a wonderful part of Joe's life, it's curious that Joe has become quieter over the course of his life. Jennifer says Joe is very tuned in to the expectations of others, and unfortunately, society often does not engage with him, nor expect him to have anything to contribute. With few people attempting to engage him in conversation, it has been easy to retreat and remain silent. His augmentative device can almost be a crutch, for when others know he has it, they assume he doesn't use words. "In my opinion, it is low expectations from the world around him that enables him to get by with little or no verbal communication. If you take the time and encourage him on, he can and will use words. The more we do that, the more we hear him."
Although he's settling into a routine living with his Georgia family, Jennifer and Trevor hope to find an independent living situation for Joe in the not too distant future. They think he would be really happy in a situation like he has in Kansas. Having independence is important and living in his own place means a lot to Joe.
Joe has had many opportunities to speak directly to legislators. He's already testified in Washington D.C. at the Small Business Congressional Committee Hearing and was the first person to present to congress with an augmentative device. He has also been the guest speaker at national conferences. He currently serves on the Kansas Governors Council on Developmental Disabilities and has helped advocate on Capitol Hill several times. If given the chance today, Joe would challenge local legislators to support small businesses and all programs that help others like him gain employment opportunities. Through his sister, Jennifer, he says, "We all have strengths and things we are naturally good at. Provide opportunities for those with disabilities to secure work, or to start their own business within their areas of strength."
Joe likes to be independent and loves to fly. Regarding the long, 18-hour drive that it takes to go back and forth from Georgia and his home in Kansas, Joe has his opinions. On his last road trip back to Georgia, Joe tapped his sister on the shoulder somewhere around Tennessee and made a gesture like a bird. She knew exactly what he meant: "Next time, we're flying."

Joe's story is a part of the GCDD Story Collection Project. The project's goal is to collect 75 stories representing the experience of individuals living with a developmental disability in Georgia
---
Employment First Council Announced

Several state leaders, disability community members and other stakeholders have been named to the Georgia's Employment First Council, created in May 2018 when Governor Nathan Deal signed House Bill 831, the Employment First Act, into law.
The Employment First Council will ultimately be comprised of 14 individuals with disabilities, ties to the community or roles in state agencies serving people with disabilities. In addition to the members named today, six individuals representing various state organizations have previously accepted spots on the council. Two additional members are expected to be appointed soon.
The Council includes:
Dr. Conrado Marion-Landais
Marion-Landais is the diversity and inclusion manager for Georgia Power. He is the founding Chairperson of Disability:IN Greater Atlanta, an affiliate of Disability:IN. Marion-Landais is a member of the Atlanta Diversity Management Advocacy Group leadership board and the Islamic Speakers Bureau of Atlanta advisory council. He is a graduate of Leadership DeKalb and the
American Institute for Managing Diversity's Leadership Academy Program. Marion-Landais earned a bachelor's degree from Georgia Tech and a master's degree and a doctoral degree from the University of South Florida. He and his wife, Melissa, have two children and live in Dunwoody.
James Stinchcomb
Stinchcomb is a graduation coach and part-time faculty member in the Department of Social Work and Human Services at Kennesaw State University (KSU). He is also the CEO of Baux Blue Consulting. Stinchcomb was previously the director of operations for the Cobb and Douglas Counties Community Services Boards. He is the vice president of Professional Development and Education for the National Organization for Human Services. Stinchcomb earned a bachelor's degree in Human Services and a master's degree in Public Administration from KSU and a master's degree in Social Work from the University of Georgia. He is a board-certified human resources practitioner and a certified nonprofit professional. Stinchcomb resides in Kennesaw.
David C. Ward
Ward is the President and CEO of the Tommy Nobis Center. He has more than 30 years of experience in the nonprofit sector, including leadership positions with the Wounded Warrior Project, Big Brothers Big Sisters of America, the Make-A-Wish Foundation and Best Buddies International. Ward previously worked with the Wood County Board of Developmental Disabilities in Ohio. He sits on the board for the Georgia Association of Training, Employment and Supports.
Ward was a nominee for the Turknett Leadership Group's 2018 Leadership Character Award. He earned a bachelor's degree from Bluffton University and a master's degree from Bowling Green State University. Ward and his wife, Priscilla, have two children and live in Powder Springs.
John B. Wells III
Wells is the district manager for Colonial Insurance in Midwest Georgia. He is an ordained deacon in the Southern Baptist Church. Wells founded the East Kentucky Veterans Referral Center and served as mayor pro tem of the City of Paintsville for one term. He also taught history for the University of Kentucky Community College System and for Morehead State University. Wells is a former member of the committee to restore the Coweta County Courthouse and the board for the Newnan High School Football Touchdown Club. He served in both Kentucky and Georgia as a coach for Special Olympics. He is a former president of his Kiwanis Club. He and his wife, Terrie, have one child and reside in Newnan.
Todd Youngblood
Youngblood is the executive director of Kay Community Service Center in Fort Valley. He previously taught special education and coached football, basketball and baseball. Youngblood is the assistant softball coach at Crawford County High School. He is the sport manager for the 2019 Special Olympics USA Powerlifting World Games. Youngblood earned a bachelor's degree in Interrelated Special Education from Georgia Southern University. He and his wife, Andrea, have three children and two grandchildren. They live in Fort Valley.
UPDATE: The final two appointments to the Employment First Council, which completes the 14 member body, have been announced. They are:
Parker Glick
Glick is the media and outreach coordinator for the Statewide Independent Living Council of Georgia. He sits on the board for the Georgia Council on Developmental Disabilities and is active with the Association of Programs for Rural Independent Living's youth leadership council. Glick earned an associate degree in Education from Daytona State College. He resides in Decatur.

Brandt White
White is a certified peer specialist and a member of Cohort 5 of My Voice. My Participation. My Board. He is active with Stevens Creek Community Church in Martinez and volunteers with local animal shelters. White earned a degree in Business Technology from Augusta Technical College. He lives in Evans.
State Agency Representatives Previously Named:
Tim Evans, Georgia Department of Labor
Eric E. Jacobson, Georgia Council on Developmental Disabilities
Paula Poulicek, Georgia Department of Education
Amy R. Reidesel, Department of Behavioral Health and Developmental Disabilities
Rossany Rios, Technical College System of Georgia
Felita Williams, Board of Regents
Chaired by Georgia Vocational Rehabilitation Agency's (GVRA) Executive Director, the role of the Council is to make recommendations to the Office of the Governor and the General Assembly for policies and legislation that align with inclusive, competitive employment for people with disabilities.
The Employment First Legislation established employment as the first and preferred option for individuals with disabilities receiving public services who choose careers as a path to independence. Georgia joins a strong national movement that includes 45 other states with some form of Employment First initiative, legislation or executive order.
---
Sa
Save