A Digital Newsletter from the Georgia Council on Developmental Disabilities • June 2020

---
In This Issue:
Join Us
Dr. Martin Luther King, Jr. said, "There comes a time when silence is betrayal."
The Georgia Council on Developmental Disabilities has never been silent, and we join in solidarity with those around the world who speak out against the systemic racism that led to the killings of George Floyd, Ahmaud Arbery, Tony McDade, Breonna Taylor and so many others.
As we do this work across our state that is the birthplace of Dr. King, as well as home to John Lewis, Andrew Young, Historically Black Colleges and Universities, the Center for Civil and Human Rights – and countless other individuals and institutions that uplift and foster the potential of Black Americans – we hear you and stand beside you.
Central to the work that we do at the Georgia Council on Developmental Disabilities is moving the needle of policy and legislation towards inclusion and equity for every Georgian. During this time, we want to amplify the voices of Black Americans and their right to live lives that are free from discrimination and oppression.
There is much work that needs to be done, and our goal is to include diverse thoughts and perspectives in that work.
Join us.
---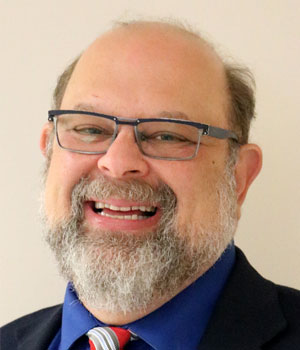 A Message from the Executive Director
The times that we live in are different from any that we have witnessed in our lifetime.
For many people with disabilities, COVID-19 has meant isolation, lack of supports, sickness and even death. However, there may be new opportunities during this time that many of us have enjoyed, such as getting to know the people in our neighborhoods during evening walks or picking up groceries for each other when we go to the store. I think we should be asking ourselves, "What have we learned during this time that we did not have the time to do before?" Answers may include, "I learned to make sourdough bread," or "I took an exercise class on Zoom." We can let COVID-19 get us down – or we can use this time to make our lives better.
In addition, many of us may be asking, "What happened to the Georgia legislature when COVID-19 forced us all to stay in our homes?" The legislature did not complete its work before the pandemic began. Now, members of the Georgia General Assembly will be coming back to finish the work they began. This includes creating and passing a budget for the state year that begins July 1.
Because of the economic chaos caused by COVID-19, state agencies are being asked to cut their budgets by 14 percent. Agencies such as the Department of Behavioral Health and Developmental Disabilities will submit to Governor Kemp how they will cut 14 percent out of their budgets. But what does that mean? Does it mean no new dollars to address the waiting list? Less money for waiver services? Cuts to inclusive post-secondary education programs?
We are counting on YOU to let your legislators know that even with an economy in trouble, people with disabilities will not accept cuts to their services and supports. You can also send the governor and legislature a clear message when you vote on June 9. Make sure to complete your absentee or mail-in ballot, so that your vote can be counted.
Finally, a couple of pieces of news from GCDD. First, GCDD will soon begin its five-year, strategic planning process. This is required by the Developmental Disabilities Bill of Rights and Assistance Act. We will be coming to you and asking about what is working in your communities and where the system is falling short. Second, we have a new executive committee that you can read about in this newsletter. We are excited to begin this planning year with new leadership focused on what the future can look like for Georgians with developmental disabilities.
We hope you enjoy reading this newsletter, and we want to hear from you. Let us know your thoughts and comments about by writing to Managing Editor Hillary Hibben at .
---
Public Policy for the People: What's Happening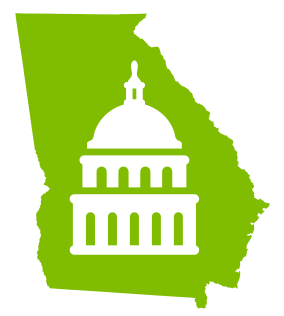 Public Policy for the People provides public policy updates as it pertains to people with disabilities here in Georgia.
Advocates, thank you for taking the time to read GCDD's public policy updates about state and federal happenings. Regarding Georgia's legislative session, we left off rather abruptly due to COVID-19, and the state session was suspended after day 29. For a recap on what advocacy took place during the first 29 days, please review the legislative recap in the April edition of our Making a Difference Magazine.
As promised, we want to make sure you know the goings-on under the gold dome. We received word from Speaker of the House David Ralston that session will officially resume Monday, June 15. Committees can begin meeting in-person on Tuesday, June 2, but only to begin reviewing legislation and hearing testimony. No official votes can take place until June 11. Right now, we are not sure what session might look like regarding in-person versus virtual advocacy, but you can guarantee that we will let you know as soon as we find out!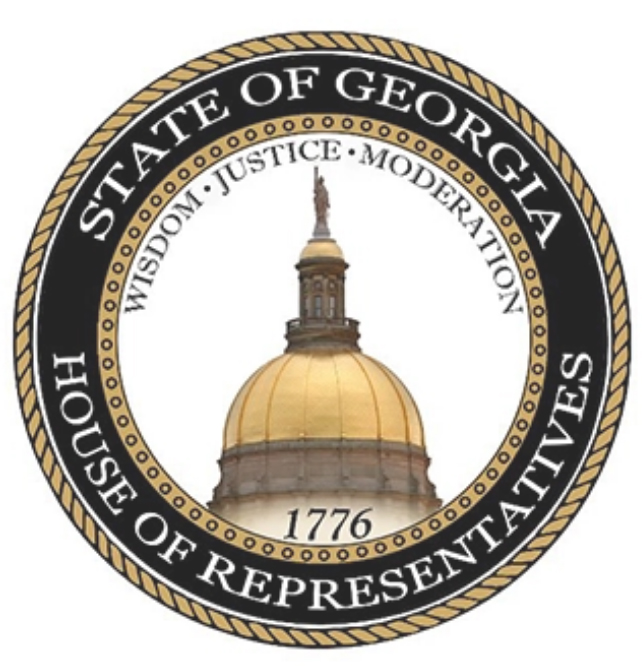 Click to view GA House of Representatives meetingsState Policy Updates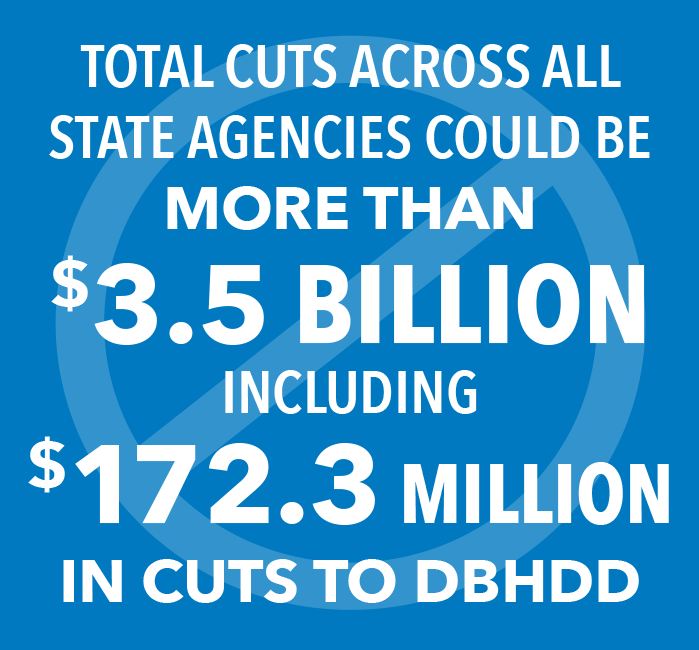 Currently, members of both Georgia's House of Representatives and Senate are conducting virtual meetings that are available for public viewing, focusing on our state's budget. Some of you might recall that Georgia's General Assembly is only required to pass one piece of legislation, and that is the state budget. The state budget for fiscal year 2021 (which starts on July 1, 2020) made it through the House prior to the suspension of session, but it is likely that that version will have significant changes because the governor is asking for 14-percent budget cuts from state agencies.
Click to view GA Senate meetings.
These significant budget cuts may be required due to the impact of COVID-19 on our state's economy. To put that percentage into perspective, total cuts across all state agencies could be more than $3.5 billion, including $172.3 million in cuts to the Department of Behavioral Health and Developmental Disabilities (DBHDD). As of now, we do not have any proposals to better understand where those cuts might come from, but we are expecting to get more information in the coming weeks. (On June 3, 2020, Governor Kemp's office announced that proposed budget cuts should reflect 11 percent, instead of 14 percent. GCDD remains concerned about these deep cuts to services and supports for Georgians with disabilities, and we continue to monitor what the governor's recommendations could mean for our communities.)
Federal Policy Updates
Regarding federal updates, the U.S. House of Representatives released the HEROES Act on May 12, 2020, which would provide an additional $3 trillion in COVID-19 relief funds. The House voted and approved the HEROES Act on Friday, May 15. We were relieved to see some of our disability priorities included in the proposed legislation, including $100 million to the Administration for Community Living, which provides supports and services to seniors and people with disabilities and their loved ones.
Although the inclusion of these funds is encouraging news, they are not guaranteed in the final version, which means your federal senators need to hear from you! Remember, GCDD is here to help if you need any assistance locating the contact information for your representative and senator and/or drafting your message. (Tip: Try using this My COVID-19 Story template to get started on your story.)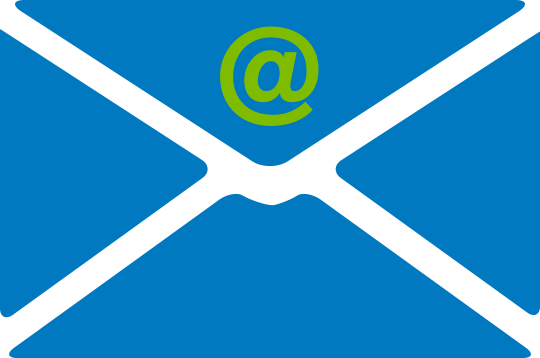 Email us for more information:
Public Policy Research & Development Director Dr. Alyssa Lee:
Legislative Advocacy Director Charlie Miller:
Election Day is June 9!
On June 9, Georgians will cast votes for in the primary election to choose the candidate for each party's nomination by voting through secret ballot, as in a general election.
With many shelter-in-place orders in effect, Secretary of State Brad Raffensperger announced that all ballots will be mailed to registered voters.
While early voting is already underway, the primary election features the presidential candidates, as well as the local and legislative primary races. The candidates who are selected by voters will be on the ballot for the November general election.
Find out who is seeking election/re-election in Georgia.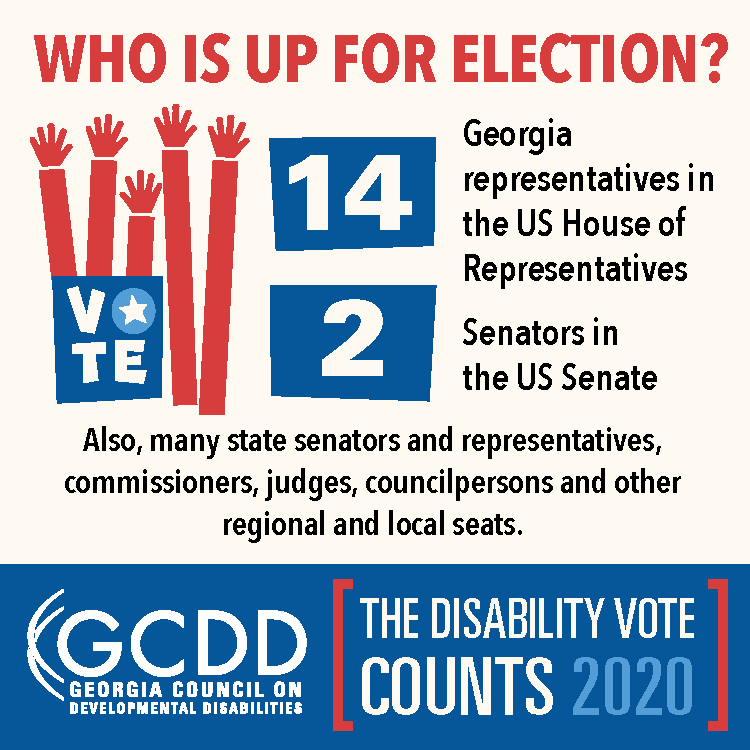 Who is up for election?
14 Georgia representatives in the U.S. House of Representatives
2 senators in the U.S. Senate
Also, many state senators and representatives, commissioners, judges, councilpersons and other regional and local seats impact how people with disabilities work, live and play in their communities.
Two ways to vote:
Due to COVID-19, Georgia has allowed registered voters to submit absentee ballots instead of heading to the polls for early voting or on election day. Here's what you need to know:
Absentee ballot – If you received your ballot and have not submitted it, be sure to mail it in to have your vote counted by June 9. Check out the Secretary of State's Guide to Absentee Voting for how to complete and submit your ballot.
Going to the polls – To find out where you vote, go to the My Voter Page through the Secretary of State's website. There, complete your information to find out your polling place for early voting and day-of voting. Please note that lines and wait times might be longer due to COVID-19 precautions, and practice physical distancing and other safety measures while out in public.
GCDD Welcomes New Chair and Executive Committee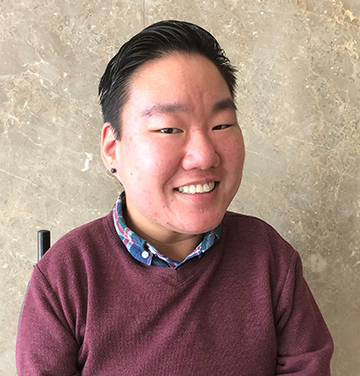 New GCDD Chair
Parker GlickThe Georgia Council on Developmental Disabilities (GCDD) welcomes five new executive committee members who will lead the council and its work to bring about social and policy changes for people with developmental disabilities and their families throughout the state.
Parker Glick, from Decatur, was appointed to GCDD in 2015 and will now serve as the chair of the council. Born with arthrogryposis multiplex congenita (AMC), Glick works as the employment coordinator for the Statewide Independent Living Council of Georgia. An accomplished self-advocate, Glick was also appointed by former Governor Nathan Deal to the Employment First Council. As one of the younger members on the council, he leads by example so young adults with disabilities learn to develop and employ their own self-advocacy skills to affect change for Georgians with disabilities and the policies that impact them.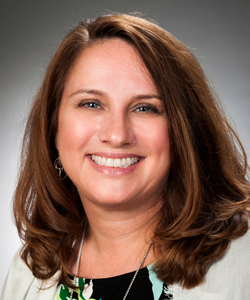 Heidi J. MooreHeidi J. Moore is a parent advocate for individuals with disabilities and pediatric cancer research with Unite Our Voices, a place for families, providers, politicians and concerned citizens to find information and learn how to advocate for children and adults with disabilities and pediatric cancer. Moore has a 20-year-old son, Jacob, who has Down syndrome and autism and is also a cancer survivor. Appointed to the council in 2016, Moore continues to further her grassroots advocacy efforts to make a difference in the services families of children and adults with disabilities receive in Georgia. She lives in Alpharetta.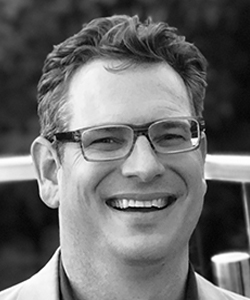 Mark CrenshawMark Crenshaw was appointed to the council in 2019 and is working to positively influence policy and model services in Georgia. He works as the director of interdisciplinary training at the Center for Leadership in Disability at Georgia State University. As a council member, Crenshaw strives to help people understand that Georgians with and without disabilities benefit when they are welcomed together as valued members of their communities.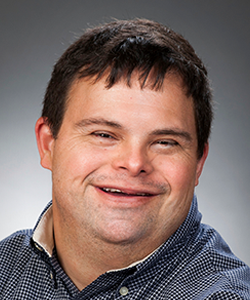 Evan Nodvin
Evan Nodvin, a self-advocate, has been a GCDD council member since 2013. Nodvin has participated in My Voice, My Participation, My Board with the Center for Leadership in Disability as well as Partners in Policy Making with GCDD. He works with the council to advocate for the end to the Medicaid waiver waiting list. Nodvin is a resident of Dunwoody.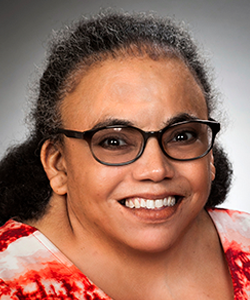 Dorothy HarrisDorothy Harris, a self-advocate, serves as secretary of People First of Fitzgerald, where she lives. An active advocate, Harris has participated in Disability Day at the Capitol; advocated for a local library to stay open; and fought for public transportation in the Fitzgerald community that can serve everyone. She currently serves on the board of Jessamine Place Human Rights Committee and is an advisory member for GCDD.
GCDD works to create systems change for people with developmental disabilities and their families by increasing opportunities for independence and inclusion. By collaborating with, supporting and funding projects across Georgia, the council promotes innovative programs and activities to develop opportunities to enhance the quality of life for Georgians living with developmental disabilities. Since its inception in 1971, GCDD has advocated for more than 1.7 million Georgians with developmental disabilities and their families.
Parties interested in more information about GCDD, or who would like to apply for the council, may find additional details and application guidelines on the GCDD website.
---
Georgia Developmental Disabilities Network Brings Together Resources for Disability Community
The Georgia Developmental Disabilities Network (GDDN) is a consortium of 10 Georgia-based, disability-focused organizations that are committed to connecting people with resources during the COVID-19 pandemic. GDDN hosts weekly phone calls to support individuals with disabilities, parents and family members, caregivers and other stakeholders to share COVID-19 challenges.
The weekly webinars provide resources for Georgians with disabilities and other stakeholders that offer guidance on navigating various topics such as Medicaid waivers, employment, Appendix K and more.

The resources are available on GCDD's website. Click the category of interest below and access various links, recordings and information.
To see all documents, visit the main "Georgia Resources" folder via Google Drive.
GDDN partners include: The Arc Georgia, Center for Leadership in Disability at Georgia State University, Down Syndrome Association of Atlanta, The Fragile X Association of Georgia, Georgia Advocacy Office, Georgia Council on Developmental Disabilities, Institute on Human Development and Disability at the University of Georgia, Parent to Parent of Georgia, Spectrum Autism Support, Education and Resources and Uniting for Change.
---

Tags: GCDD, Developmental Disabilities, enews, newsletter