Mia got COVID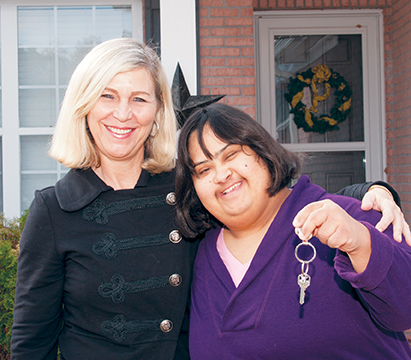 by Pat Nobbie, Mia's Mom
Mia got COVID.
Those of you who followed Mia's Space when I worked for GCDD know her. She has no other complicating health conditions except for "morbid obesity," which is the clinical term for being very overweight. Despite her weight, Mia is active. She works 20 hours a week at a hospital; swims on a team and goes to exercise class twice a week; is a Sunday School aide for children three to five years old; and then bowls every Sunday afternoon.
Mia has lived with a family for 11 years, in her own apartment in their home, participating in lots of typical family routines while also maintaining her own friendships, church affiliation and employment. It's the best arrangement I could have imagined, and the advent of the virus only confirmed its value because Laura and Joe, with whom Mia lives, kept Mia safe from exposure like they did for themselves and their three children, while also keeping her busy after she was furloughed from her job in the short-stay surgery unit in early March.
Ironically, we believe she contracted the virus the first day she was allowed to return to work, July 6. We are not exactly sure where she got exposed, but we figure it was when she was dropped off for work at the wrong entrance and ended up in the emergency department.
Over the next three days, she developed some congestion, and we started her on a decongestant, but at dinner Wednesday night, Laura called me and said, "Something is not right with her; she is barely eating and seems really dull and listless. I think we should get her tested."
The next morning, when I talked to Mia, she said, "My head hurts, I'm scared!" And started to cry. The only other time I've heard her say she was scared was when faced with heights. She's scared of heights. I panicked. Laura and I ran through testing options in Athens, which were confusing. Should we call her primary care physician? No, call urgent care. We called three urgent care facilities, and there were no appointments for five days. The drive-through site we knew had moved to another part of town and wasn't up and running yet. Suddenly we realized that since she worked at a hospital, she should be able to get tested there. An hour and 40 minutes later, results came back positive. The recommendation was to take care of her at home.
But Mia already has pulmonology issues, uses a BiPAP machine to breathe at night and has had pneumonia. We got a pulse oximeter and a visual monitor so Laura could track her sleep from upstairs. Friday morning, we did a three-way consult with a doctor at Mia's pulmonology practice. What should we be monitoring? Pulse oxygen should be in the 90's consistently. Currently, we were in the 80's with some dips into 70's. "She needs to be in the hospital," the doctor said.
I hung up the phone and burst into tears, scared to death of her being in the hospital without support and knowing how bad this could get. Laura took Mia to the ER where she had to go for intake. A chest X-Ray revealed double pneumonia. The ER doctor recommended Mia go to the ICU where each nurse only had two COVID patients over a 12-hour shift, day and night, and where it would be less disruptive for her. She would be on oxygen support, and the doctor was recommending remdesivir but could not guarantee she would get it because there was a shortage. Around 8 p.m., ICU staff came to get Mia and wheeled her away. Her last words to me over the phone were that she was scared. Laura broke down also as she was wheeled away. This was Friday night.
I was still in Washington, DC, getting ready to move to Georgia in three weeks. I threw my things together, rented a car and left at 5:30 a.m. Saturday to make the 10-hour drive to Georgia. I didn't hear from Mia for 36 hours. Mia usually calls me three times a day. She's so consistent that I have previously joked that if I dropped dead on my kitchen floor, it would be Mia who would alert someone because she hadn't been able to reach me. Not hearing from her, or anyone for all that time, was awful.
Then suddenly, Sunday morning at 8 a.m., "Hi, Mom!" Again, tears. But this time they were tears of relief.
Notably, Mia never had a temperature, which was promoted as the first sign of COVID. And she tested positive only four days after we think she got exposed, much quicker than we had thought possible. In the meantime, Laura and I put out a Facebook post to let our community know, to be upfront about the diagnosis and to short-circuit any stigma associated with it. We did our own contact tracing, working collectively to remember where she had been, starting with the family. Laura tested positive, but only lost her sense of taste. One of her kids was away while Mia got sick, but the toddler may have had it, including a runny nose and crankiness, but quickly got over it. Her 13-year-old son tested positive with no symptoms, and her husband was negative. We called the nurses in the unit where she worked; the paratransit service she took to work; the dentist because she had had a dentist appointment that week; and her other support worker. People were grateful we let them know. But we took that on ourselves; there was no standard process and no documentation made that it had been done.
Mia spent five days in the ICU. She did get remdesivir, an antibiotic and steroids for the pneumonia. For three or four days, she didn't even get out of bed. I had a four-digit code to get connected to her room nurse. I couldn't always get them on the phone when I called. But at some point, a nurse would call back and give me an update. I learned what to ask: What was her oxygen level? How many liters of oxygen was she receiving? I knew the benchmark was seven liters, at which point she may have to go on a ventilator. For days, it hovered around six liters.
After five days, she was through with the course of remdesivir. Her oxygen requirement went down to four liters, and they moved her to the step-down unit. She started getting up. She complained about what a mess her hair was! She called me with a list of things to bring to the hospital: her deodorant, toothpaste, toothbrush, more underwear, her hairbrush, lip balm and Gatorade. She wanted to go home and get in her own shower. She told me that she was getting out of bed to "sit in the pretty chair by the window." Then all of sudden it seemed, she was off the oxygen. I asked the nurses, "What's the criteria for discharge?" "When she can breathe room air consistently on her own," I was told.
I was blessed that Mia could communicate with the nurses without assistance, but here's an example of the importance of knowing how to ask questions of someone with an intellectual disability. I happened to be on the phone with Mia when the nurse asked her, "Do you have shortness of breath?" Mia: "Yes." Me: "She does not understand that question. Ask her, 'Are you having trouble breathing?'" The nurse asked her. Mia: "No, I'm fine!" Nurse: "Oh, OK!" The difference in those responses could have meant another day in the hospital!
She started with physical therapy to get her up and moving around within her room. She started complaining about the food and ordering things from the hospital menu. No eggs! No more French toast! Happy that one morning she got bacon and then a hamburger for dinner. She spent hours on the phone keeping in touch with her fans.
On day 8, Mia was breathing room air on her own with only slight dips at night. She was up and about a few times a day. I donned PPE and cleaned her apartment thoroughly with bleach, including all the surfaces, the bathroom, the kitchen, door handles, etc. I also changed her sheets and put everything in the wash. Two days later, the person who usually cleans her apartment cleaned again, from top to bottom.
On day 10, she was ready to leave the hospital. The logistics of discharge were puzzling. I couldn't be exposed. Laura was positive and quarantined! It ended up that Laura went, the orderly brought Mia out, masked, and put her in the back of Laura's car, and they went home.
The first thing she did was take a shower in her own bathroom and wash her hair. I came by and we air-hugged on opposite sides of the glass door to her apartment. She was so glad to be home. The next day I drove back to DC to pack my apartment to move to Georgia.
On August 12, she had a follow-up doctor's appointment with her usual physician. Having heard of lingering or delayed heart conditions, we did a blood test for the COVID-19 antigens and another to indicate heart inflammation. Antigens, positive. Heart inflammation, negative. She had an echocardiogram of her heart. Heart function was normal.
Overall, Mia's experience with COVID and recovery went remarkably well. She got great care, she managed herself well in the hospital and she seems to have no lingering side effects. But the process of navigating this disease, its spread and our responsibilities in terms of testing and sharing information were so puzzling, even for well-informed people. Since Mia was discharged, two friends of mine have passed away, both middle-aged dads, devastating their families. We were lucky.
Stay safe. Wear a mask. Wash your hands. Spread love by caring for each other from a distance.