Real Support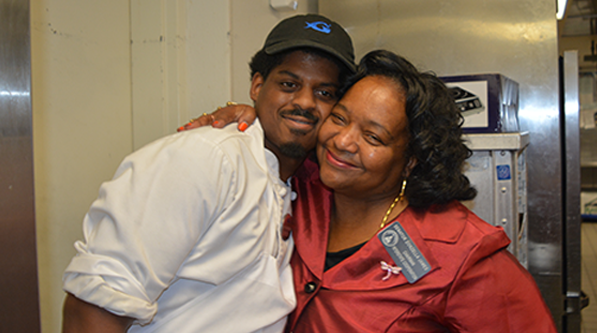 Over the past seven years, the Unlock the Waiting Lists! Campaign has resulted in thousands of individuals receiving supports that would have not otherwise been available. However, there remain over 5,000 people with developmental disabilities on the waiting list for home and community-based services. This number is expected to grow. A multi-year funding plan was developed and is being used as the benchmark for future requests. In addition, a question remains about the capacity of providers to meet the growing need based on the number of providers, the reimbursement rates provided and the quality of the workforce available to work with individuals and families.
GCDD Vision
The Georgia Council on Developmental Disabilities (GCDD)'s priority is to continue its efforts to increase funding for home and community based services as well as the quality of those supports.

During the past year, GCDD in collaboration with the Georgia Advocacy Office, Institute on Human Development and Disability, Statewide Independent Living Council and People First supported efforts to move the remaining 40 children from state hospitals into the community. There still remain approximately 100 children in nursing homes or private ICF/MRs. Children should not grow up in institutions but instead need to be in loving, stable homes. The reason many children ended up in facilities is because families did not have the supports they needed to care for children with developmental disabilities or chronic medical conditions. The only option given to many families was placement in a state or private institution. The priority for GCDD is a Georgia where children are prevented from going into institutions/facilities or are brought home safely from institutions/facilities into homes and families.

The Developmental Disabilities Bill of Rights and Assistance Act defines formal and informal community services as: Individuals have access to other services available or offered in a community, including formal and informal community supports that affect their quality of life.
GCDD Supported Efforts
Navigator Teams - Navigator Teams are county-based teams of experienced parents who can provide information and help guide families to supports and services in their local area. They are based out of Parent to Parent of Georgia and are a method of providing family support. These teams work on resource development and are building the capacity to help families through person centered planning. Their goal is that no family will feel that they are out there all alone.

Direct Support Professional Certificate Program - This training program is designed to help direct support professionals gain the skills they need to effectively support individuals with disabilities in the community. It is now a one semester program with both classroom and practicum components. It is a total of 250 hours of training for which the students receives 12 credit hours. Over 500 students have completed the program. It has been nationally accredited by the National Association of Direct Support Professionals (NADSP). The course is now a pre-requisite for becoming a new provider through the Department of Behavioral Health and Developmental Disabilities. The unique feature of the program is that each student is paired with a learning partner who is a person with a disability. The students take what they are learning in the classroom and apply it in their learning partner's life. It is a very hands-on curriculum that is offered through the technical colleges. Over 300 direct support professionals have completed the certificate program.

GA Alliance of Direct Support Professionals - The Georgia Alliance of Direct Support Professionals is a way for direct support workers to network with each other and to gain leadership skills. They are given learning opportunities. They form chapters in their local areas where they can meet and share information and problem solve solutions. There are currently chapters in Macon, Athens, NW Georgia, NE Georgia, Fitzgerald, Jackson/Griffin, Atlanta and Thomaston.

Children's Freedom Initiative - The Children's Freedom Initiative was directed by a legislative resolution that urged state departments to work together to get children out of state institutions and nursing homes. It has been a joint collaboration between the DD Network in Georgia and it has been featured on National Public Radio through a series by reporter Joe Shapiro. He received the GCDD Media Award in July 2011 for this outstanding coverage. To sign the Children's Freedom Initiative Declaration, Click here.

UNLOCK! (formerly Unlock the Waiting Lists!) is an on-going campaign to obtain more funding for home and community-based waivers. It has strong name recognition for legislators. It has pushed for NOW/COMP waivers, ICWP waivers, and for more waivers under Money Follows the Person. It has pushed for a rate study to ensure adequate reimbursement for services and has asked for additional family support funds to keep families together.

Georgia Micro-boards Association - The Georgia Micro-boards Association is a non-profit organization that provides technical assistance to people with disabilities and their families who want to organize a micro-board. They have developed a notebook that has templates as well as information that will simplify the process for someone just starting out. They help complete a person-centered plan for the person so everyone is clear what is important to that individual. They are developing information on how to find natural supports in the community. They are developing natural support materials and information on Self-Directing Services.
President Obama Receives Art from Olmstead Plaintiff Lois Curtis - Please read this blog post written by Sue Jamieson in honor of the 12th anniversary of the Olmstead Decision. "On June 20, 2011, 12 years after her visit to the Supreme Court, Lois has not only seen the President but presented him with a gift of one of her original paintings in the Oval Office, in the style of a visiting dignitary. The 'Girl in Orange Dress' is one in a series of three pastel self portraits Lois created since she has no photographs to mark her childhood."

Other Partners and Resources
Georgia Advocacy Office
Parent to Parent of Georgia
Technical College System of Georgia
All About Developmental Disabilities
National Association of Direct Support Professionals (NADSP)
Tennessee Microboard Association – Dr. Ruthie Beckwith
View Our Real Support Resources