GCDD 2017 Annual Report

Message from the Executive Director
The mission of the Georgia Council on Developmental Disabilities (GCDD) is to bring about social and policy changes that promote opportunities for persons with developmental disabilities and their families to live, learn, work, play and worship in Georgia communities. For a message from GCDD Executive Director Eric Jacobson, click on the video.

In 2017, we worked with our partners, Council members, advocates and community to continue achieving inclusive and integrated communities in Georgia. Here are highlights of the year, and if you want to learn more, click on the links provided in each section for a more details on how GCDD's work impacts the lives of people with developmental disabilities:


---
Campaign to #Save Medicaid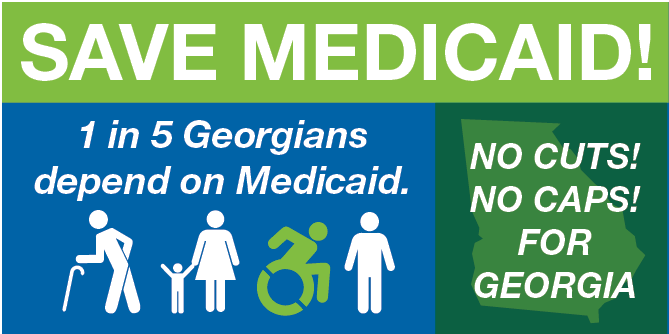 Campaign to #SaveMedicaid
GCDD launched the No Cuts! No Caps! campaign in June 2017 to bring attention to the changes to Medicaid proposed by the House and Senate plans to replace the Affordable Care Act. The campaign successfully blocked the vote on the replacement plan and won the Community Impact Award from Georgians for a Healthy Future in September. Read more about the Campaign here.


---

5 Advocacy Days at the Capitol
Advocates with developmental disabilities from around the state came to speak with policymakers about the issues that impact them at GCDD Advocacy Days during the 2017 legislative session. Topics covered included: DD Waivers Day • Employment Day • Inclusive Post-Secondary Education (IPSE) Day • Enable Work & Families Day • Home & Community Day. Read more here.
---
Click here to download a pdf of the GCDD 2017 Annual Report
© GCDD 2017 Annual Report • GCDD Office of Public Information •
2 Peachtree Street NW, Suite 26-246, Atlanta, GA 30303-3142
404.657.2126 •
---