Governor Nathan Deal Launches Georgia STABLE Program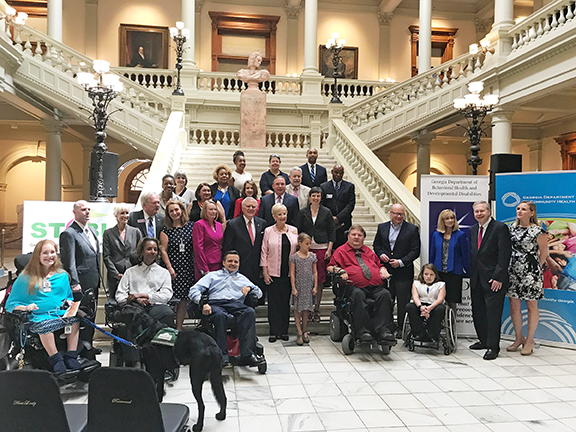 New program allows people with disabilities to save without penalties
June 14, 2017 (Atlanta, GA) – Governor Nathan Deal announced the launch of the Georgia STABLE program today at the Georgia State Capitol. The program allows Georgians with disabilities and their families to create tax-deferred savings accounts without giving up critically needed Medicaid and Supplemental Security Income (SSI) benefits.
Georgia joins the Ohio STABLE program, along with Kentucky, Vermont and Missouri. STABLE accounts are open to eligible individuals nationally and will cost $42 per year with a small asset-based fee. The accounts allow individuals to invest up to $14,000 a year. Individuals can also withdraw the money to pay for qualified disability expenses such as education, employment training and support, housing, health and wellness, transportation, personal support services and other approved expenses.
"This is a chance for Georgians with disabilities to be able to save their own money and invest it in a way that will allow more opportunities for them to live, work and contribute to their local communities," said Eric Jacobson, executive director of the Georgia Council on Developmental Disabilities (GCDD). "Georgia STABLE will be a major way to meet their financial needs and goals."
The savings program opens a year after Gov. Deal signed Georgia's Achieving a Better Life Experience (ABLE) Act. The law allows individuals with disabilities and their families to contribute to a tax-exempt savings account that can be used for maintaining health, independence and quality of life.
For more information on the Georgia STABLE program, visit http://georgiastable.com
About GCDD: The Georgia Council on Developmental Disabilities (GCDD) is the state's leader in advancing public policy on behalf of persons with developmental disabilities. It's mission is to bring about social and policy changes that promote opportunities for persons with developmental disabilities and their families to live, learn, work, play and worship in Georgia communities. www.gcdd.org
MEDIA CONTACT:
Valerie Meadows Suber, Public Information Director
Georgia Council on Developmental Disabilities
404-657-2122 (office); 404-801-7873 (mobile)

www.gcdd.org
Twitter: @georgiacouncil