GCDD to Launch I Love Medicaid Campaign at Advocacy Days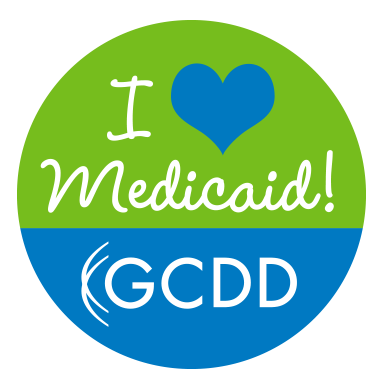 Campaign will educate lawmakers on benefits of Medicaid for Georgians with disabilities
February 12, 2018 (Atlanta, GA) – In the spirit of Valentine's Day, the Georgia Council on Developmental Disabilities (GCDD) will kick off the I Love Medicaid campaign at their February 14th Advocacy Day in downtown Atlanta. The campaign is an effort to inform legislators and decision makers about the importance of Medicaid for people with developmental disabilities, and the kickoff will be streamed live on Facebook.
During the kickoff event, GCDD will be training advocates how to talk to their legislators, then going to the Capitol in the afternoon in teams to meet with legislators to discuss their concerns about Medicaid funding.
The month-long campaign will allow self-advocates, advocates and other stakeholders to advocate for Medicaid supports and how it helps people with disabilities to attend school, go to work, receive assistive technology, live in the home of their own choosing and more.
"Through the I Love Medicaid campaign, we want to educate and inform our legislators, agency leaders and overall community on how Medicaid allows people with developmental disabilities to lead the life of their choice," said GCDD Executive Director Eric Jacobson.
People can participate in the campaign by sharing their I Love Medicaid stories on the GCDD website; speaking to legislators on how Medicaid supports you or your loved ones; and attending this Advocacy Day on February 14 or March 15, the second of two Medicaid Advocacy Days and last of the initiative.
In its third year, Advocacy Days take place on six different days where advocates from across Georgia come to speak with legislators during the 2018 legislative session on topics that are important to the disability community, like Medicaid. Other topics include Developmental Disability (DD) Waivers, integrated employment, inclusive post-secondary education and the UNLOCK! Coalition.
"It doesn't matter what part of the State you're from, you can make a difference by advocating for what is important to you and getting your voice heard before, during, and after the [legislative] session," Jacobson said.
For more information on the I Love Medicaid campaign or to share your story, visit https://gcdd.org/public-policy/legislative-priorities/i-love-medicaid.html
For more on the 2018 Advocacy Days or to register, visit https://gcdd.org/public-policy/public-policy-events/105-general-content/3134-2018-advocacy-days.html
About the Georgia Council on Developmental Disabilities: The Georgia Council on Developmental Disabilities (GCDD) is the State's leader in advancing public policy on behalf of persons with developmental disabilities. Its mission is to bring about social and policy changes that promote opportunities for persons with developmental disabilities and their families to live, learn, work, play and worship in Georgia communities. www.gcdd.org
###
MEDIA CONTACT:
Devika Rao
O'Neill Communications
678-384-7836 (office); 404-374-5231 (mobile)