Real Communities Community Builder Honored at Conference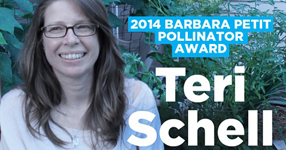 Real Communitiies Community Builder Teri Schell, founder of the Forsyth Farmer's Market, was honored at the 17th annual Georgia Organics Conference held at Jekyll Island. Schell was the recipient of the Barbara Petit Pollinator Award for her leadership in Georgia's sustainable farming and food movement. She is also the co-chair of the recently formed Savannah Chatham Food Policy Council.
In 2013, the five-year-old Forsyth Farmers Market was highest among all farmers markets in the state in regards to SNAP/EBT redemptions totaling $62,000. The market, under Schell's guidance, was one of the first farmers markets in the nation to accept these federal benefits, which used to be known as food stamps. It partners with the nonprofit Wholesome Wave Georgia to double the value of SNAP purchases.
To read more about Schell's work and the Forsyth Farmer's Market, click here. (This link is no longer active.)
Tags: GCDD, Atlanta, News, Real Communities