A Digital Newsletter from the Georgia Council on Developmental Disabilities • March 2019

---
In This Issue: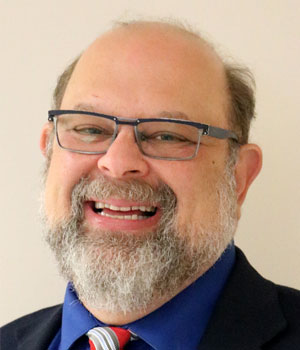 This month, we celebrate Developmental Disabilities Awareness Month. I encourage you to use this time to educate your legislators about issues important to people with developmental disabilities.
It's more important than ever as Georgia gained new leadership when Brian Kemp was sworn in as the 83rd governor of Georgia. And, along with the new administration, state senators and state representatives kicked off its legislative session and got to work on issues and policies for Georgians.
Among the new governor's priorities is improving access to healthcare for thousands of Georgians, and it is the Georgia General Assembly that writes the laws and appropriate funds to make any changes. As I write this article, we are unsure of the specifics on this and other major issues important to people with disabilities.
Currently, the legislature is debating the governor's proposed budget for State Fiscal Year 2019-20. As written, it only includes 125 new NOW/COMP waivers - not enough to make a dent in a 6000-person waiting list. The budget also includes no money for the academic transition teachers who were eliminated from the state's inclusive post-secondary education programs by the Georgia Vocational Rehabilitation Agency. In addition, the legislature is considering a host of other bills to address issues such as dyslexia, mental health and voting rights.
Here is what we do know: Over 300 people attended our 2019 Advocacy Days. They went to the Capitol and shared their stories about such topics as waiting for home and community-based services, what life was like living in an institution and the life-changing opportunity to attend an inclusive post-secondary college program for students with intellectual/developmental disabilities. Those who attended got the chance to tell elected officials what they need to make sure their lives are meaningful.
And it is not too late. GCDD is here to assist you in meeting with your legislators and to help tell the stories of Georgians with disabilities. Please call us at 404-657-2126 and ask for assistance in getting your message to those who are meeting under the Gold Dome.
While policy junkies like me enjoy the excitement of the legislative session, it does not mean that all other work stops. GCDD continues to support efforts to organize and support individuals with disabilities to become stronger advocates through Uniting for Change, Georgia's new statewide self-advocacy network created by self-advocates in Georgia. This network is "committed to advocating, organizing, showing up and being heard." Finally, GCDD is working with the Employment First Council to catalog employment efforts in Georgia and to discuss what will be required to make employment a priority for people with disabilities.
Check out GCDD's website and join our advocacy network so that you can stay informed. We hope you enjoy reading this newsletter, and we want to hear from you. Let us know your thoughts and comments about the newsletter by writing to .
Eric E. Jacobson, Executive Director, GCDD
---
Public Policy for the People provides public policy updates as it pertains to people with disabilities here in Georgia.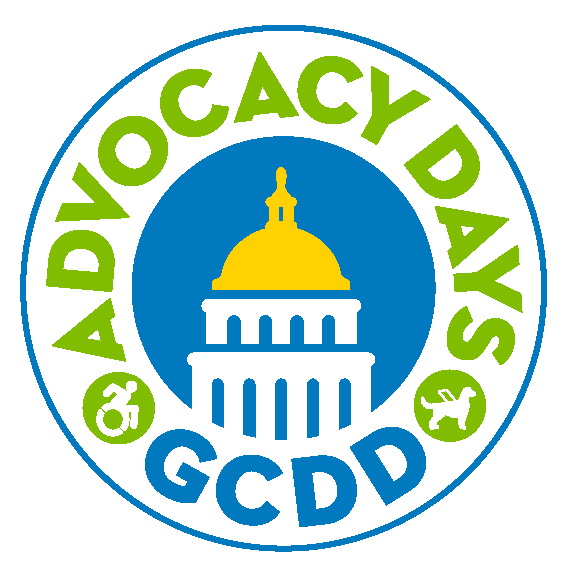 Over 300 disability advocates participated in GCDD's Advocacy Days held from Feb. 12 through March 5 at the Georgia State Capitol.
In its third year, Advocacy Days is a legislative advocacy initiative hosted by GCDD and takes place during the Georgia General Assembly legislative session.
Advocates came from across the state to meet with their legislators and discuss the importance of Medicaid waivers or Home- and Community-Based Services (HCBS) Waivers for the disability community in Georgia; getting individuals out of institutions; inclusive post-secondary education opportunities; the importance of direct support professionals and its workforce crisis; and supported decision-making.
GCDD's public policy team trained advocates on how to approach and speak to legislators on different issues.
"We were excited to see all of our advocates – whether a self-advocate, a family member, or caregiver – to be empowered to connect with their legislators and inform and educate them about issues that matter to them," said Eric Jacobson, executive director of GCDD. "If we inform and educate our legislators, then we can really be at the forefront of positive change for people with developmental disabilities across Georgia."
---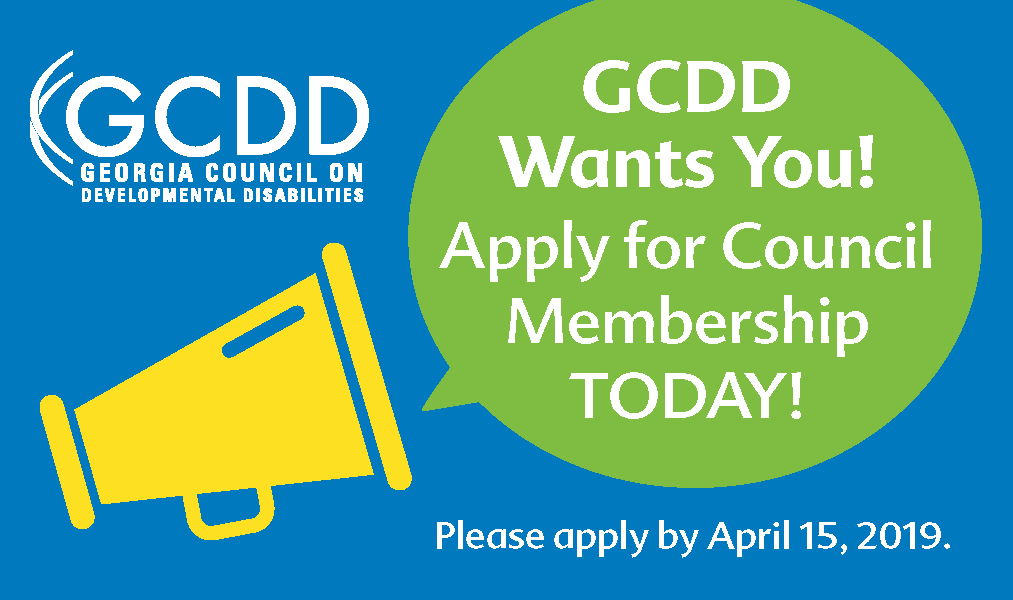 The Georgia Council on Developmental Disabilities (GCDD) is seeking applications for membership from self-advocates, parents of individuals with disabilities, caregivers and other community members.
GCDD is a 27-member board, appointed by the governor and comprised of at least 60 percent individuals with developmental disabilities and family members. Other members include policymakers that represent various agencies and organizations having a vested interested in persons with developmental disabilities.
The Council is charged with developing, funding and supporting various initiatives and programs across the state for people with developmental disabilities and their families. The initiatives, driven by the Council's Five-Year Plan, aim to increase opportunities for independence, inclusion, integration, productivity and self-determination. Activities include public policy research and analysis, reform, project demonstrations, education and training.

If you are interested in applying, please download and complete the application below. Please apply by April 15, 2019 to be considered.
Council Member Application (Word Doc) Council Member Application (PDF)
Applications can be emailed to or mailed to:
Georgia Council on Developmental Disabilities
Attention: Eric E. Jacobson, Executive Director
2 Peachtree Street, Suite 26.240
Atlanta, Georgia 30303
---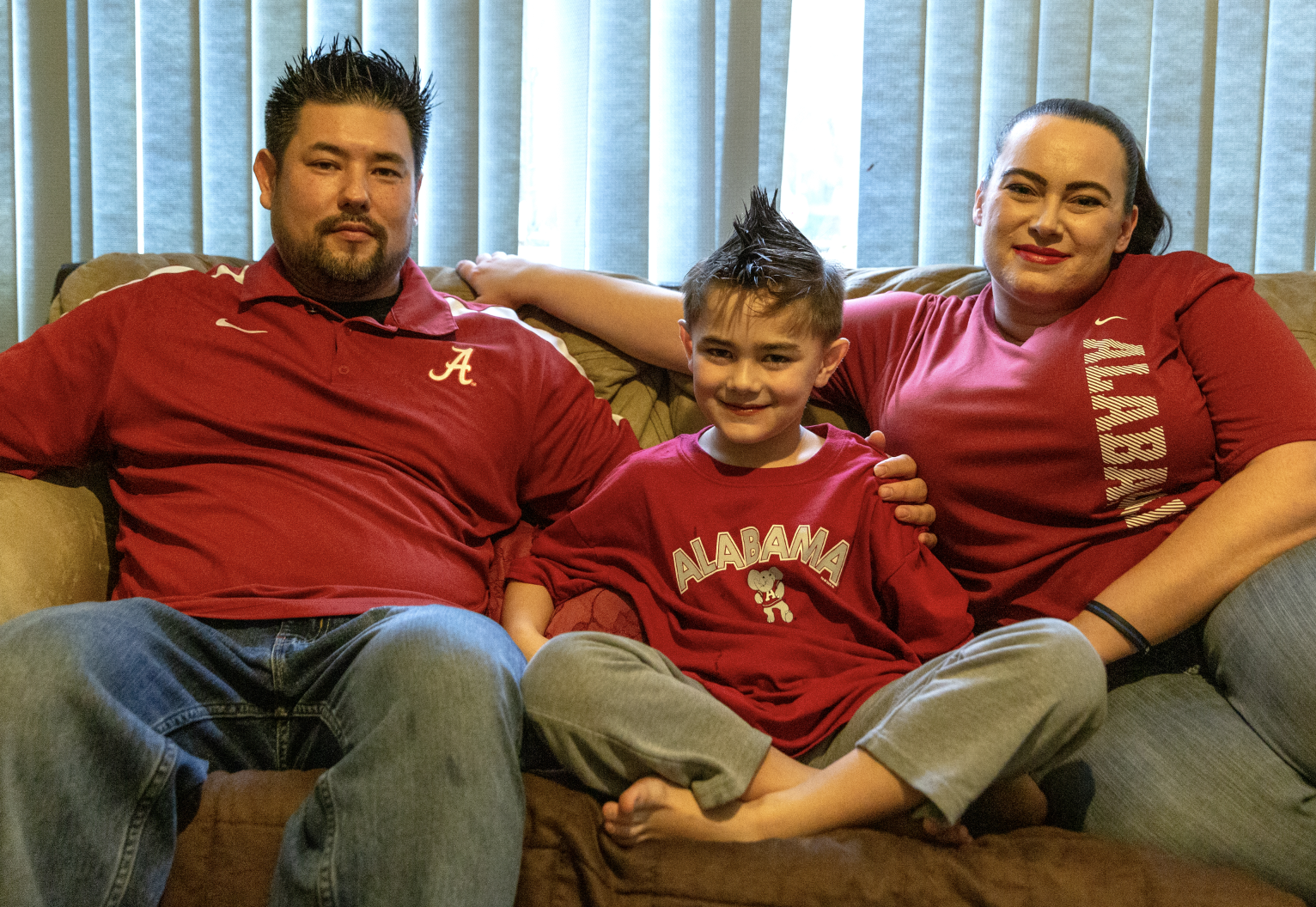 Kalel Le Denney with parents, Jennifer and Robert
It's a rainy Saturday afternoon in Columbus, GA. The Christmas tree is up in the Le Denney house, but it's not yet been decorated. Seven-year-old Kalel, Kal for short, runs from one end of the house to the other, full of energy, going from Legos to Nerf blasters to maps to getting a popsicle out of the freezer.
Mom and Dad, Jennifer and Robert, sit on the couch for a minute to see if Kal's energy will burn out. Anyone who's ever been around a kid Kal's age knows the approach of holiday season amps everything up. With his hair freshly spiked and his Alabama football shirt pressed, Kal is ready for wherever the day's going to take him.
Kal is thriving at Johnson Elementary in Ms. Komer's full inclusion class, meaning half the students are in general education, half have autism. They've had to fight for Kalel to get appropriate services through the school district. At one time, despite the autism diagnosis from private psychologists, the school psychologist labeled him with mild intellectual disability, which meant he would have been put into a completely different classroom.
Jennifer says this was wildly inappropriate as "they're not clinicians." She wouldn't care if her son did have intellectual disability; he would just get more services. It took five advocates over a span of one year to help them prove that Kal is autistic and as such needs the appropriate services. Some of those services include behavioral supports, teachers who are specially trained, speech therapy, occupational therapy and adjusting language as needed.
Kal is a young entrepreneur. Sherricka Day, an Aflac employee, used her company-encouraged volunteer time to create a business development program called Minor in Business, an incubator program for "kidpreneurs." Kal took advantage of the opportunity to start his own scrap metal and recycling company called Super Scrap.
He recruits individuals and businesses to become "Super Scrappers" who donate materials. With the profits he makes from recycling, Kal uses the money to invest in his own future landscaping firm. He's purchased a riding lawnmower, weed eater, hedge trimmer and multiple leaf blowers, including one with a short spout that he can already use. Jennifer and Robert are so proud of their son's ingenuity and drive.
Previously taking hip-hop dance, Kal attends drama camp and Reptile Fest, and is thinking about trying piano next year. Recently, Chuck E. Cheese sponsored a "Sensory Sunday," an event to make their facility more welcoming for kids with autism. The cost of a lot of these activities are made possible by the Family Supports Program through New Horizons Behavioral Health. Jennifer submitted an application for a Medicaid waiver for Kalel in May, but she received no response since, despite the fact that they should have heard back within 45 days. They specifically are in hopes to expand Kalel's community activities and get help with respite care.
If given a chance to speak to a legislator, Jennifer would say, "Intervention is key. He wouldn't be this far ahead if we didn't have intervention. This heightens his chance of being independent, functioning and contributing to society."
Jennifer is an active member of the Chattahoochee Valley Autism Study, a collaboration between Autism Hope Center, DBHDD and many individuals and agencies in the community. They are looking at employment, housing, crisis intervention, police officer training, etc.
She says there are an estimated 3,000 people living with autism in the Columbus metro area. Jennifer also speaks about the importance of access to cannabis oil as a viable medical alternative. Although it has been approved for use, it is currently not legal to manufacture or transport cannabis across state lines, rendering it impossible to obtain legally. Cannabis is, therefore, not currently an option for the Le Denneys because they don't want to break the law, especially given Robert's job as a law enforcement officer.
Still, for both Kalel and Jennifer, not having to take so many strong medications with side effects would be ideal. Robert talks about how proud he is of his son: "He's come a long way from the beginning. He's super smart. He's all self-taught. He's an amazing kid."
Having tired himself out from the morning's foray around the house, Kalel gets out his world map and lays down on top of it. His parents quiz him about places in the world. "Where's Oma from?" "What's the capital of Columbia?" It's good that he knows because, with the love and admiration of his parents, the drive to learn he already has proven, and hopefully ongoing and increased support from the community, this kid is definitely going places.

Kalal's story is a part of the GCDD Story Collection Project. The project's goal is to collect 75 stories representing the experience of individuals living with a developmental disability in Georgia.
---
by Adrianne Murchison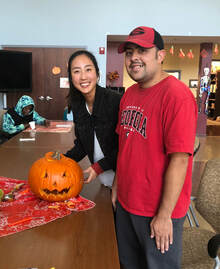 Marti Mejias was concerned about the road head when she enrolled her son, Justin, in the University of Georgia's Destination Dawgs inclusive post-secondary education program. Even so, she knew the road behind had limited options for him.

Justin, 26, has autism and dyspraxia speech impairment. Before UGA, he felt his long-held desire to help others was not being met by working in a store stocking goods.

"I was terrified for him going to UGA," said Mejias, who lives in Commerce. "But, it's been a blessing. Out of high school, we placed him in a few different jobs and nothing worked out."

Justin returned home from one of those jobs discouraged and said, "Mom, I just don't want to do this for the rest of the my life."
But, that was then. Justin will soon enter his final semester in the Destination Dawgs program for students with deelopmental disabilities.

He is one of five students who will graduate in May. His courses in music therapy and disability studies have nourished his passion to be of service.
Justin and his peer mentor, Hannah Kim.

"I'm studying special education," said Justin.

The five-semester Destination Dawgs program allows students to audit classes of interest with typical students and learn life skills that help them budget and manage money, live on their own and more. Students graduate from the program with a UGA certificate in College and Career Readiness from the university's Center on Continuing Education.

"We do person-centered planning," said Anna Lawrence, program coordinator. "We sit down once a semester and have a conversation with the student, parents, some siblings, and peer mentors to an extent. We think about where they are now, where do they want to be in five years, and what are the action items to take place."

Students have academic peer mentors. Justin and his peer mentor, Hannah Kim, became fast pals.

"We bonded in our interest in music," said Kim. "Outside of class we came up with songs that he could pair with a class activity, like the movement of egg shakers to the beat that he was playing on the guitar.

"At the end of the session he had led a lot of the activity. He had really stepped into his own role. I could tell his confidence had really blossomed."

Mejias agrees, Justin's increased confidence is apparent. "He was bullied in high school," she explained. "He would walk around with his shoulders closed and crunched down. Now his shoulders are set back and he looks straight up and ahead."

Last semester, Prof. Kari Turner taught a Destination Dawgs student for the first time in her Companion Animal Care class of 100 students ranging from freshman to senior year. Turner teaches students about dogs, cats, hamster and gerbils; and makes room for more on "show and tell" days. The class can be intimidating for a typical undergraduate, yet Katie, though quiet at first, settled in perfectly.
"You could tell she was excited," said Turner. "As the class went on she started engaging more and started telling stories.

"When we had hamsters, her eyes lit up and she raised her hand. I said, 'They bite you' and she said [enthusiastically], 'Yes, yes!'"

On show and tell day, students were allowed to bring in an assortment of pets including a pig that ran around the classroom, and a horse that was stationed outside. Katie brought in her Lhasa Apso.

When Katie's turn came to present her dog, she fled to the front of the class, Turner said. "She showed pictures and talked about the breed and history of it. I was so proud of her to stand up in front of 99 students and tell them about her animal. The other students responded so well and asked all kinds of good questions."

The Destination Dawgs program includes worked-based experiential learning. Turner's Animal Companion Care class requires volunteer work at a shelter or rescue facility. Katie volunteers at the therapeutic riding facility that she regularly attends.

And Justin is fulfilling his dream to help others. He recently completed CPR training. Next summer he will work part-time with Athens-Clarke County Leisure Services as a one-on-one buddy in the camp program.

He has spent the last several summers at Extra Special People weeklong camps in Watkinsville and voluntarily assisted counselors.
"He is so patient," she said. "He noticed that several campers were nonverbal and a few counselors knew sign language. He wants to learn to sign [next semester] to communicate with non-verbal campers."

Justin is driven by his own awareness of what it's like to struggle with a disability and be misunderstood by other people, his mother said.

"Destination Dawgs has made it possible to get the training that he needed," Mejias said. "Before we had no way before to get through to organizations to get a job. Now his future has so many possibilities.
Justin's story is a part of GCDD's Include College campaign that is spreading the word about the possibilities now open to students with I/DD in Georgia. Visit the Include College website to find out more about inclusive colleges in Georgia.

---
Sa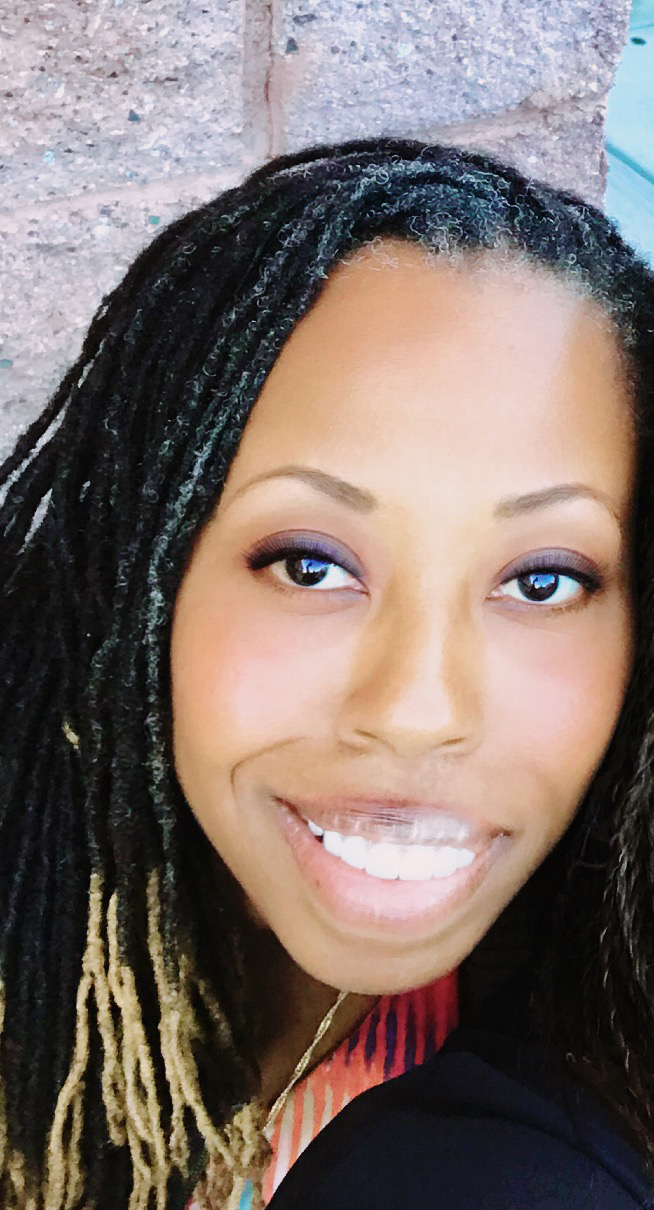 Last month, Malaika Wells joined GCDD's Real Communities Initiative (RCI) as the community organizing coordinator. In her role, Malaika works with the Real Communities director, Sumaya Karimi, to identify and support local communities involved in the RCI. She supports the RCI by fostering community development and civic engagement among RCI partners through general administrative and program management and via the design and coordination of trainings, retreats and learning journeys.
Inspired by her childhood experiences, Malaika grew up watching her parents actively participate in community by advocating for themselves and others through programmatic work and by hosting community engagement events, including cultural festivals. Their examples, accompanied by Malaika's strong faith, her husband's support and her desire for the next generation to see consistent examples of compassion for, responsibility to and personal agency in community, are the primary reasons Malaika continues to serve her community.
Prior to joining the RCI, Malaika collaborated with a local nonprofit doing community engagement work using an asset-based approach through organizing and facilitating community conversations and workshops. Now she brings her expertise to the RCI, with nearly a decade of direct community engagement experience. Meeting people, hearing the stories and experiences of others, discovering the commonalities and differences that exist between people and being willing and able to celebrate both are among some of her favorite learning opportunities within the RCI.
Outside the office, Malaika serves her community in myriad other ways. She is a member of Godly Love Christian Fellowship's Coupled in Christ marriage ministry, and she serves on the education committee of the Hunters Communities' HOA. Through these affiliations, she provides premarital and marriage mentoring and workshops, has hosted a community dialogue on race and has organized events through which children and families can connect.
A native of New York, Malaika earned her bachelor's degree in English from Florida Agricultural & Mechanical University in Tallahassee, Fla. She also earned a certificate in community transformation from Emory University in Atlanta. Today she lives in DeKalb County with her husband and four children. In her spare time, she can be found reading, writing, singing, exploring nature and going on adventures.
---
Save

The Center for Leadership in Disability and The Georgia Department of Public Health have partnered to develop the Positive Behavior Support Parent Academy in SPANISH.

The Parent Academy will offer caregivers an individualized training program that addresses persistent challenging behavior of children three to five years old. Please refer parents of young children with intellectual/developmental disabilities and/or autism spectrum disorders to learn helpful skills, and walk away with some effective positive behavior tools.
See flyers in both English and Spanish for more details.

For more information, please contact Bren Muñoz at or call 470-222-5361.