PUBLIC POLICY FOR THE PEOPLE: What to Know At The Polls
There's a lot of information out there. Here's how to make sure you're prepared to make your vote count.Cheri Mitchell is a member of the HAVA (Help America Vote Act) Team at the Georgia Advocacy Office (GAO). Here are some of the most common issues she sees voters with disabilities have on election day, as well as how to navigate them.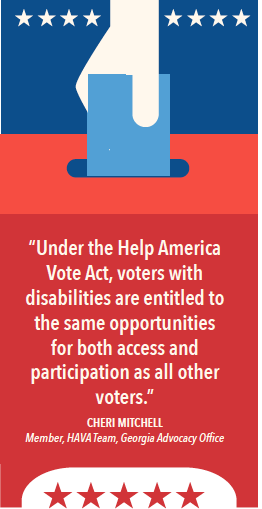 WHERE DO I GO TO VOTE?
Voters can find their polling place online at the Georgia Secretary of State (SOS)'s website: mvp.sos.ga.gov. The SOS also has a smartphone app available.
WILL THE POLLING PLACE BE ACCESSIBLE TO ME?
By law, all polling places should be accessible. The Secretary of State will be providing "readers" to those who need them for the paper ballot printed at the end of a voter's session. If you would like to familiarize yourself ahead of time with Georgia's new voting machine, watch Georgia Public Broadcasting's video here.
WHAT ARE MY RIGHTS AS A VOTER?
"Under the Help America Vote Act, voters with disabilities are entitled to the same opportunities for both access and participation as all other voters," Mitchell says. "Additionally, Title II of the Americans with Disabilities Act requires that governments provide people with disabilities a full and equal opportunity to vote."
The Georgia Advocacy Office will also release a survey in November following the election for voters with disabilities who experienced issues voting in the election. If you would like to receive a survey, contact Mitchell by email at or call the GAO office at 404-885-1234.
IS TRANSPORTATION AVAILABLE?
You have a few options for getting to the polls. Uber and Lyft often offer discounts for rides, and if you have a MARTA Mobility Breeze Card, you may be able to make a reservation for a ride to your polling location.
Mitchell says there are multiple organizations that may be able to assist voters with transportation: "The Georgia Democrats Voter Protection Line (888-730-5816) has provided free rides to the polls, and the Republican Party of Georgia may also be able to assist (404-257-5559). You may also try the League of Women Voters (404-522-4598)."
Voters unable to get to their polling place may request a mail-in ballot and vote from home. "The ballot must be received by your county registrar by the time the polls close for voting," Mitchell says. You can request a mail-in ballot anytime between 180 days before the election to the Friday before the election (Oct. 30).
AM I ALLOWED AN ASSISTANT INSIDE THE POLLING PLACE?
The Voting Rights Act of 1965 allows voters to bring someone with them to assist them with voting. In a federal election, this can be anyone except an employer, a representative of your employer, or a representative of your union, if you belong to one. Poll workers and watchers who are residents of your precinct are not allowed to help.
WHAT ELSE SHOULD I KNOW?
If you run into any issues while voting, ask for a provisional ballot. You have 48 hours to resolve the issue, and you can see the status of your provisional ballot through the SOS app or website. Mitchell says to vote early in the day if you can. "In Georgia, voters with disabilities do not have to wait in line at a polling place if they arrive between 9:30 AM and 4:30 PM," she says.
Your vote counts. Take your time and ask for help if you need it.
RESOURCES:
GAO's Voter Protection Hotline:
From now through election day, voters with disability-related issues can call GAO at:
(404) 885-1234 or (800) 537-2329
Having trouble registering to vote, requesting an absentee ballot, accessing early voting, etc.? Leave a message and someone will contact you within two business days!
VOTING 101
STEP 1
Check in with a poll worker.
Provide a valid photo ID, which the poll worker will scan to verify that your voter registration information is correct.
Sign the Elector Oath.
The poll worker will then load your ballot onto a voter access card and hand it to you.
STEP 2
Place the voter access card into the voting machine.
The ballot will appear on the screen and you will make your selections.
Accessible options are located in the top right corner of the screen:
Change language
Text size
Screen reader
High contrast view
Sip and puff technology for the physically impaired
STEP 3
Select your candidates by touching the screen.
If you would like to change your choice, touch that candidate again and the screen will clear.
You can review your choices when you are done selecting.
STEP 4
Print and review your ballot.
STEP 5
Insert the ballot into the scanner, which will confirm that your vote has been cast.
VOTER CHECKLIST
REGISTER TO VOTE
Visit sos.ga.gov.
Enter your name, date of birth, address, county of residence and your driver's license or state ID number.
Applications can be completed online or printed and mailed in.
VOTING IN PERSON ON ELECTION DAY
You must be registered to vote. Bring ONE photo ID to your polling place:
Any valid state or federal government-issued photo ID, including a free Voter Identification Card issued by your County Registrar's Office or the Georgia Department of Driver Services
A Georgia driver's license, even if expired
Valid employee photo ID from any branch, department, agency or entity of the U.S. government, Georgia, or any county, municipality, board, authority or other entity of this state
Valid U.S. passport
Valid U.S. military photo ID
Valid tribal photo ID
RESOURCES
How to download a sample ballot or apply for an absentee ballot:
Visit sos.ga.gov.
Once there, you will need to enter information such as your name, date of birth and county of residence.
If you're not registered, you can do so by supplying your driver's license or state ID number.
Applications can be completed online or printed and mailed in.
Additional voting resources for people with disabilities: REV UP GEORGIA: REGISTER, EDUCATE, VOTE, USE YOUR POWER
ACLU OF GEORGIA
Advocates for the voting rights for all residents of Georgia
The information on these two pages was taken from: Your Vote Counts, GCDD's guide for Georgians with disabilities heading to the polls.
---
Read the entire Making a Difference - Fall 2020
Tags: GCDD, Making a Difference, Developmental Disabilities