Georgia Disability History Symposium Examines Past Lessons to Lead Future Advocacy
Preserving, celebrating and learning from Georgia's rich disability history helps future generations understand the importance of disability rights advocacy. The Georgia Disability History Alliance (GDHA) held the Georgia Disability History Symposium: Urgency of the Moment in November 2017 at the Russell Building Special Collections Libraries in Athens, GA.
Support and service providers, advocates, UGA faculty and students, individuals with disabilities and others, including National Association of Councils on Developmental Disabilities' (NACDD) CEO Donna Meltzer and Georgia Council on Developmental Disabilities' (GCDD) Executive Director Eric Jacobson, attended the half-day symposium to address the urgency of learning from the state's disability history.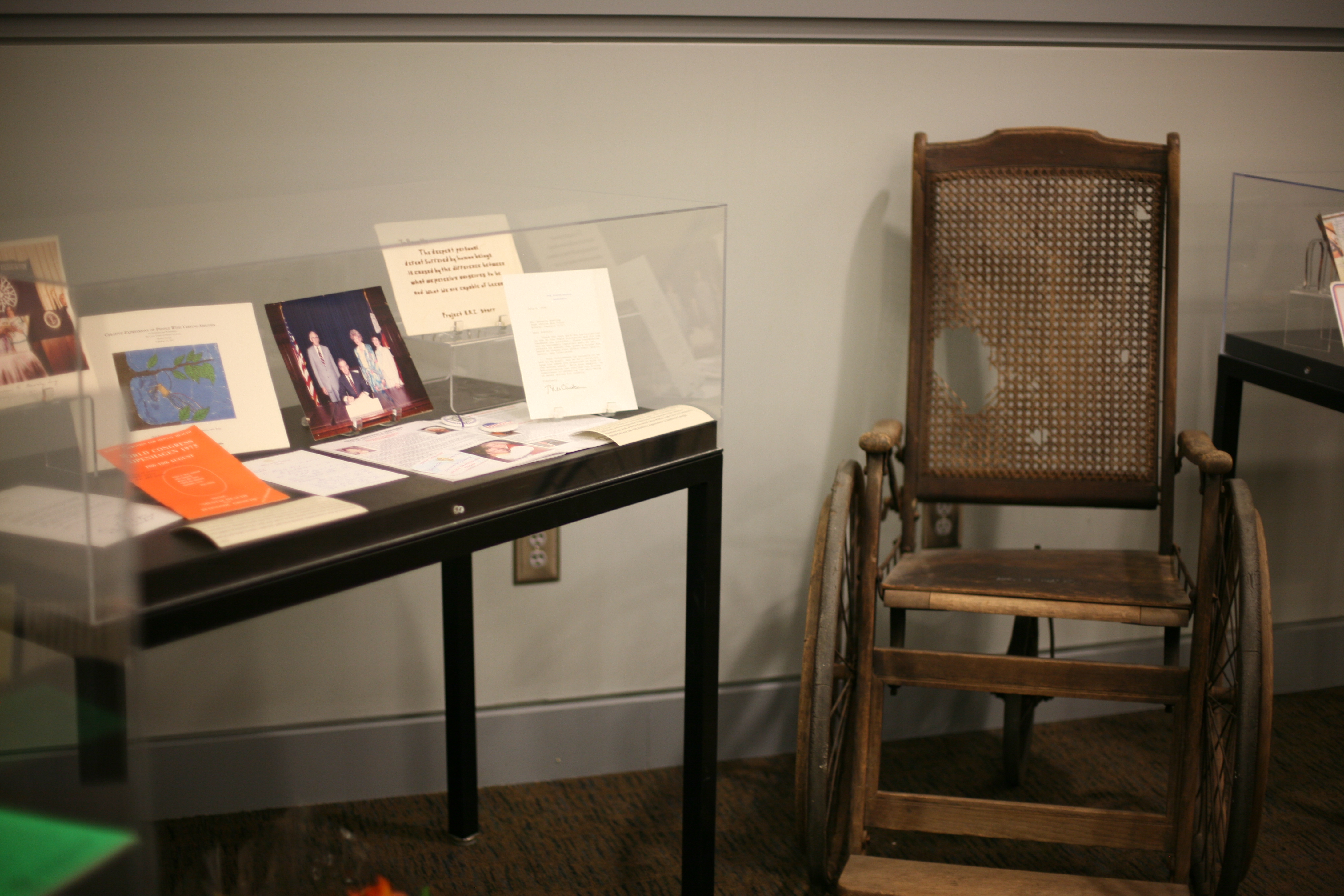 Wheelchair in the exhibit at the Russell Library is an antique 3-wheel chair produced by the Gendron Wheel Company of Toledo, Ohio in the 1930s
"Georgia's historical part in the disability rights movement has been central to informing and creating change," said Gillian Grable, one of the GDHA's founders.
Highlighting major events in Georgia's disability history, Mark Johnson, director of advocacy at the Shepherd Center, touched on early ADAPT protests, the importance of the 1999 United States Supreme Court case Olmstead v. L.C. and 2017's "No Cuts, No Caps" demonstrations to save Medicaid. Johnson showcased how past advocacy has changed public policy and the differences it has made presently.
Dr. Beth Mount, author and founder of Graphic Futures, a consulting organization, stressed the importance of personcentered planning by creating opportunities and relationships that will highlight a person's gifts, especially in Georgia.
"Make [gifts] and capacities visible and find places where those gifts are needed," Mount said. "Build alliances that will sustain their contributions and be the ally that brings to life what other people feel so strongly about."
Mount explained how the urgency of seeing that potential will aid in taking on a system, which for years was a form of constraint.
Discussing the pervasive effects of social exclusion and control, John O'Brien, former citizen advocacy planner of the Georgia Advocacy Office (GAO) and author, spoke of the history of people with disabilities being pushed aside and "living on the margins."
O'Brien reiterated the importance of investing in people and organizations who offer direct supports. He also examined how the gap that's been created by the system can be bridged in the future by putting in place social resources and relationships for those who have been excluded or segregated.
In a panel discussion, GCDD Council members Parker Glick and Evan Nodvin, as well as Basmat Ahmed, executive director of Al-Tamyoz Community Building, a Real Communities partner, observed that younger generations are beginning to challenge notions that people historically had about people with disabilities.
"We want to empower youth," Glick said. "Success [to us] looks like a conversation with an individual, seeing our perspective and not being an afterthought."
GCDD, along with the Albany Advocacy Resource Center, the Center for Social Justice, Human and Civil Rights at UGA, Georgia Microboards Association and Easterseals of Southern Georgia, sponsored the symposium.
To read more in Making a Difference magazine, see below:
Save
Save
Tags: GCDD, Making a Difference, Around GCDD, disabilities,