Women on the Rise

Who We Are: Women on the Rise, a group formed by formerly incarcerated women, works to demand justice, dignity, and liberation for all through collective action that transforms communities and builds public safety by creating strong, interdependent communities. Through support provided by the Georgia Council on Developmental Disabilities' Real Communities Initiative, WOTR also seeks to also ensure that equal justice is received by individuals with developmental disabilities ensnared in the criminal justice system.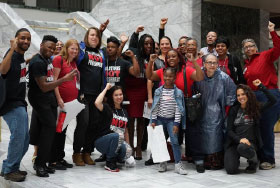 Advocates turn out for Atlanta Public Safety hearing to call for "Solutions Not Punishment."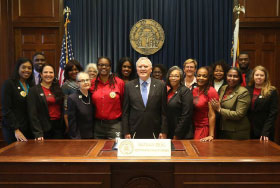 Georgia Governor Nathan Deal signs executive order to "Ban the Box."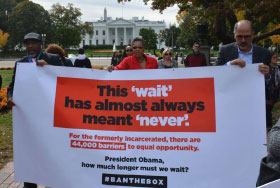 Advocating before the White House to "Ban the Box"
What We Do: Women on the Rise hosts regular Transformative Leadership Development and Community Building gatherings and Strategy Sessions. In 2014, they ran a successful internship program for formerly incarcerated women, conducted street and organizational outreach, engaged leaders in an intensive somatic leadership development program, and won important policy victories which impact the lives of thousands of formerly incarcerated people in Georgia when they successfully 'Banned the Box' on job applications in Fulton County, Atlanta, East Point and the State of Georgia. These efforts have benefited those targeted by the criminal legal system, institutionalized and kept from receiving much needed services to integrate them into the community. They have built a strong core group of leaders who are routinely engaging in community outreach and campaign actions in the Atlanta Metro area.
Women on the Rise, the Racial Justice Action Center, and SNaP Co (Solutions Not Punishment Coalition) have been working towards creating a Disability Justice Committee that actively deepens their understanding of disability justice. They are crafting outreach and recruitment activities that address the reality that, similarly to formerly incarcerated people, people with developmental disabilities may often be isolated, discouraged from attending community building events, or even physically segregated by institutions. They hope to build stronger relationships with potential allies and build bridges within agencies and coalitions that focus on developmental disabilities, so they are better able to identify, engage and create a safe environment for people with developmental disabilities in their organization.


Click here to visit our web page.
For additional info: Racial Justice Action Center
Tags: GCDD, Atlanta, Real Communities