GCDD Welcomes New Chair and Executive Committee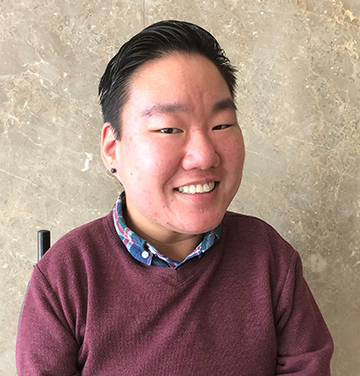 New GCDD Chair Parker GlickThe Georgia Council on Developmental Disabilities (GCDD) welcomes five new executive committee members who will lead the council and its work to bring about social and policy changes for people with developmental disabilities and their families throughout the state.
Parker Glick, from Decatur, was appointed to GCDD in 2015 and will now serve as the chair of the council. Born with arthrogryposis multiplex congenita (AMC), Glick works as the employment coordinator for the Statewide Independent Living Council of Georgia. An accomplished self-advocate, Glick was also appointed by former Governor Nathan Deal to the Employment First Council. As one of the younger members on the council, he leads by example so young adults with disabilities learn to develop and employ their own self-advocacy skills to affect change for Georgians with disabilities and the policies that impact them.
Heidi J. Moore is a parent advocate for individuals with disabilities and pediatric cancer research with Unite Our Voices, a place for families, providers, politicians and concerned citizens to find information and learn how to advocate for children and adults with disabilities and pediatric cancer. Moore has a 20-year-old son, Jacob, who has Down syndrome and autism and is also a cancer survivor. Appointed to the council in 2016, Moore continues to further her grassroots advocacy efforts to make a difference in the services families of children and adults with disabilities receive in Georgia. She lives in Alpharetta.
Mark Crenshaw was appointed to the council in 2019 and is working to positively influence policy and model services in Georgia. He works as the director of interdisciplinary training at the Center for Leadership in Disability at Georgia State University. As a council member, Crenshaw strives to help people understand that Georgians with and without disabilities benefit when they are welcomed together as valued members of their communities.
Evan Nodvin, a self-advocate, has been a GCDD council member since 2013. Nodvin has participated in My Voice, My Participation, My Board with the Center for Leadership in Disability as well as Partners in Policy Making with GCDD. He works with the council to advocate for the end to the Medicaid waiver waiting list. Nodvin is a resident of Dunwoody.
Dorothy Harris, a self-advocate, serves as secretary of People First of Fitzgerald, where she lives. An active advocate, Harris has participated in Disability Day at the Capitol; advocated for a local library to stay open; and fought for public transportation in the Fitzgerald community that can serve everyone. She currently serves on the board of Jessamine Place Human Rights Committee and is an advisory member for GCDD.
GCDD works to create systems change for people with developmental disabilities and their families by increasing opportunities for independence and inclusion. By collaborating with, supporting and funding projects across Georgia, the council promotes innovative programs and activities to develop opportunities to enhance the quality of life for Georgians living with developmental disabilities. Since its inception in 1971, GCDD has advocated for more than 1.7 million Georgians with developmental disabilities and their families.
Parties interested in more information about GCDD, or who would like to apply for the council, may find additional details and application guidelines on the GCDD website.