GCDD's Jacobson Wins Award from NAACP for Real Communities Initiative
GCDD's Jacobson Wins Award from NAACP for Real Communities Initiative
Civil Rights Group Recognizes Georgia Council on Developmental Disabilities and Executive Director

ATLANTA, GA, November 28, 2012 – Earlier this month, Eric E. Jacobson, Executive Director for the Georgia Council on Developmental Disabilities (GCDD) (www.GCDD.org), was honored by the Atlanta Chapter of the NAACP for the work of GCDD and its signature concept, the Real Communities Initiative. Real Communities was launched in 2009 and provides cutting edge, intentionally inclusive activities throughout the State with a focus on projects that create opportunities for all people - with and without disabilities - to be fully engaged in the social life and civic development of their communities.

Jacobson accepted the award at the 14th Annual Atlanta NAACP Jondelle Johnson Freedom Fund Dinner on November 3 at the Hyatt Regency Atlanta. Rev. Lee C. Franklin, Religious Affairs Liaison, Chairman's Office National NAACP, presented the award to Jacobson.

"Because the brand of NAACP is so strong, there are many organizations that come to us with opportunities of partnership. We have to be very selective with those organizations. Tonight, this award goes to Mr. Eric Jacobson, the leader of the Georgia Council on Developmental Disabilities (GCDD), for Real Communities," Franklin said. "We are proud to say we are working to be a part of this real community outreach."

Real Communities supports programs across Georgia that help people become better prepared to address a variety of issues that affect not only people with disabilities, but involve everyone in a community. Programs range from transportation to housing to community building efforts that bring people together in new ways. GCDD's current Real Communities Initiatives include Refugee Family Services/Global Growers Network in Atlanta's Clarkston area, City of Milton Better Together, Forsyth Farmer's Market in Savannah, Centenary United Methodist Church in Macon, Korean Coalition in Atlanta, Gwinnett Gives Time Bank in the Atlanta area and the City of Fitzgerald.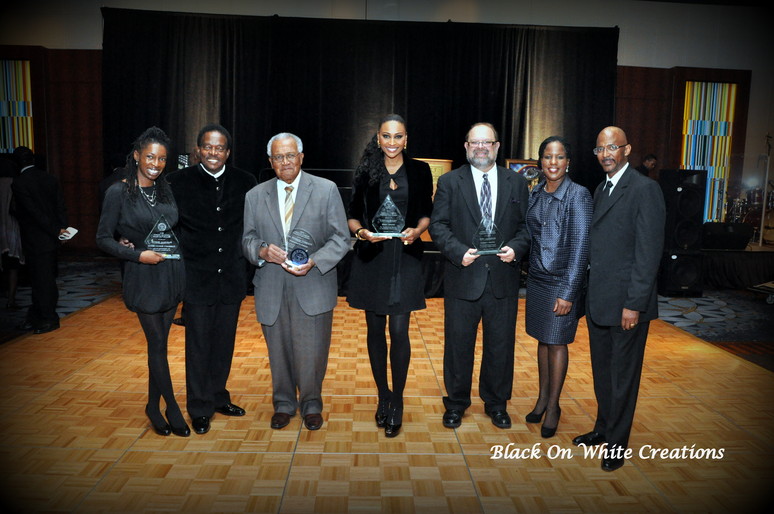 "I accept this award on behalf of the people in Atlanta, Georgia and communities throughout this country who are isolated, segregated and are not recognized for the value, gifts and talents they bring – these are often people labeled as having a developmental disability," Jacobson said.

"Real Communities creates a bridge, a place where everybody can dance," he continued. "Together, we can build places all over this city and state where the barriers come down and people want to stay and raise their children."

"Courage Will Not Skip This Generation" was the theme and former Atlanta Mayor William "Bill" Campbell brought greetings to approximately 300 awards program attendees. Dr. D. L. White Jr., President of the Atlanta NAACP and Pastor of Mt. Ephraim Baptist Church, provided the welcoming remarks and the guest speaker was Roslyn Brock, Chair of the National NAACP Board of Directors and a civil rights leader, healthcare executive, and health activist.

The presentation of Jacobson's award was preceded by a video overview of the Real Communities Initiative. To see the full version of "Getting Real in Georgia" and other videos in the GCDD video library, visit http://gcdd.org/news-a-media/videos.html. In addition to Jacobson, other award recipients and honorees included Cynthia Bailey, The Bailey School of Fashion; Rashidah Jenkins, Radio One Incorporated; and Rev. Gerald L. Durley, Retired Pastor - Providence Missionary Baptist Church. Monica Kaufman Pearson, WSB Television Atlanta, won the Legacy Award and Dr. Robert Threatt, Past President Atlanta NAACP, won the President's Award.

About the NAACP
Founded in 1909, the NAACP is the nation's oldest and largest civil rights organization. From the ballot box to the classroom, the thousands of dedicated workers, organizers, leaders and members who make up the NAACP continue to fight for social justice for all Americans. Learn more about the Atlanta Chapter at naacpatlanta.org/.

About GCDD
GCDD, a federally funded independent state agency, works to bring about social and policy changes that promote opportunities for persons with developmental disabilities and their families to live, learn, work, play and worship in Georgia communities. A developmental disability is a chronic mental and/or physical disability that occurs before age 22 and is expected to last a lifetime. Visit www.GCDD.org for more information.