Critics say expanded special needs voucher program too broad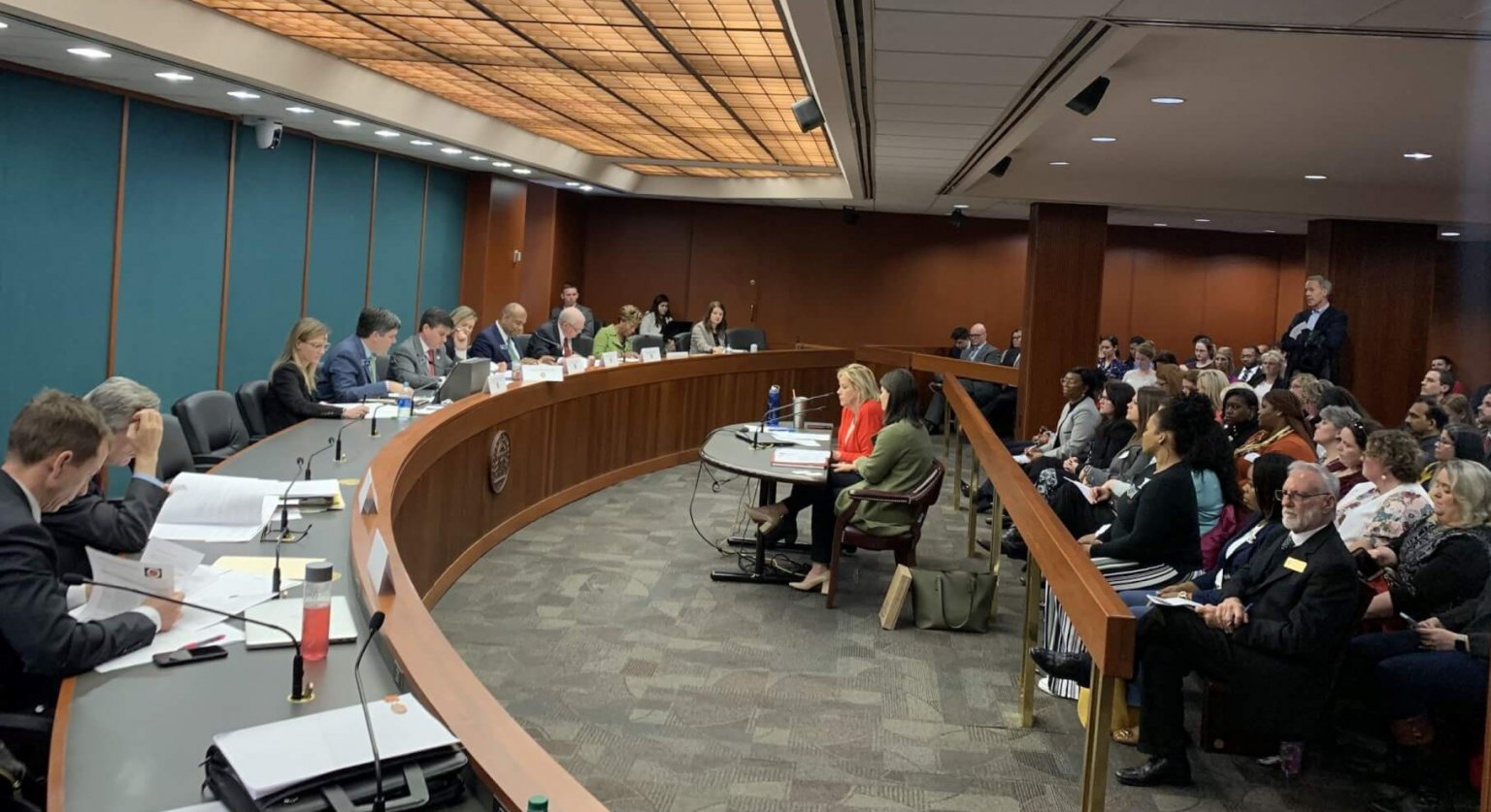 Advocates argue that a proposal to expand a special needs scholarship program needs to be refined. The bill's sponsor, state Sen. Renee Unterman (in red), makes the case for the proposal. Stanley Dunlap/Georgia Recorder
by Stanley Dunlap, February 27, 2020
Forsyth County's Melissa Fonzo frustration boiled over when her son continued to fall behind most of his classmates as he struggled with severe dyslexia.
Eventually, she pulled him from the public school system to get him in a private school that specializes in dyslexia. The Fonzo family benefited from a state special needs scholarship program that gave her $7,000 to spend on private school tuition – roughly his share of state public school funding.
Fonzo was among a group of parents advocating for Senate Bill 386 that's designed to expand the number of special needs students eligible for vouchers that pay for private schools or other educational services.
"(He) started third grade last year at The Academy and by Christmas of that same year he had done more in that first semester than he had done four years prior in public schools," Fonzo said at Wednesday's Senate Education and Youth Committee meeting.
Critics say voucher programs take money from public schools and can be used to subsidize private schools. Some Democratic lawmakers on the committee asked if expanding program eligibility will pave the way to a full-blown voucher program available to every K-12 student, a priority of some Republican lawmakers.
The expanded eligibility definition includes physical and mental impairments that leave it too broad, Cobb County School's district compliance and legislative affairs officer Gretchen Walton told the committee.
"You are opening it up literally (from) broken arms, I had a superintendent tell me, to ingrown toenails," she said.
The legislation exposes children to some of the risks that federal law protects disabled students from in public schools, according to a representative of the Georgia Council on Developmental Disabilities.
"We allow students with disabilities to remain in schools until the age of 22, most private schools do not have the capacity to support students through this age, along with many other imperative things that help protect people with disabilities," legislative advocacy director Charlie Miller said.
Miller said the council supports the current special needs scholarship program but wants the broad definitions of impairments narrowed in the proposed legislation.
Claims that expanding the program's eligibility will drain public school funding are overblown, said the bill's sponsor, Sen. Renee Unterman. The Buford Republican said only about 5,000 of Gwinnett County's 180,000 students claim special needs scholarships.
"Hopefully they go through rehabilitation," she said. "They may need intensive wrap-around services through that rehabilitation process, but then they can overcome that and then they can go back into (public) school."
Some Republican committee members said Wednesday they'll push to revise language in the bill so the intent is clear the scholarships are for children with problems more pressing than a broken arm.
Some supporters argue the legislation could benefit students such as autistic children who need some accommodation but not individualized education.
The original article ran in the Georgia Recorder on 2/27/2020.