The Senator and the 'Dog Whisperer'
CARROLTON, GA October 25, 2017 – By Arthia Nixon
At the Bed and Biscuit pet boarding center, attached to the Carroll County Animal Hospital, Ubo is a dog that knows how to brighten anyone's day. Allie, on the other hand, is a hyper canine who will stubbornly refuse to go in after a walk, and will pull the person who is trying to walk her.
But the one thing both dogs (and 20 other animals at the hospital) have in common is their trust for Elizabeth Terzich, who fellow employees consider a "dog whisperer," and who praise her patience, personality and work ethic.
Terzich is a 31-year-old employee who on Tuesday assigned state Sen. Mike Dugan several chores, including cage-cleaning and towel-folding, when he joined her for Take Your Legislator To Work Day. Since October is National Disability Awareness Month, the occasion served as the perfect opportunity to show the benefits of hiring people with disabilities in real jobs with fair wages.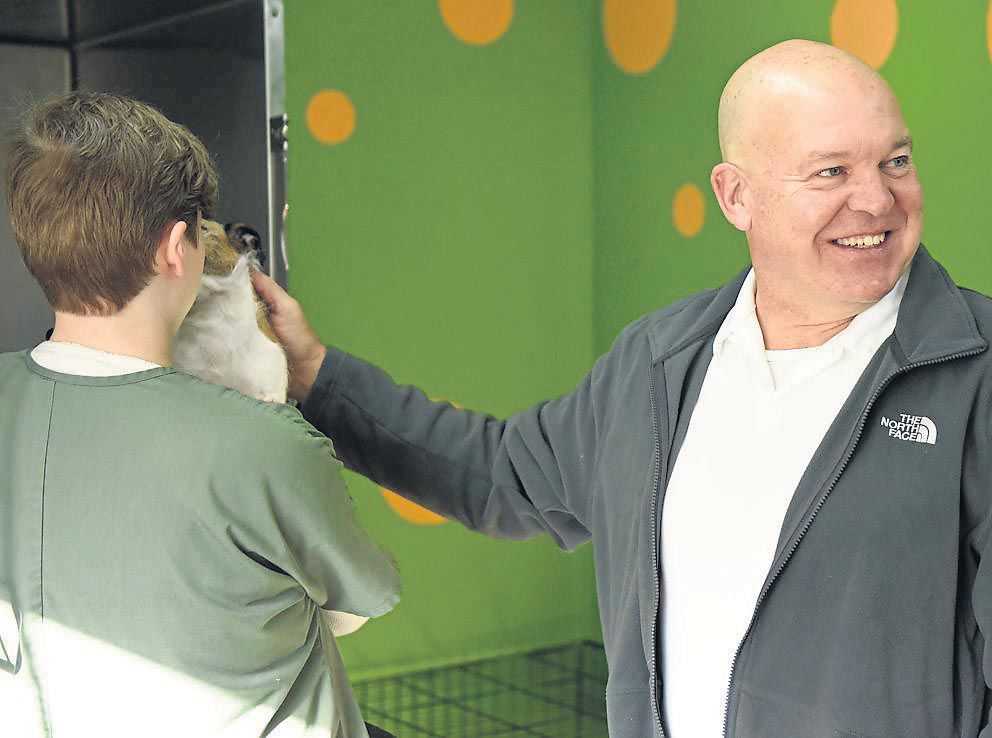 Elizabeth Terzich and State Sen. Mike Dugan hold one of Carroll County Animal Hospital's dogs during Take your Legislator to Work Day. Photo by Jessica Gallagher/Times-GeorgianHanna Rosenfeld with the Georgia Council on Developmental Disabilities tagged along with the pair, and was given a tour of the facility in Carrollton.
Susan Sapp, a career specialist with Briggs & Associates, said people like Terzich are the reason why the company works to place individuals with mental health issues and intellectual disabilities in the right places. Sapp knew that working with animals was something that would be ideal for Terzich, who has nine dogs, six cats and six chickens at home.
"Susan is a living saint," said Terzich. "We've been together for 12 years and she makes sure I have help and I meet my goals. I'm a kennel helper here and I had another job for seven years before this one. My favorite part is taking them for walks."
Dugan was admittedly impressed with Terzich, especially when she calmed a dog who wasn't very sociable at first. It was his first time participating in such an activity and said he was happy to oblige when he got an invite to take part in Take a Legislator to Work Day.
"When I think I have done just about everything, something else turns up and it gives me a reason to say 'Hey did you know about?' to brag on this great district," said Dougan. "This is the first time I've been here in an official capacity for something like this. One thing I've noticed is that these animals have so much trust in her. She takes so much pride in what she does and was a great teacher in showing me what to do. She even made me fold up the towels. But this is what happens when employers consider hiring people with disabilities -- you end up with great, dedicated workers who provide high quality in what they do."
Sapp said that her agency works with schools to see if they will have people graduating who may want to be employed. It's not an overnight process, as she says she would like to see get to know people first to see what their best match may be.
She said they've had a worker who put in 20 years at Chick-Fil-A in Carrollton and was a passionate employee who customers missed when she retired. Terzich, she said, is so skilled that she's trained other people who have come in to volunteer.
"I'd rather meet them and build that trust so I can have an idea of just what to look for," said Sapp. "It took two years for Elizabeth to trust me and that's just fine. Then you have some people with disabilities who are very social, and others who are not so social with people, but great at other tasks."
Sapp said that it is important for people to feel fulfilled with jobs and also to have a sense of accomplishment when they earn their wages. Terzich agrees, admitting that her earnings help her build her book and doll collections.
"I really enjoy working here and it's fun," she said. "You get to take care of animals and I don't mind working on holidays too, and that's when we get lots and lots of animals. I'm off Thanksgiving and Christmas, but I am working New Year's. Sometimes, for holidays instead of 20 animals, I have as much as 50 animals to take care of. But I like earning the money so that I can go shopping."
When asked if she plans to retire soon, Terzich quickly shook her head.
"Oh no!" she said. "I have a long ways to go. I'm not going to retire now. I want to stay here and work for a bit longer first."
Rosenfeld said it's very rewarding to see what Terzich puts into her tasks and the appreciation her employees have for her.
"This is why we do this," she said. "I'm visiting her now, and then I'll be in Stone Mountain with another pair, and this is truly what we hope for when we invite the legislators to consider taking the opportunity.
"So many of them are extremely busy and may not have the opportunity to take part, but this year we've had quite a few, and we may extend it into November. We are grateful that Sen. Dugan came by to not only observe, but to participate with Elizabeth. This brings so much awareness to these amazing people."
The original article was posted on the Times-Georgian on October 25, 2017.