Senator Shadows Local Student at Work
Fayetteville, GA, January 5, 2017 - Partners Pizza recently got an important visitor checking in on one of their favorite workers, as Take Your Legislator To Work Day brought State Senator Marty Harbin to Fayetteville to meet Corbett Dishman.

Dishman is a junior at Whitewater High School who likes to live the life of the typical teen. Though he was born with Down syndrome, it doesn't define him. He loves being with friends and attending New Hope Baptist Church. With his mother, C.J., he's a member of Together We Run, a running club pairing those with special needs with their friends. He's also taken up tennis.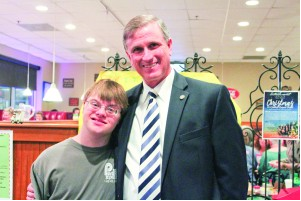 State Senator Marty Harbin recently shadowed Whitewater High student Corbett Dishman on his job at Partners Pizza in Fayetteville as part of Take Your Legislator To Work Day.

"When he's with his peers, regardless of who they are, Corbett is simply an 18-year-old boy hanging out, cracking jokes, and having fun with his friends," said C.J.

Corbett is proud to earn a paycheck too as an employee at Partners Pizza in Fayetteville. The Dishmans have been regulars at the pizza joint for many years, so it was a dream come true for Corbett when a manager asked him if he would be interested in a job. He works a couple nights a week bussing tables or whatever else is asked of him.
"Corbett accepted the job with a huge smile and a great deal of pride," said C.J.

He signed up for Take Your Legislator To Work Day and got to meet Sen. Harbin in early December. Sen. Harbin learned all about Corbett and his zest for life.

"Corbett is a very special young man, and God has great plans for his future," said Sen. Harbin.

The connection they made is exactly what the program was created for. Take Your Legislator To Work Day is an initiative by Employment First Georgia, which in turn is an effort by the Georgia Council on Developmental Disabilities. Employment First is built on the idea that anyone with disabilities can work at regular jobs and should be paid the same.

"The goal of Take Your Legislator To Work Day is to raise awareness about the benefits of hiring people with disabilities, and to show that employment and careers should be the preferred outcome of publicly-funded services for people with disabilities," said Hanna Rosenfeld, Planning and Policy Development Specialist with the Georgia Council on Developmental Disabilities. "When people with disabilities have real jobs in local businesses at fair market wages, everyone wins."
-- Christopher Dunn
The original article appeared in Fayette County News.