NorthFulton.com Herald: MHS takes legislator to work
Student invites Sen. Albers to school to learn about workers with disabilities
MILTON, Ga. November 2, 2016 — As part of the national "Take Your Legislator to Work Day" campaign, Milton High School invited state Sen. John Albers Oct. 27 to shadow student Jacob Moore for the day.
The campaign is part of the National Disability Employment Awareness Month in October, which celebrates people with disabilities in the workplace and highlights their skills. The Georgia Council on Developmental Disabilities helped facilitate this exchange.
Albers visited MHS for two hours to spend time and work with Moore while he delivered mail at the school. Moore, who is 16 years old and a junior at MHS, has Down syndrome, Autism and childhood leukemia.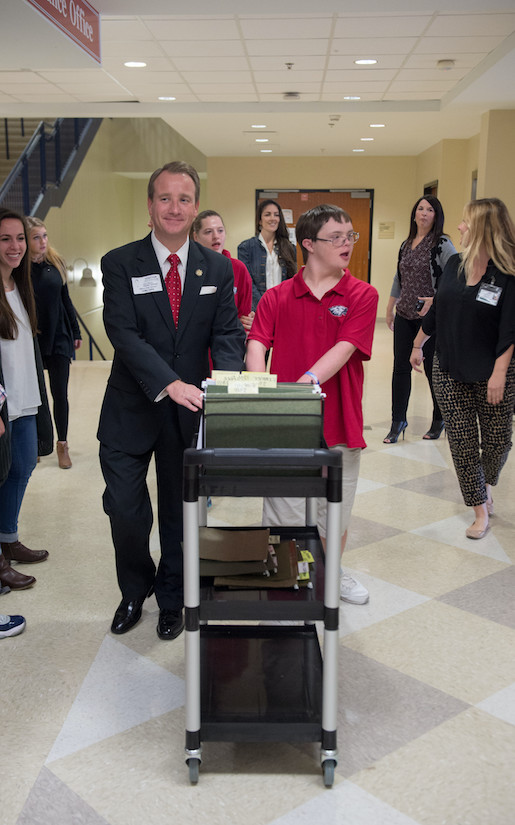 The visit covers "important connections between young and old, constituent and elected representative, school and work, not to mention family and community… to bring awareness to the contributions of employees with disabilities," said Valerie Suber, the Georgia Council of Developmental Disabilities public information director.
This is also the first year that MHS has had a community-based instruction program, which provides real-life experiences and hands-on learning to students to prepare them for life out of school. Milton's program, in particular, aims to "bring students with disabilities to their home schools and teach them skills for continued employment," Suber said.
Moore participates in this job-readiness program as the mail delivery man in the high school.
"Mail delivery is the perfect job for [Moore]," said Heidi Moore, Jacob's mother. "It allows him to meet new people and socialize throughout the school at the same time."
Albers, during his visit, accompanied Moore during his daily rounds of delivering mail across the campus. The experience helped Albers get a glimpse of Moore's life and the contributions he can make as a worker when given the opportunity.
"It was an honor to join Jacob at Milton," said Albers. "Experiencing a work day following in his footsteps was truly an eye-opening experience. I got to see how much Jacob means to the students and faculty at Milton and how much they mean to him. It was a joy to see him interact and make a difference."
This is not the first time that Moore and Albers have met. The two have known each other since 2009, when Albers met with the Moores to learn hands-on about how he could support people with disabilities. Albers has since continued to support the disability community and childhood cancer research. In honor of their work together, Albers declared March 10, 2013 as "Jacob Moore Day" during Moore's "No Moore Chemo" party.
This is the first year that Milton High School has participated in "Take Your Legislator to Work Day." After seeing the success of the partnership between Moore and Albers, they said that they are hoping to continue the campaign and the CBI program for years to come.
The original article appeared in the NorthFulton.com Herald Newspaper on November 2, 2016.