A Digital Newsletter from the Georgia Council on Developmental Disabilities • June 2017
---
In This Issue:
Welcome to our first edition of GCDD E-News! We at the Georgia Council on Developmental Disabilities (GCDD) wanted to find another way to reach out to self-advocates, community leaders, parents and other stakeholders to keep them informed about all of the things happening around Georgia for the disability community.
Making A Difference will still be published quarterly, but in this newsletter, you will find more stories from the community, leaders and public policy issues that are important to you.
In this issue, you will learn about our Real Communities retreat that hosted over 50 community organizers who wanted to find out how they can bring the same model to their community. With major policy changes, our Public Policy Director Dawn Alford provides updates on the latest bills from the state and federal government that can impact the disability community.
We are also excited to introduce you to our new Advisory Council members, who advocate tirelessly on behalf of themselves, their children, their siblings and the disability community as a whole. Their service is integral to making the Council impactful for all Georgians with developmental disabilities.
We hope you enjoy this e-newsletter, and share your thoughts, story ideas and calendar submissions with us at .
Eric E. Jacobson, Executive Director, GCDD
---
by GCDD Public Policy Director Dawn Alford
Since the last day of the 2017 Georgia General Assembly, known as Sine Die, has past, some things have occurred in the world of policy that you need to know.

STATE UPDATE: As you may recall from the Spring edition of Making a Difference magazine, there were several bills affecting the disability community that had been passed, including the state fiscal year 2018 budget bill, sitting on the governor's desk awaiting action from him in the form of his signature or a veto. All the bills mentioned in that legislative wrap-up article have now been signed by the governor. Therefore, as of July 1, these bills will become law in Georgia.
The governor signed the budget bill, which means the SFY 2018 budget will go into effect July 1. As of this date, $175,000 of funding will be transferred from GCDD to GVRA for the Inclusive Post-Secondary Education programs. Additionally, DBHDD will be required to develop and submit a multi-year funding plan to address the NOW and COMP waiting list by Dec.31, 2017.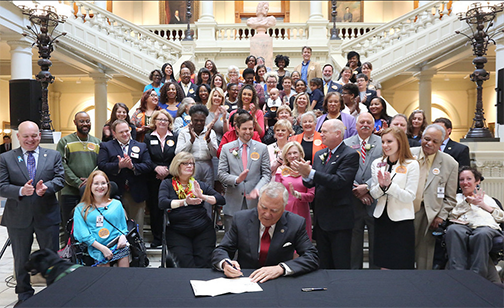 On May 8, Governor Deal signed SB 201, the Family Care Act. GCDD attended the signing ceremony along with many other partners and allies. As of July 1, if your employer is covered under the Family Care Act provisions, and you are the family caregiver and have earned sick leave, you may be eligible to use a sick day to care for your loved one if you previously could not. Some restrictions do apply so you will have to educate yourself on how and if this law applies to your employment situation. For example, you must have earned sick leave and work at least 30 hours per week at an employer with at least 25 employees at a company that does not offer a stock ownership plan.
Governor Deal also signed HB 343 on May 8. As of July 1, the offensive words "mental retardation" will be replaced with the more respectful "intellectual disability." GCDD was proud to have participated in this signing ceremony as well.
For a complete list of all the 2017 bills Governor Deal signed, please visit https://gov.georgia.gov/legislation/2017

ABLE Implementation: GCDD has gotten word that Georgia plans to launch its ABLE account program at an event on June 14th at 11:30 AM with Governor Deal. Keep checking back with https://GCDD.org where we will share details as they become available.

FEDERAL UPDATE: While many things have been happening at the state level, much has been going on federally as well.
HCBS SETTINGS RULE: On March 17, 2014 the federal Centers for Medicare and Medicaid (CMS) issued a new HCBS Settings Rule defining what is considered a home and community based setting under Medicaid. The intention is to ensure that HCBS funding is not used to isolate or segregate and to uphold the same spirit of integration, privacy and respect afforded individuals who do not receive these services. States are required to come up with a transition plan to ensure these setting comply with the new Rule. States originally had until March 17, 2019 to meet the new requirements. However, a three-year extension was recently granted by CMS extending the deadline to March 17, 2022.
AHCA: On May 4, the U.S. House of Representatives passed the American Health Care Act (ACHA) by a narrow margin of 217-213. GCDD issued a statement of concern given the fact that this bill, among other things, proposes cuts to Medicaid of $880 billion, a program that many people with disabilities rely on for healthcare and home and community based services to allow them to live independently in the community. The U.S. Senate is now working on this bill so it is time to educate Georgia Senators Isakson and Perdue about how important Medicaid is to people with disabilities. Please contact them today and tell them YOUR Medicaid story and share your concerns. Use #IamMedicaid in your tweets.
President's Budget Release: On May 23, 2018, President Trump released his budget proposal for the federal fiscal year 2018. Unfortunately, it decimates many safety net programs on which so many people with disabilities rely. It also proposes to combine State Councils on Developmental Disabilities with the State Grants component of the Independent Living programs, and the State Implementation Partnership Grants component of the Traumatic Brain Injury program and significantly reduces funding for all three programs. The Georgia Council on Developmental Disabilities will continue to work in a bipartisan manner to ensure that State DD Councils, and hence GCDD, can continue the good work we do for people with disabilities and their families.
Please visit http://gcdd.org/public-policy-intro.html for the latest policy updates.
Resources
www.gcdd.org
www.protectourmedicaid.org
www.protectourcarega.org
www.hcbsadvocacy.org
http://files.kff.org/attachment/fact-sheet-medicaid-state-GA
http://www.thearc.org/file/public-policy-document/Major-provisions-of-the-American-Health-Care-Act.pdf
---
In an effort to expand its impact, Real Communities Partnerships, the Georgia Council on Developmental Disabilities' award-winning initiative, hosts two retreats a year to foster more communities that allow people with and without disabilities to work, live, play and worship together.
In April, current and potential Real Communities gathered in Eatonton, GA to learn and take away best practices on building inclusive and integrated spaces in their own local cities.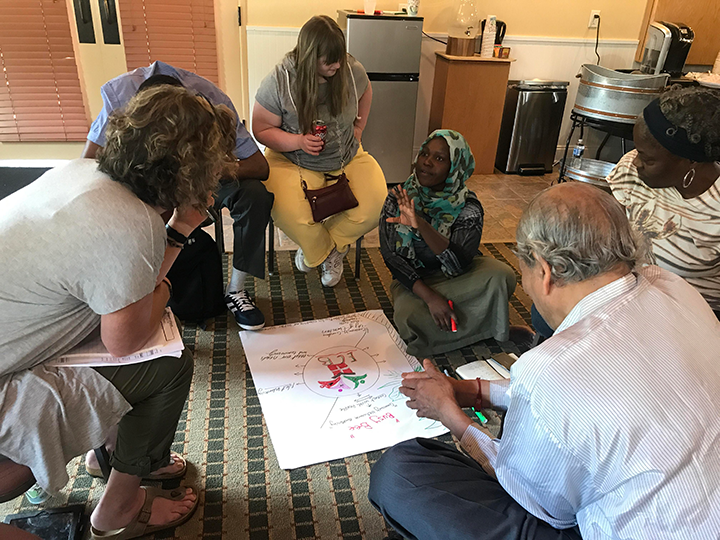 "We use this retreat to pass on the Real Communities model and show how we can use people's gifts and talents to connect and build a strong community for people with and without disabilities," said Sumaya Karimi, director of Real Communities Partnerships for GCDD.
Intentionally, the retreat doesn't follow an agenda in order to promote and develop organic conversations. Over two days, people worked in small groups and answered questions like "what is our community?" and "what are we proud of?"
The retreat was facilitated by disability advocate John O'Brien. O'Brien and his wife and partner Connie Lyle O'Brien have been in the forefront of thinking and creating precedent setting innovations that helped to create full lives for people with disabilities the world over.
Among many philosophies, O'Brien speaks of Asset-Based Community Development (ABCD) – the core principle behind Real Communities Partnerships.

The key to ABCD is to use already existing resources in the community in a different and newly successful manner. For example:
When people discover what they have, they find power.
When people join together in new connections and relationships, they build power.
When people become more productive together, they exercise their power to address problems and realize dreams.
Karimi added that the goal of the retreat is also to encourage networking, and help people and organizations find a common thread of connections to build inclusive and integrated communities.

To learn more about Real Communities, visit http://gcdd.org/real-communities/real-communities-partnerships.html
---
One in three Americans with a disability lives in poverty; out of those, about 59%, are asset poor – meaning if their stream of income or credit were to stop, they would not be able to live above the poverty line for three months.
Statistics like that is why Synergies Work, Inc., a nonprofit that provides people with disabilities the platforms to become financially independent as entrepreneurs, partnered with the Federal Deposit Insurance Corporation (FDIC), to hold the Building Blocks to Financial Empowerment training event in May 2017 at the University of Georgia's Gwinnett Campus in Lawrenceville.

Professionals in the vocational rehabilitation (VR), behavioral health and community service fields as well as individuals with disabilities and their families attended the half-day training, which consisted of two common themes: financial stability and empowerment.
"Look at [the training] as a tool to fight poverty," said Aarti Sahgal, founder of Synergies Works. "If you have employment and you don't know about saving money, how can you budget? How can you plan for the future? If you don't have the choices to make, then the entire discussion of employment is lost."
To support this goal, FDIC Community Affairs Specialist Elaine Hunter presented the Money Smart: Financial Education Program training. This computer-based instruction (CBI) utilizes training modules to help young kids, from pre-K to 12th grade; young adults from 13 to 20 years of age; and adults, 21 years of age and older.
The training modules cover a variety of money related topics such as: banking, credit, budgeting, checking accounts, scams, credit scores, card security and setting financial goals. When asked why she believes these tools are important in teaching financial stability and empowerment, Hunter said, "We really want to encourage people, first of all, to use the banking system and to actually trust it to build assets."
Although Money Smart is utilized by many VR organizations, its purpose is for everyone in every community to use it as a means to increase their financial literacy.
Staying in the realm of utilizing and building assets, Elizabeth Appley, Attorney at Law, spoke on the Achieving a Better Life Experience (ABLE) Act in Georgia and its subsequent ABLE Accounts.
ABLE accounts are savings accounts for people with disabilities to help them live independently. US Congress passed the ABLE legislation in 2014 with massive bipartisan support where it became a federal law. Governor Nathan Deal signed Georgia's ABLE Act into law in 2016, which has allowed it to be eligible for established ABLE programs.
The benefits of ABLE accounts are wide-ranging. These accounts allow for savings to pay for critical qualified disability-related expenses like education, employment training, housing, health and wellness, transportation and personal support services among many others.
Although ABLE accounts are limited to just one per individual, they allow people with disabilities to save money without losing eligibility for Medicaid and Supplemental Security Income (SSI).
For those who do qualify for ABLE, the income they earn from the account as well as withdrawals for qualified expenses are not taxable, which allows for asset growth.
Appley explained, "The reality is that in order to save for a home, a car, the expenses of living, we must have this kind of asset and the ABLE account is a beginning."
At the time of this writing, GCDD received word that Georgia plans to launch its ABLE account program at an event on June 14th at 11:30 AM with Governor Deal. Keep checking back with www.gcdd.org to get more details as they become available.
GCDD, along with Synergies Work and the Georgia Association of People Supporting Employment First, sponsored the event.
For more information on the ABLE Act in Georgia, visit https://gcdd.org/able-act-in-georgia.html
For more information on Money Smart: Financial Education Program visit: www.fdic.gov/moneysmart
---
After a thriving career in marketing and business, Christine Clark wanted her second act to be about making a difference in her community.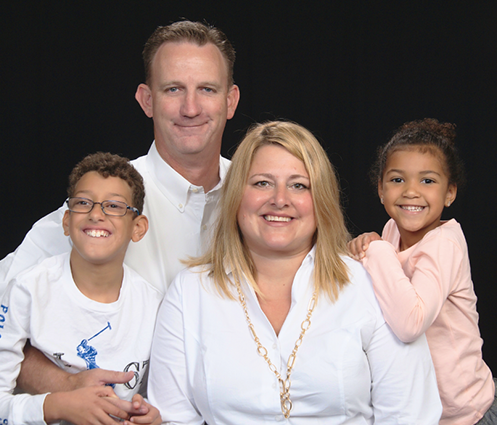 Clark was appointed to the Council as a parent advocate. She is mom to a 12-year-old son who is diagnosed with an intellectual disability and Cerebral Palsy. But, for her, the appointment is two-fold. While she advocates for her son and families from Cherokee County, Clark is also pursuing her masters in social work at Georgia State University.

"I would like to legislate for change for people with disabilities," said Clark of her goals. "By having informal conversations with other families, I want to focus my work on supporting local families and broaden their awareness about how state and federal policy affects them and why they should be engaged."

Through the Council, Clark got a firsthand experience with advocacy by participating in GCDD's 2017 Advocacy Days. She advocated for changes to the determination of the death penalty for people with intellectual disabilities and removing the R-word from the Georgia criminal code.

"Advocacy Days was such a great experience, and it built my confidence in advocacy and how this process works," she added. "With my service on the Council, I look forward to learning more and participating with efforts and initiatives that helps make my community more aware about issues and how to advocate for them."

Clark lives in Woodstock, GA and started her service as an advisory member with GCDD in 2017.
---
Hundreds of advocates and community members gathered on May 6, 2017 at Centenary United Methodist Church in Macon, GA to celebrate the life of GCDD's dear friend and teacher, Dottie Adams.
Adams served as GCDD's Individual and Family Supports Director, where she forged relationships with many advocates, parents, children and others who worked hard to make their local communities inclusive and integrated for people with developmental disabilities. Adams was also responsible for establishing Project SEARCH in Georgia. The high school transition program is now in over 15 sites across the State.

With a love for quilting, Adams brought her talents to life by decorating a 26-by-26 wall at Centenary United Methodist Church with handcrafted quilts. All on her own, Adams designed six quilts and eight small banners that best represented the congregation.

Her advocacy, determination and love for the disability community built a long-lasting legacy.

That legacy was captured when the Georgia Winter Institute renamed its Community Organizer Award the Dottie Adams Community Organizer Award in 2016.

The award honors someone who is mission-driven and builds and supports a diverse, inclusive community – the great qualities that Adams brought to Georgia's disability community across the State.

Dottie is missed dearly, but her passion and work for Georgia's disability community will be forever impactful.
Save