GCDD IMPACT: Medicaid Advocacy Educates and Empowers Georgians with Disabilities
by Jennifer Bosk
Georgia Voices for Medicaid: Building a Constituency for Medicaid across Georgia is an initiative is funded by the Georgia Council on Developmental Disabilities (GCDD) and implemented by Georgians for a Healthy Future (GHF). In the past year, several Medicaid advocacy training sessions were held across the state, averaging about 25 people per session.
Alyssa Green, the outreach and education manager at GHF, has overseen these trainings for the past 16 months and says GHF will continue to offer these sessions, "for as long as it takes elected officials to close the Medicaid gap." The Medicaid gap refers to the gap in insurance coverage for people who are unable to qualify for Medicaid but are not making enough money to purchase their own health insurance through the Affordable Care Act (ACA).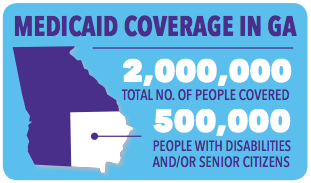 Two million people in Georgia are covered by Medicaid and of those, 500,000 are people with disabilities and senior citizens. Under the ACA, Medicaid covers those with incomes at or below 138% of poverty ($17,236 for an individual in 2019). Realizing there was a coverage gap for those just above this poverty line, plans were made for an expansion of Medicaid nationally. But in June 2012, the US Supreme Court ruled Medicaid expansion is optional for each state.
People in the coverage gap now rely on their state to approve Medicaid expansion to the ACA. The expansion would extend insurance coverage with premium tax credits for insurance through ACA covering people with moderate incomes. Georgia did not approve the Medicaid expansion.
Currently, 240,000 people in this state fall in the gap where their income is above current Medicaid eligibility, but below the lower limit for ACA premium tax credits. Of those, about 60,000 are people with disabilities and senior citizens.
"What came out of the whole national conversation on the ACA and the impact on Medicaid, as well as during the legislative debates on the subject, was a conversation here in Georgia on how to help people prepare to reach out to both their state and federal legislators and advocate for Medicaid expansion," explains Eric Jacobson, executive director of GCDD. "We chose to fund this initiative because we wanted to make sure people understood and recognized Medicaid as a core funding component so people with disabilities can have meaningful lives."
For people with disabilities, Medicaid is often the reason they can continue to live and thrive at home. They rely on Medicaid's home and community-based services (HCBS) that include personal and caregiver services, as well as equipment needs like wheelchairs and lifts. In some states, Medicaid helps people with disabilities find and keep jobs by covering job development and job placement services. For children with disabilities, Medicaid offers physical and speech therapy services as well as other educational assistance in schools.
The GHF Medicaid training initiative involves organizing sessions in various communities that are hosted at churches, nonprofit organizations or libraries. "We have an interactive presentation about what the Medicaid program is, why it is important and demographics on Medicaid coverage," Green says.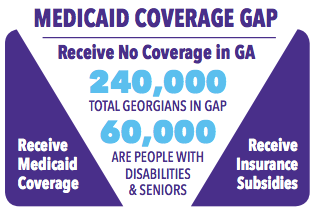 Then, GHF teaches about the Medicaid coverage gap, how to contact and talk to legislators and how to provide information on what the organization is doing. In addition to the community trainings, GHF offers an action network that includes monthly calls on current health policies, bills to watch and expected impacts, an opportunity to ask questions and more.
On why GCDD formed this partnership with the healthcare advocacy organization, Jacobson explains, "GHF reaches both people with disabilities and the general community. We needed an inclusive approach, we needed to be a part of each other's message."
Jacobson hopes that people who go through the training gain a better understanding of Medicaid. "The important part of it is to keep people with disabilities living in their community," he says.
This Medicaid training initiative is an essential part of GCDD's Five-Year Plan. "We have a whole goal around how to change public policy to improve lives and create an integral approach to helping people," says Jacobson.
Green shares that GHF has other tools to help individuals maintain their advocacy efforts including consumer videos and materials on Medicaid, handouts on how to have conversations with legislators, plus information on demographics and numbers of people impacted – along with the latest information on the coverage gap.
Earlier this year, advocates and GHF participated in Cover Georgia Day, an advocacy day that included talking to legislators at the statehouse, sharing coverage gap stories and urging legislators to, "put insurance cards in the pockets of hard-working Georgians."
According to Green, fixing the Medicaid coverage gap makes for a healthier people, healthier community and a healthier Georgia.
Georgians for a Healthy Future
For more on this initiative and training sessions, visit Georgians for a Healthy Future or the Georgia Council on Developmental Disabilities. For information on a variety of issues, check out GHF's resource library.
The library also features a book full of personal stories from Georgians about the impact of Medicaid on their lives.
To read more in Making a Difference magazine, see below:
Download the pdf version of the Summer 2019 issue.
Download the large print version of the Summer 2019 issue.
---