From 0% to 110%
by Shannon Turner
Weighing 1.9 pounds at birth in 1962, Alan Bittaker was the smallest male in America to survive when he was born during the sixth month of his mother's pregnancy. His mom, Annette, has no idea what caused her to go into premature labor. But as it was her second pregnancy, she could tell the difference right away. "It had been a troubled pregnancy from the beginning," she recalled.
As a result, Alan had many of the challenges that so often accompany premature birth. He was given a 0% chance to live, and his chances didn't improve for a very long time. For the first 15 years of his life, he was in and out of hospitals with seizures, pneumonia and asthma attacks. He was in the hospital more than he was at home.
Then, one day, many of the health problems that had been plaguing Alan seemed to vanish. Annette says that the family didn't understand or appreciate the transition that had occurred. "After all those years of not being able to travel very far from doctors and always having emergency plans, it felt like we remained on high alert for about 10 years after his last hospital stay."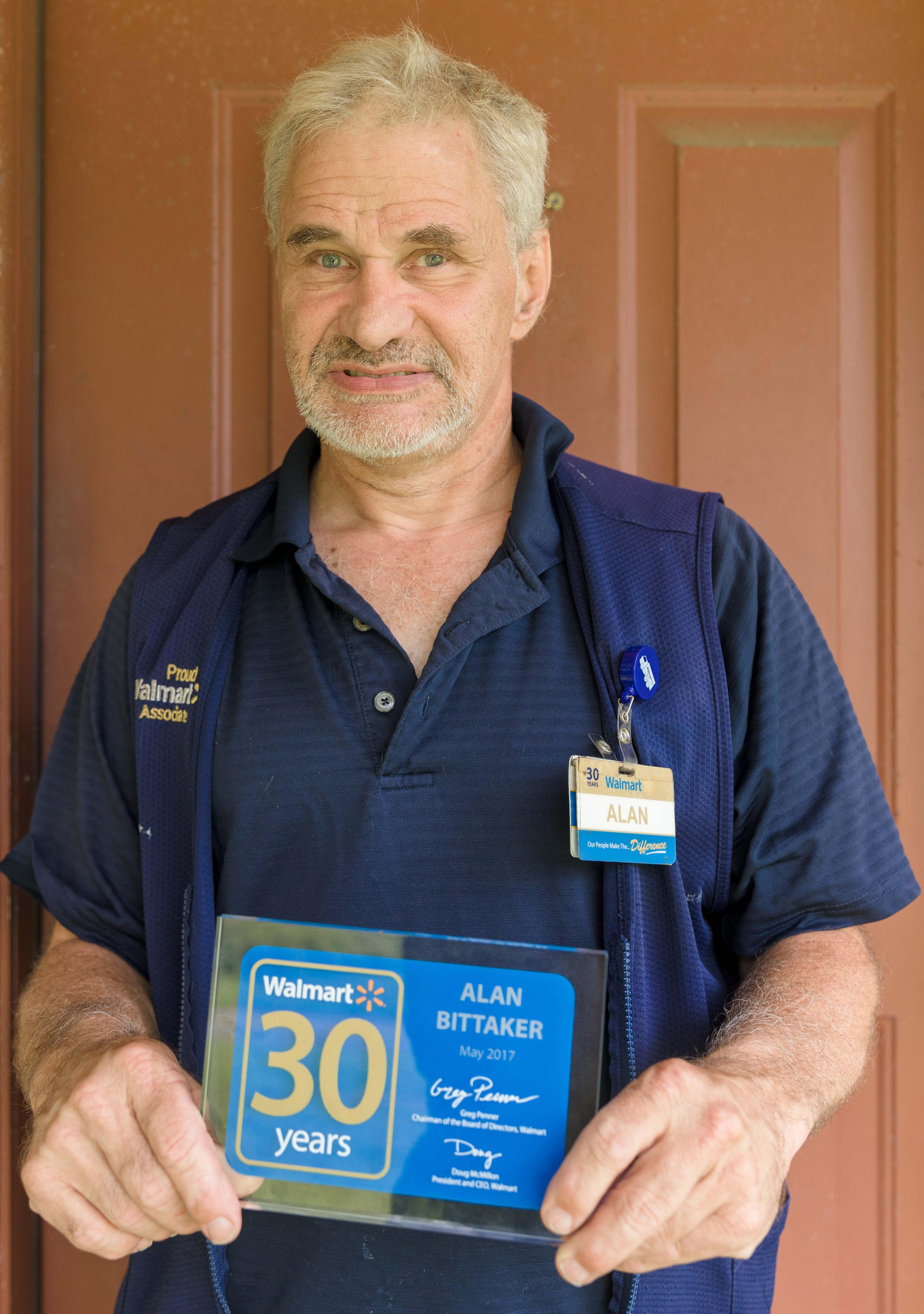 Alan has worked for Walmart for over 30 years.
Annette attributes the change in Alan's health to the fact that his lungs had finally matured and strengthened enough to where his asthma no longer sent him into crisis mode. That and some advancements in medicine. One contributing factor to Alan's surprisingly good outcomes was that his father was in the Air Force, so he was receiving top-notch, free treatment through military hospitals all over the country, especially when they lived in California.
Now 56 and living independently since 1993, Alan is a happy and relatively healthy man with autism, cerebral palsy and some visual impairment from retinopathy of prematurity. He recently had a surgery to replace his retinal implant and came through it with little pain. Alan has regular visits with his family doctor, eye doctor and psychologist. Alan owns his own small home through an income-dependent mortgage from the USDA. If his income changes, then his mortgage payments have some flexibility.
Of all the things Alan is proud of in his life – and there are many things for which he can and should feel accomplished – working at Walmart for more than 30 years now is high on the list. Alan's income is supplemented with social security disability payments and a COMP Medicaid Waiver. The waiver pays for his supported employment.
A job coach, Cody, comes to work with Alan once a week to check on his behaviors, schedules and reporting. Finally, and most significantly for both Alan and Annette, it pays for an aide, Bridget, to come to his home three hours a day to assist him with daily activities like creating and implementing his to-do list, meal planning and grocery shopping. All of Alan's services are run through Unison Behavioral Health Agency.
Unison led Alan and Annette through the application process. It took a while, but the difficulty and stress was less because Unison did all the footwork. He was a client receiving supported employment and a caseworker through Unison for about 15 years when they helped lead the process.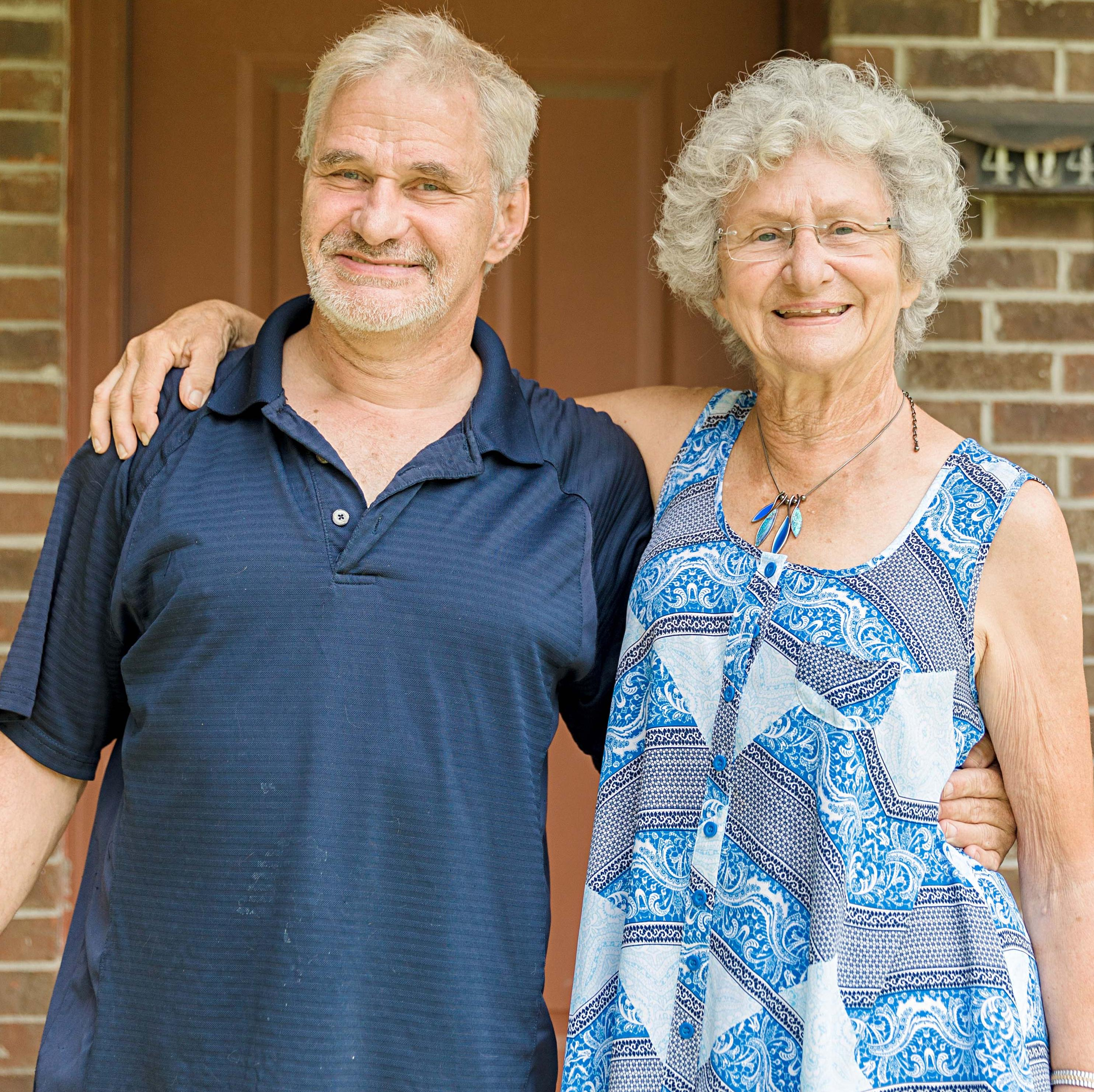 Alan with his mother Annette, his biggest supporterWhat prompted the need for an application was a major change in developmental disability services. That's when it became evident that they were going to need a waiver in order to receive the services he needed. As he's gotten older, Alan's needed more support in certain areas, especially the aide who helps with daily tasks and his complex medical situation.
Alan has already participated in some advocacy, even going to Washington, DC. If given the chance to speak to a legislator now, he would talk about the importance of supported employment and increasing funding – rather than cutting it – for people with disabilities.
Annette agrees that working is really important to Alan. Annette goes on to discuss the fact that the most apparent need in rural counties is transportation, particularly for people like Alan who are working.
They pay for a cab in the morning because there is zero public transportation. His caseworker picks him up in the afternoon and takes him home for their work together. If his caseworker happens not to be available, Annette pitches in for the drive home. Paying $5 a day, one-way, is doable, but $10 per day changes the picture substantially.
As science has continued to improve across the course of Alan's life, many things have come to light. "Everyone in so many thousand pregnancies work out this way. As statistics happen, sometimes, you're the statistic," Annette reflects.
Alan likes to put it this way, "I went from 0% to 110%."
This feature is a part of Georgia Council on Developmental Disabilities (GCDD) Storytelling Project. The goal is to collect 75 stories representing the experience of individuals living with a developmental disability in Georgia. These stories, accompanied by 6-12 representative photographs, will be instrumental in the efforts of GCDD to advocate for Georgians living with disabilities.
Writer: Shannon Turner
Photographer: Lynsey Witherspoon
To read more in Making a Difference magazine, see below:
Download the pdf version of the Spring 2019 issue.
Download the large print version of the Spring 2019 issue.
---