Project SEARCH Open House
by Clay Voytek
The Woodbridge Group typically manufactures car seats at its plant in east DeKalb County, and the business could soon provide an immersive, on-site internship program for students with developmental disabilities who want to work.
On March 23, students and parents gathered in the break room for a Project SEARCH open house and information session. The yearlong transitional work program combines education and career training to help students secure competitive employment in jobs where they may not otherwise be considered. The event served as the program's launch in DeKalb County and the first step toward building a cohort of interns.
"We have students with multiple needs," said Brenda Ann Rice, the lead teacher for special education at Warren Technical School in DeKalb. "One size does not fit all, and programs like this add an extra layer of support."
The open house began with an introduction to the program and process. By collaborating with local businesses and government agencies, Project SEARCH is able to provide young people with disabilities unique opportunities for employment. Representatives from Woodbridge, the DeKalb Community Service Board (CSB), the Georgia Vocational Rehabilitation Agency and the DeKalb County School District were present, and they will all work together to make successful outcomes possible.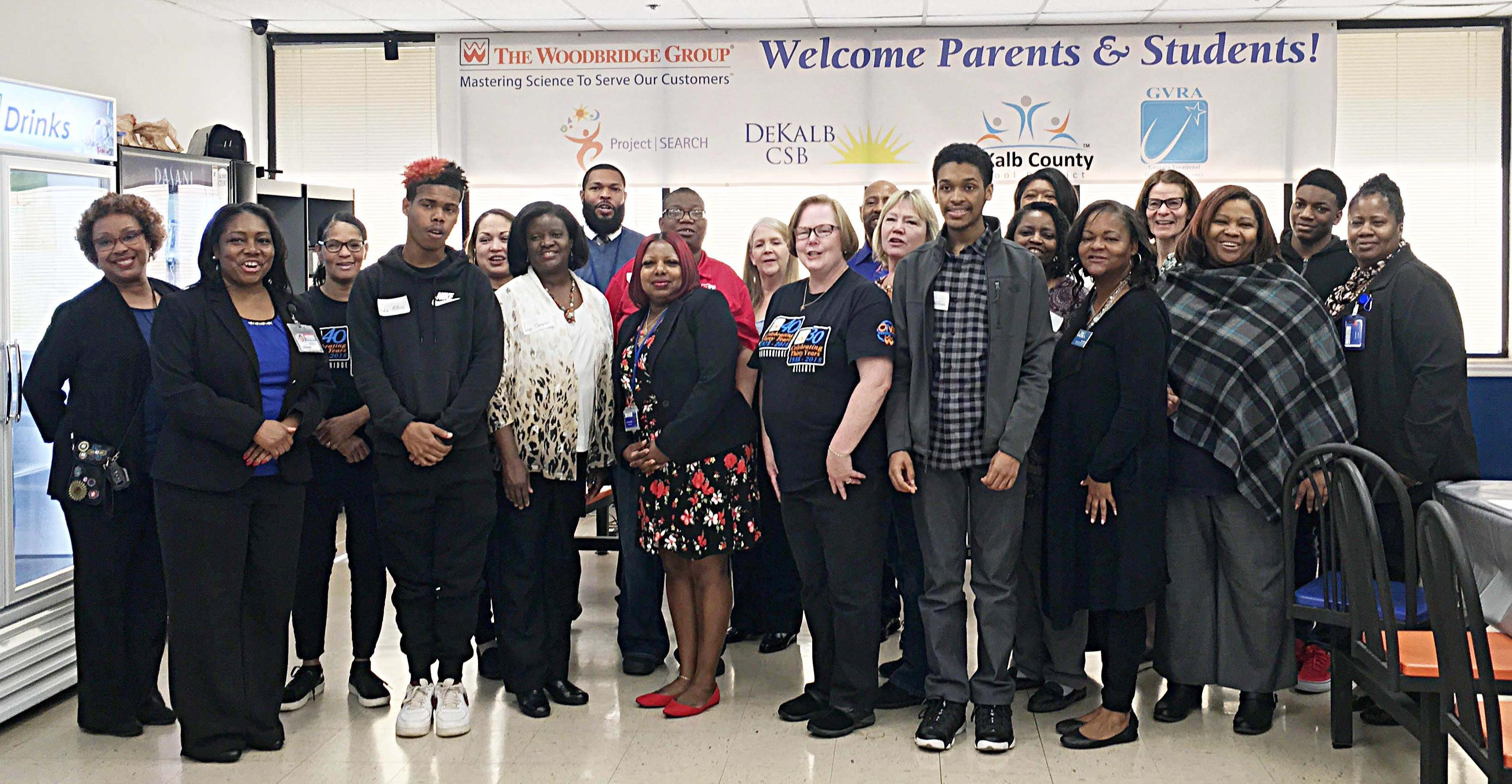 Students, parents and guests pose with members of the DeKalb Project SEARCH Planning Committee before breaking for lunch.
"The benefit of this program is two-fold," said Nick Perry, the director for developmental disability services for east DeKalb CSB. "One is to build confidence and soft skills such as self-advocacy and workplace appropriateness. The second prong to that is building a network and establishing relationships, which we all use for seeking employment."
Jack Robinson, an employment specialist at the DeKalb CSB, is excited to see the program implemented in the community.
"When you're in it, and you see it, and you listen to the terminology, a job becomes second nature," said Robinson. "I go out and develop jobs, but this here is a one-stop shop: education, training and innovation."
Two students recommended by their schools were in attendance. Following the presentation, they were guided through the application process. The next steps include a skills assessment and an interview at Woodbridge. By July, the new cohort will begin attending company workshops and getting experience in various roles within the plant.
Andre Atkins, one of the students at the open house, previously worked with children for a nonprofit, and an accessible training environment goes a long way to easing his worries about starting a new position.
"We don't want anyone to be limited," said Rice. "We want to open doors. When you take students with challenges and develop them, they can contribute and be a good fit. All students can learn and achieve with the right opportunities."
To read more in Making a Difference magazine, see below:
Download the pdf version of the Spring 2019 issue.
Download the large print version of the Spring 2019 issue.
---