REAL COMMUNITIES: The Power of the Pedal
by Jennifer Bosk
Getting around Macon just became a lot more accessible to those who have no car, live far from bus stops or can't walk long distances. Re-Cycle Macon, a program through Centenary Community Ministries, provides free bicycles to adults who need transportation.
Started in June of 2017, Re-Cycle Macon has sought bicycle donations and utilized their partner, Bike Tech to refurbish them. "We provide stop-gap transportation for adults, so they have a way to go out to look for jobs, to access social services, to attend community and church events," explains Eric Mayle, executive director of Centenary Community Ministries (CCM), a part of Centenary United Methodist Church that focuses on developing sustainable communities.
One of last year's bicycle recipients is Jeffrey, an individual with a developmental disability. He enjoys the exercise he gets riding his bicycle. In addition, he has found the bike helpful in his daily routines. "A bike helps me get back and forth from the doctor and get prescriptions filled," Jeffrey says.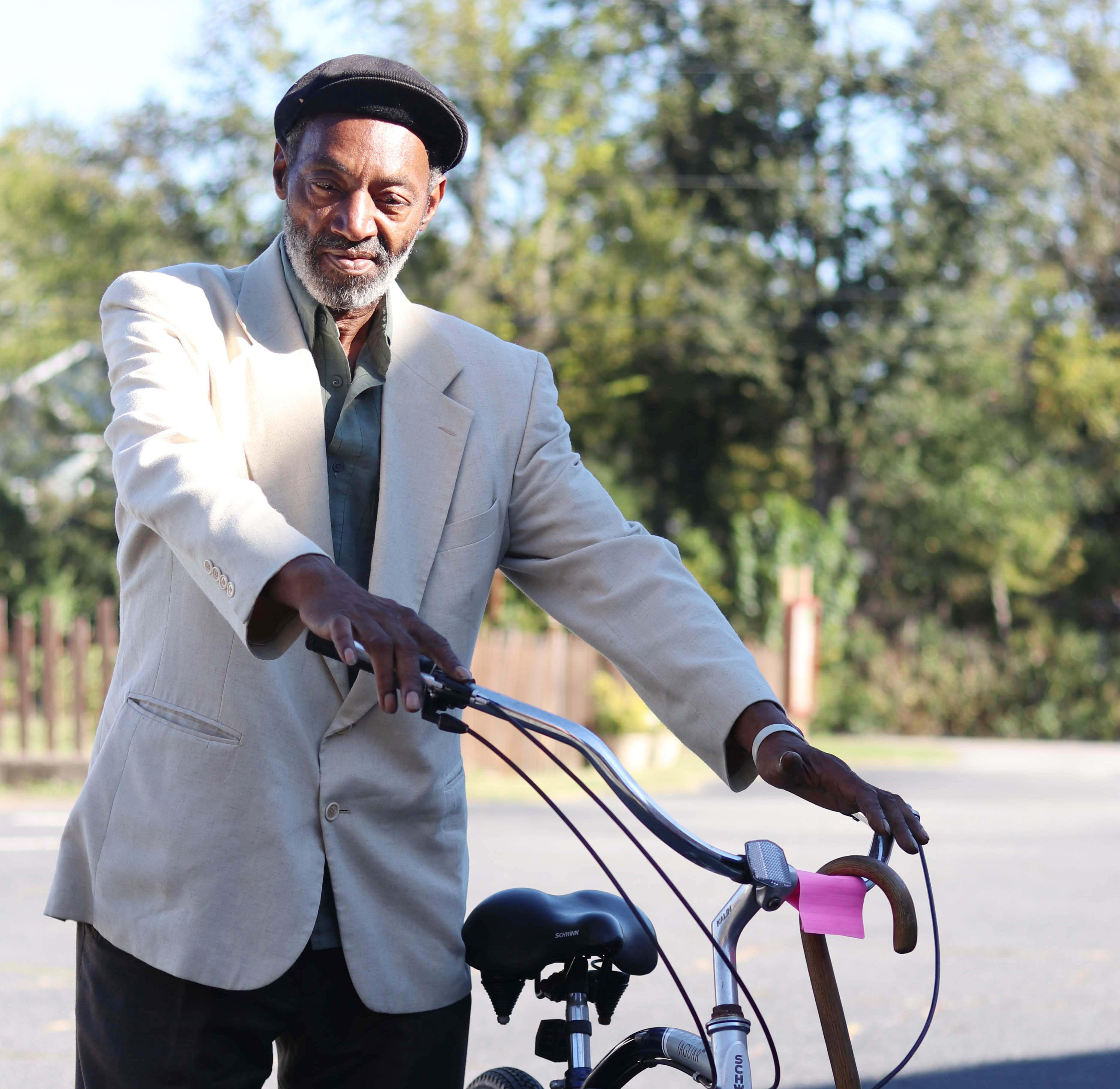 One of last year's bicycle recipients is Jeffrey, who enjoys the exercise he gets riding his bicycle. (Photo courtesy of Eric Mayle)
In exchange for five hours of volunteer time at CCM, adults receive a refurbished bike, helmet and bike lock. Now, thanks to funding from the Georgia Council on Developmental Disabilities (GCDD), CCM has expanded their services to provide the typical wear-and-tear repairs for people who have received a bike from the program.
Once a month, individuals can return for a "bike meetup" at the fellowship hall at Centenary United Methodist Church. There, GCDD funds provide for an on-site bike mechanic and assistants to help individuals with repairs. Community volunteers are also part of the meetups and join in helping with the event, hearing about the cyclists' adventures, and together everyone has a light dinner while getting to know one another.
"We've taken our small project and made it into a community-wide project," Mayle adds.
To date, 50 bikes have been given to adults with and without developmental disabilities. At their first bike meetup in January, nearly 70 people attended including several residents from Wesley Glen, an adult home for people with disabilities in Macon. It was one resident's lucky night as he, a huge cycling enthusiast, won the raffle for a $200 gift card to use at Bike Tech.
Mayle says that transportation is number two or three on Macon's list of needs. The infrastructure to support bicycling in Macon is getting better thanks to the advocacy work of organizations like Bike Walk Macon, Georgia's first grassroots bicycle and pedestrian advocacy group working to enhance mobility in the Macon-Bibb area, according to Mayle. "There are a few miles of bike lanes in the urban core of Macon right now," he adds.
Mayle also points to there being excitement and energy around biking in Macon as the city's five-year action plan has goals for its pedestrians and cyclists. "Macon has forward thinking leaders taking us in the right direction," said Mayle.
To read more in Making a Difference magazine, see below:
Download the pdf version of the Spring 2019 issue.
Download the large print version of the Spring 2019 issue.
---