Advocacy Days 2019
Join GCDD at the Capitol to speak with elected officials about policies affecting people with disabilities!
The Georgia Council on Developmental Disabilities (GCDD) will host its Third Annual Advocacy Days starting January 30, 2019 during the Georgia General Assembly legislative session.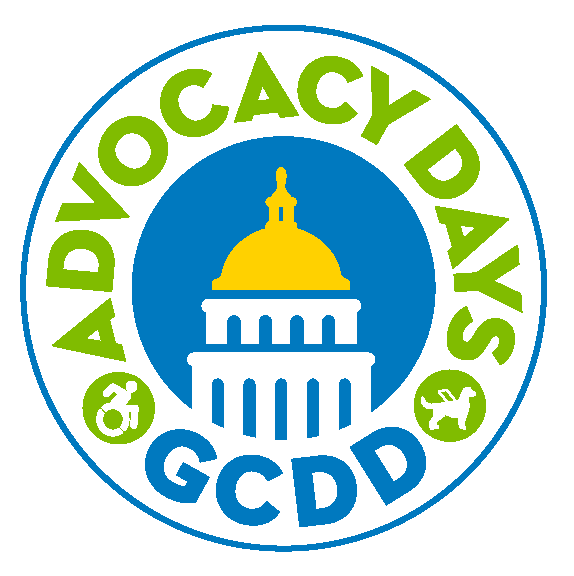 Five different Advocacy Days will focus on policies affecting people with disabilities and bring together advocates from across the state to speak with elected officials about various important issues.
Topics will include the DD Waiver Waiting List, Employment, Inclusive Post-Secondary Education, Direct Support Professionals and Home and Community-Based Services.
Mark your calendars and join us for the 2019 Advocacy Days!
January 30 - Advocacy Day #1
Inclusive Post-Secondary Education (IPSE) Day – Join current students, future enrollees and alumni of Inclusive Post-Secondary Education programs here in Georgia as we educate our legislators about the increased employment opportunities these programs provide.
February 12 - Advocacy Day #2
Home & Community-Based Services (HCBS) Waivers Day – Advocate for the protection and increase of more funding to reduce waiting lists for HCBS services like NOW, COMP, ICWP, CCSP and SOURCE waivers.
February 14 - Advocacy Day #3
Everyone Out! Day – Let's advocate for all those with disabilities remaining in institutional settings here in Georgia!
February 27- Advocacy Day #4
Direct Support Professional (DSP) Day – Come speak with your legislators about the workforce shortage of DSPs here in Georgia as well as the importance of a caregiver registry open to all HCBS waivers.
March 6 - Advocacy Day #5
Supported Decision-Making Day – Join us to educate our lawmakers on Supported Decision-Making as an alternative to guardianship for adults with disabilities.
TIME: 8 AM – 12 PM
WHERE: We kick off at 8 AM at: Central Presbyterian Church (across from the Georgia State Capitol) 201 Washington St SW, Atlanta, GA 30334
10 AM – 12 PM: Georgia State Capitol(The Gold Dome)
Register for Advocacy Days Online NOW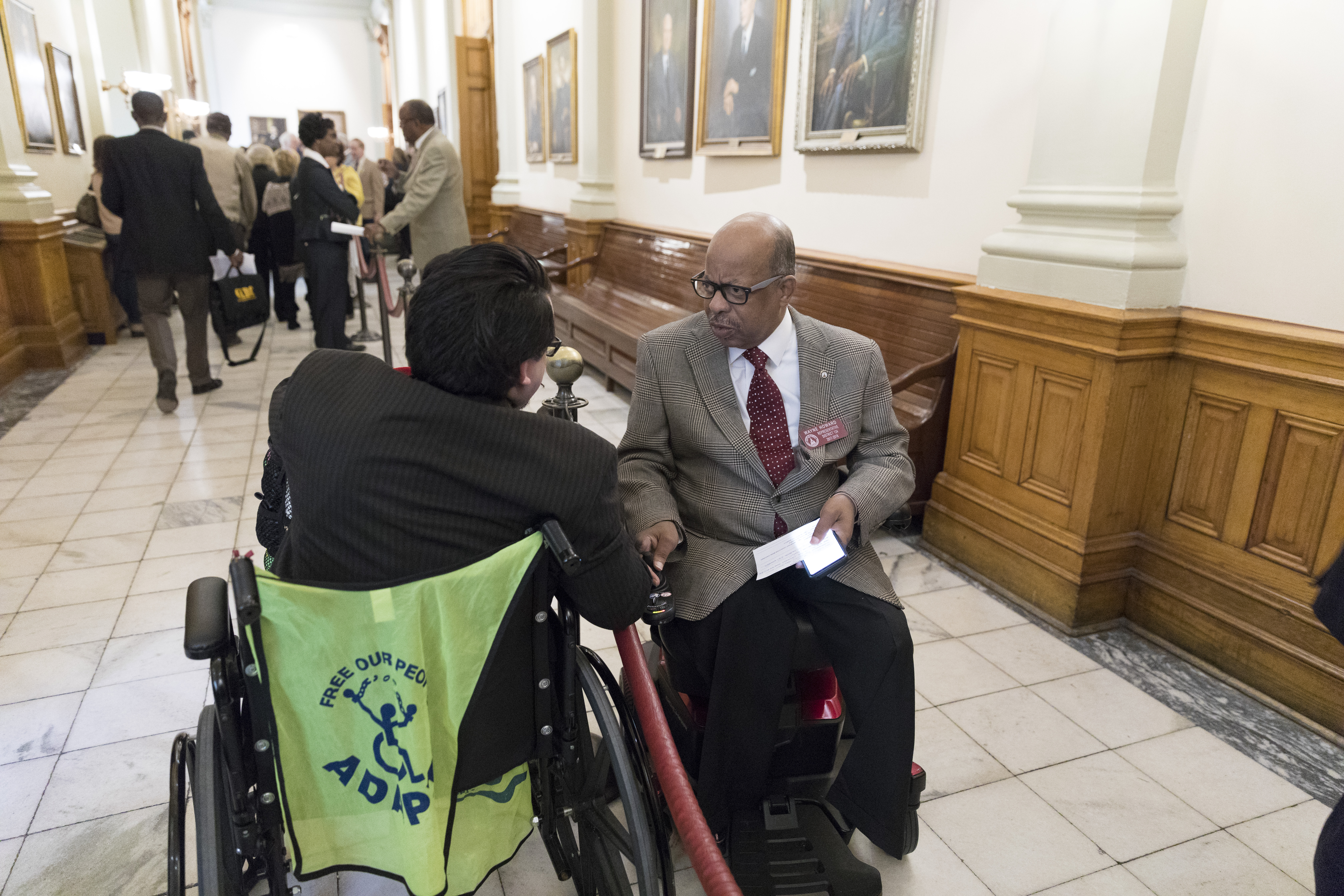 GCDD Advocacy Day at the Capitol
What to Expect Each Advocacy Day
At Advocacy Days, GCDD will welcome hundreds of advocates who are ready to build a relationship with the new legislators and reconnect with those who are continuing to serve us.
Each day kicks off at Central Presbyterian Church, across from the Gold Dome, where leaders from GCDD and other organizations will train and teach advocates how to approach legislators, make a connection and discuss the topics that are important to you.
After the interactive training, advocates and leaders will head over to the Gold Dome to meet with legislators. Check the box below for the daily agenda and how to find out which representative and senator represent you.
All Set to Advocate
GCDD is excited to kick off its Third Annual Advocacy Days and it's only possible with advocates who are ready to lead the way.
Remember to register in advance so you have time to arrange transportation, take time off of work or school, tell your friends and bring your friends to participate.
Frequently Asked Questions:
From what to bring and where to park, GCDD has you covered.
Check out the FAQs and be prepared for a full day of advocacy.
2019 Advocacy Days Agenda
8:15 - 8:30 AM: Arrival & Registration at Central Presbyterian Church
8:30 AM: Breakfast is Served!
9 - 10 AM: Advocacy Day Orientation
10 - 10:15 AM: Walk Over from the Church to the Gold Dome
10:15 - 12:15 PM: Visit with Legislators "At the Ropes"
Find Your Legislator
Your Georgia state representative and state senator represent your district in the Georgia General Assembly. Additionally, it's important to know what committees they sit on and what bills they have sponsored in the past. Find Your Senator and Representative Online using Open States
Be a Volunteer for A day or a Team Leader! If you are interested, email GCDD at .
To read more in Making a Difference magazine, see below: