GCDD IMPACT: The Fam Squad
Sometimes, when you go to college, you get lucky enough to find a new set of friends, people who will almost certainly be your friends for the rest of your life. That is definitely true of "The Fam Squad." They hit it off the first week they met. Now, they hang out when they're not in class, often going to lunch, the library, and the student center together.
When Les McBride, De'onte Brown and Mandel Montilus started attending the IDEAL program at Georgia State University, they knew immediately they felt lucky not only to be in school, but most especially to have found each other. IDEAL, Inclusive Digital Expression and Literacy, is a new inclusive two-year program at GSU that accepted their first students with intellectual disabilities in Fall 2016.
Students enroll in or audit courses offered by GSU colleges and academic departments; complete work-study and intern-ship experiences related to media, communications and/or the arts; and participate in a variety of extracurricular activities on campus.
The young men of "The Fam Squad" are three of the five students currently enrolled in IDEAL. Spenser Norris, a trained special education teacher and clinical rehabilitation counselor, is the University Inclusion Coordinator. She says they are hoping to grow the program to ten students in Fall 2018, as well as establish a dual enrollment program with DeKalb County. Much like other inclusive postsecondary education programs, they rely on the support of peer mentors who have similar interests and career goals as the program participants. Peer mentors are recruited from the Honors College and other parts of the University and volunteer 5-10 hours a week to assist with going to class, study skills and finding social opportunities.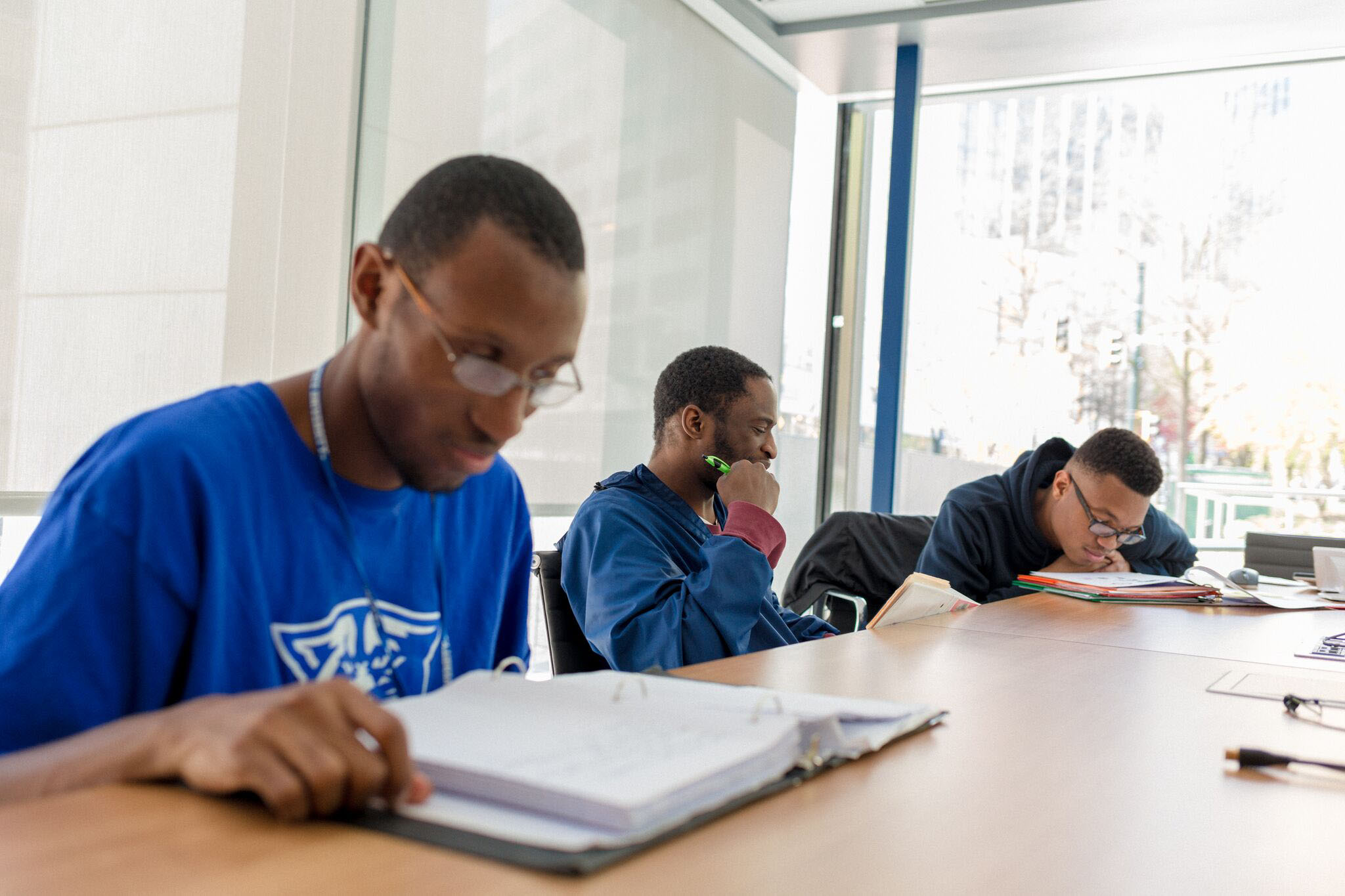 Les, De'onte and Mandel are all studying in different programs that loosely relate under the theme of creative and new media.Les, De'onte, and Mandel are all studying in different programs that loosely relate under the theme of creative and new media. Les would like to become a music producer in the recording industry. Mandel hopes to be a game designer. De'onte is a film student with a penchant for horror.
Aspiring filmmaker De'onte, 22, has an intellectual disability and developmental delay. He remembers the first time he fell in love with films. He was watching something one day and just started wondering about how much time it had taken them to make all the parts of it. It made him curious about the process. His favorite scary movie is Happy Death Day. "These types of movies just make me feel more alive," he says.
De'onte has a twin brother who is in the Army, currently serving in Poland. They video chat weekly, but he really misses him because it's been more than a year since they've seen each other in person. For his final project, De'onte wants to make a documentary about the IDEAL program.
Mandel, the game designer, is a 23-year-old man with autism spectrum disorder and speech and language disorder. Mandel's peer mentors, Teymbi and Kat, help him stay focused on his game designs and ideas. His original inspiration for gaming was Pokémon. He shows us a version of a Pokéball he's doodled on his hand. You can find some games he's working on at an experimental website called Twinery.org. He says the thing he likes most about games is being the champion.
Les, the music producer, is 19. He has mild intellectual disability and specific learning disorder. Growing up with the music of T.I., Li'l Wayne and other Atlanta-based hip-hop artists, his favorite song is "I'm Still Here" by T.I. He thinks it has a great motivational message to follow. No matter what circumstances you come from or what's happened to you, you've got to keep doing your work and keep going. Les has lost important people in his life like his grandparents, and he's an only child. Sometimes he's felt isolated, but he feels it's important to stay positive. He wants to put out work through his music that encourages people to stop violence.
Each member of The Fam Squad talks us through the process of applying to be in the IDEAL program. They said that it took a lot of paperwork and an interview at the IDEAL office. They all remember the interview vividly, how they had to speak about their dreams and aspirations. For each of them, the day they found out they'd gotten into the program was also a day they'll never forget. "It was the best day of my life!" is a sentiment echoed by each of them.
None of these young men currently have Medicaid waivers, and they have no plans to apply at this time. This underscores why support for a program of this nature is important, as the need for NOW/COMP waivers is diminished for IPSE (inclusive post secondary education) alumni as many are gainfully employed, receiving employee benefits, and are therefore less dependent on state resources. Another IDEAL student has stated many times that "Without IDEAL, he would be sitting at home bored and feeling like he is missing out."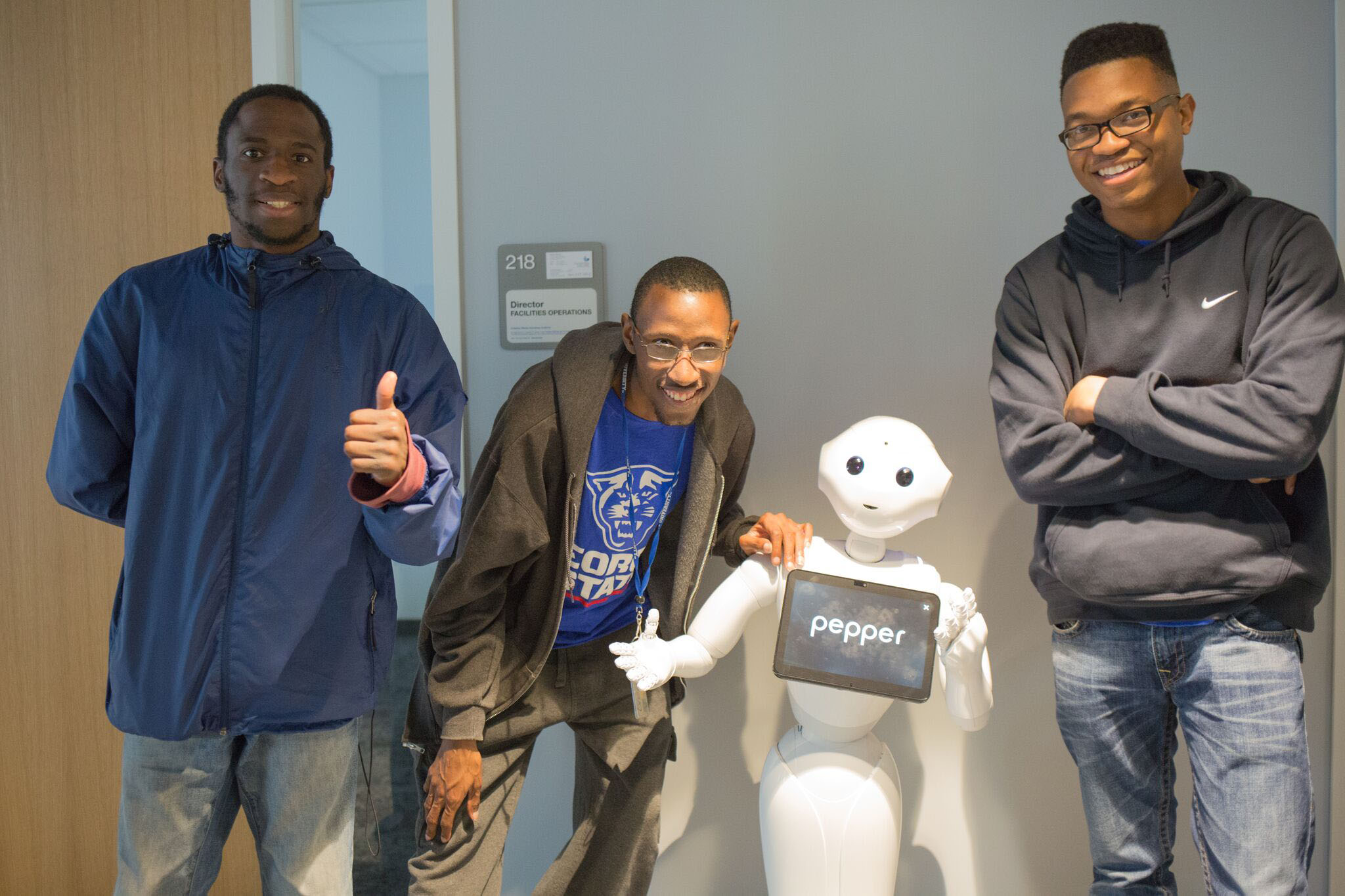 The Fam Squad show off the robot, Pepper, who can dance and will ask for a selfie at Creative Media Industries Institute.
Often young adults with intellectual disabilities find themselves isolated when they do not belong to a community of peers, often feeling misunderstood, or eventually feeling like it is not worth the effort to make friends or try new things. Like many young people who may feel isolated, this phenomenon can lead to depression, anxiety, or people existing in unhealthy relationship with others to fulfill a need for belonging.
As a part of their program, they've had an opportunity to participate in advocacy, going to the State Capitol to speak to legislators about the IDEAL program. If we brought an elected official in to be a part of the conversation we were having, they would want them to know how excellent their program is so they could have more students "join the college life, to see what all the fuss is about!"
Les says, "There's a lot of kids that need help and want to do better, and do better things." He talks about people who have disabilities wanting to change, as well as school shootings and how much fear there is. When we ask everyone what they want people in general to know, De'onte says "I want them to know that they can be anything they want to be."
With that, the guys take us on a tour of the Creative Media Industries Institute. They show us the robot, Pepper, who can dance and will ask you if you want to take a selfie with her. At the end of our time, they led us back to the IDEAL office, which has a common area with posters, pictures and quotes from retreats and meetings they've had together in the past. As we say goodbye, the group is ready to try the hot dog place that's just opened up around the corner. It is Friday after all.
This story is a part of the GCDD Storytelling Project. It was written by Shannon M. Turner and photographed by Lynsey Weatherspoon. Read the extended story on www.gcdd.org.
To read more in Making a Difference magazine, see below:
Tags: Advocacy, Making a Difference, public policy