Transforming Employment for People with Disabilities
by Jennifer Bosk
There's a sea change coming in the lives of people with disabilities and its focus is employment training, work inclusion and financial stability. It's already happening in Georgia, and the Georgia Council on Developmental Disabilities (GCDD) is spreading the word as fast as they can.
On May 8 of this year, Georgia's Employment First Act (HB 831) was signed into law by Governor Nathan Deal. The Act promotes employment as the first and preferred option offered to people with disabilities receiving government-funded services.
This new legislation forms a 14-member Employment First Council made up of individuals with disabilities, family members of people with disabilities and various representatives of workforce development agencies in Georgia and is overseen by the Georgia Vocational Rehabilitation Agency (GVRA).
Next Steps for Employment First
"Kudos that the Act passed as it gives us a good direction," said Doug Crandall, Public Service Faculty at the University of Georgia, Institute on Human Development and Disability. "Employment First has a baseline, but we have a ton of work to do. The first thing is for us all to come together – the people with disabilities, their families, the providers and employers."
GCDD's goal is to research and make recommendations for future policies so Employment First is implemented throughout the State, as well as to ensure competitive, integrated employment is at the forefront of all state-funded services.
Competitive, integrated employment, as defined by the Georgia General Assembly, is "work, including self-employment, in the labor market performed on a full-time or part-time basis in a setting in which an individual with a disability interacts with individuals without disabilities in all aspects of the job function and for which such individual with a disability is compensated at or above the level of salary and benefits paid by the employer for the same or similar work performed by individuals without disabilities (Georgia House Bill 831, 2018, p. 2)."
This line of work is close to Crandall's heart. He co-authored a guide about the public policy alignment approach used in Employment First states around the country. And, his research found that government-funded programs were fragmented and often disconnected from the ultimate outcome of supporting job seekers with disabilities in obtaining and keeping competitive, integrated employment. The guide shares a nine-month, three-phase approach to using collaboration and aligning resources to achieve systems change for Employment First.
GCDD's New Technical Assistance Center
In Georgia, Crandall's work focuses mainly on bringing state agencies and providers of services for people with disabilities in alignment with what Employment First is working to achieve. As a start, he is behind the new GCDD-funded Technical Assistance Center, Advancing Employment.
The center's initiative will develop a provider transformation plan based on strengths and needs of each provider regarding best practices in employment. In addition, providers will have access to customized webinars, online trainings and multiple resources related to best practices and research in employment for individuals with intellectual and developmental disabilities.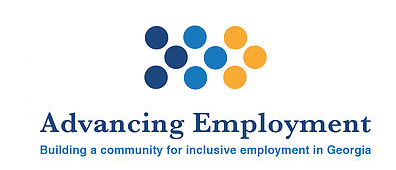 The work with agencies and providers is two-fold: first they must believe competitive, integrated employment is the first and preferred option; and then, they must analyze what it will take to truly transform their agencies, along with their leadership and boards, to have an awareness of the economic life of the community.
Provider agencies Lookout Mountain Community Services, LaFayette; DeKalb Community Service Board, Decatur; and Aspire Behavioral Health and Developmental Disability Services, Albany have started working and coordinating with Advancing Employment to learn and bring best practices for competitive employment in their organizations.
Provider Organizations Currently Working with Advancing Employment
Implementing Integrated Employment in the Workplace
It is also important to talk to employers about integrated employment in language that businesses understand – economics, retaining staff and creating a new customer base.
One company that is not only ready, but has implemented competitive, integrated employment is First Data, a global financial service company, with headquarters in Atlanta. Its commitment to an overarching goal of diversity and inclusion at the company began four years ago when Frank Bisignano became CEO. He made a strong commitment to hire veterans, and as they began offering training for people with service and non-service related disabilities, First Data saw a much bigger opportunity.
"We wanted to go past the Americans with Disabilities Act (ADA) requirements and do everything we could to expand our recruitment pools of qualified candidates for First Data jobs," explains Vivian Greentree, senior vice president and head of First Data's Global Corporate Citizenship.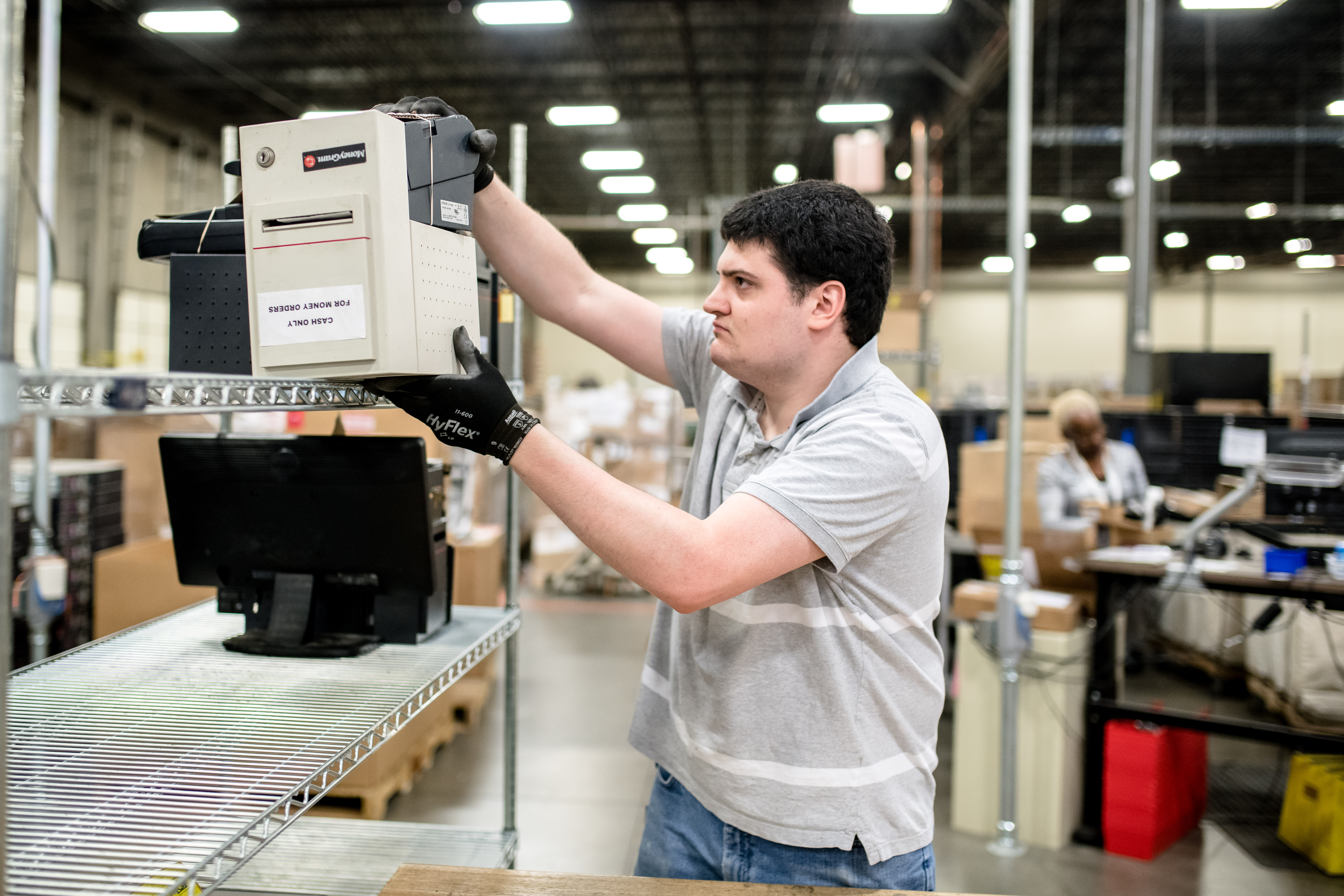 Competitive, Integrated Employment at First Data
The company's inclusion goals led to the creation of eight employee resource groups, one of which is THRIVE, a disability awareness leadership council within First Data. The company says, "THRIVE was established to create a network and support system for individuals across the ability spectrum and their allies, providing internal and external awareness of the best practices within First Data. We believe that all owner-associates can succeed and flourish because of their unique abilities, not in spite of their disabilities."
THRIVE offers policies and programs that help in allowing people to bring their whole self to work and bring a sense of belonging to the team. The focus is for team members to be inspired to share their talents and passion and not worry about "will I fit in?"
There are 25 THRIVE chapters in First Data globally. In the Atlanta THRIVE chapter, there are currently 71 members. First Data also offers confidential peer-to-peer employee programs that connect people facing the same challenges. Paired by interests and location, the programs work to create a culture where everyone uses their energy to create and come up with new ideas for First Data, rather than being isolated and not feeling a part of the corporate culture.
"If corporations don't figure inclusion out, they will lose out on employee talent as well as clients, revenue and profitability," Greentree feels. "When you provide employees with opportunities for engagement, it always pays dividends."
And, First Data aims to expand its vision to the true meaning of inclusion. "It's not just enough for a company to be about diversity, it's inclusion and belonging that make it work for people to better be able to do their job. At First Data, our focus is to foster overall inclusion into the fabric of our company," said Greentree.
To that end, the company also added an employee group for caregivers of people with disabilities, addressing the unique challenges those individuals often face.
This focus on people with disabilities is extended to First Data's supply chain which is open to diverse vendors. On any contract with a small business (under $5 million), several owned and operated by people with disabilities, First Data offers to pay the net bill within 30 days – a huge boon for many small businesses who find access to capital challenging.
"We are doing everything we can to expand our recruitment pools for First Data jobs," confirms Greentree.
Saving with STABLE Accounts in Georgia
That's exciting news for people with disabilities looking to enter or move up in the workforce, and the mindset change that Douglas Jackson, the deputy director of STABLE accounts, is relying on.
For decades, people with disabilities who wanted to work faced a huge disincentive. If they wanted to save money for a place to live or a car or any expense, people were jeopardizing their benefits. Medicaid and Social Security benefits were lowered if an individual with a disability earned over a set amount. That led to attitudes of "why work?" or, for those who were working, to spend money quickly or hide it somewhere.
Then came the Achieving a Better Life Experience Act of 2014, know as the ABLE Act, which allowed states to offer tax-advantaged savings accounts for individuals with disabilities.
"ABLE accounts serve as a benefit to work," explained Jackson. "Not only can you save without penalty to your benefits, but you can also guide your savings into investments to grow your income and not be taxed on any gains nor taxed when you spend the money. STABLE, as the accounts are known in Georgia, offers five different options for investments."
Also unique to STABLE is the opportunity for direct deposit of one's paycheck, offering the bonus of saving before you spend. In addition, STABLE allows for employers to contribute to their employees' accounts, even matching a percentage of what the employee puts in.
STABLE offers the freedom for the individual to spend their savings on a variety of expenses including education, housing, transportation, employment support, health prevention and wellness, assistive technology, and other miscellaneous expenses such as legal fees or home improvements. "We offer individuals a loadable debit card which works anywhere, even for things like Uber, Lyft or public transportation. It works for services anyone would typically buy," Jackson said.
Coming Out Ahead by Working
Jackson wants that sea change to include a mindset change that people with disabilities utilizing STABLE accounts will now come out ahead by working. "The rules have changed, and it makes sense to take advantage of all that is being offered to people with disabilities today," he said.
In Georgia, about 382 people have opened STABLE accounts and have collectively saved and invested $1.8 million. But, there are over 200,000 people eligible for these accounts in Georgia, which means the State has a long way to go.
Learn more about STABLE accounts in Georgia or open your own account.
People with disabilities who work not only bring an increased benefit to themselves, but also to the general public.
In a recently published article in the TASH journal regarding a new study exploring cost efficiency of supported employment throughout the United States, real jobs have a return of $3,016 per year to taxpayers. Supported employees' work generated a cost-benefit ratio of $1.46 for each dollar spent.
With the combination of various resources now available for people with disabilities to become more financially independent and employers who are starting to take notice, there is a ground-breaking transformation for employment in the disability community on the way.
Save & Invest with STABLE Accounts!
$50 – That's all you need to open a STABLE account.

Save up to $15,000 every year in your STABLE account.

Your money earns interest and builds financial security.

If employed, you can save an additional $12,000 per year.

Use the money you save for disability related expenses.

In Georgia, people with disabilities have saved $1.8 million!
To read more in Making a Difference magazine, see below:
Tags: Advocacy, Making a Difference, public policy