AROUND THE STATE: Basketball Camp Aims to Bounce Out the Stigma
For the third year, Bounce Out the Stigma Basketball Camp came to Gainesville, GA in June. The camp's mission is to "empower challenged youth to believe they can and erase the stigma from those who believe they can't." The camp is open to boys and girls, ages eight to 18, who are diagnosed with autism, ADD, epilepsy, ADHD and those with slow motor skills development.
Twenty-eight youngsters from 12 different school districts spent every day for a week learning how to handle a basketball, dribble, strengthen motor skills and play the game. Community volunteers, known as "buddies," came from all over Georgia to help and included teachers, high schoolers and parents.
Led by Mike "Mighty Mike" Simmel, the camp was launched through a personal experience. When Simmel was at a basketball camp as a teen, he had an epileptic seizure. The camp insisted Simmel be sent home and not return. Simmel's parents fought for him to stay, and Simmel vowed to not to let that happen to others.
He began the Bounce Out the Stigma organization in 2005, a grassroots campaign to educate the public, teach healthy lifestyle choices and empower youth with unique issues – all based on Simmel's personal experiences of growing up with a disability.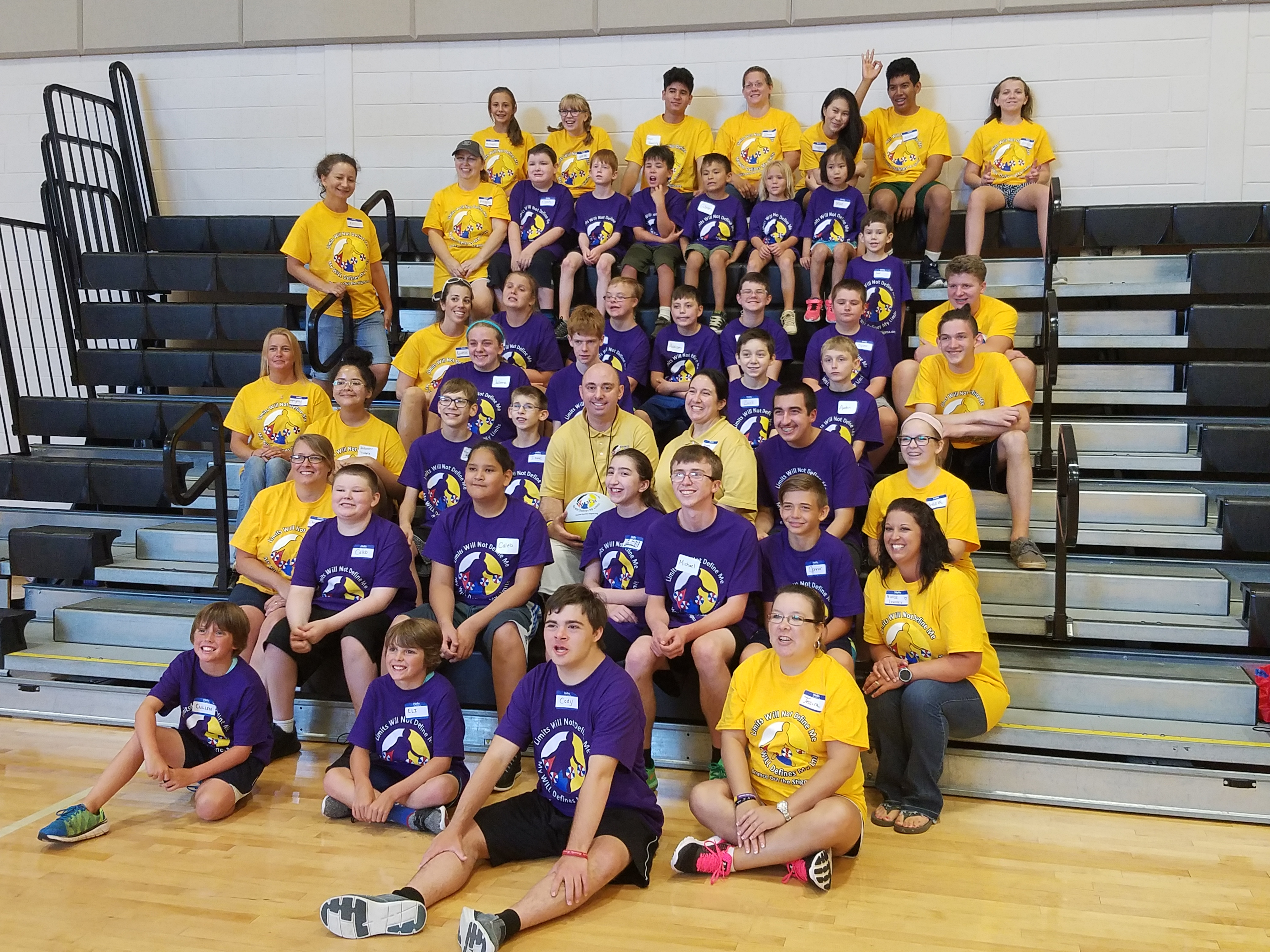 "Mighty Mike" Simmel (center) with the 2018 Georgia campers in Gainesville, GA
One of the camper's parents watching the day's activities remarked, "You treat this as a regular basketball camp!"
Simmel acknowledged and shared that, "It is a regular basketball camp." He admits the camp is rigorous, but also designed so that everyone succeeds, develops better motor skills, effectively dribbles a ball and sees their confidence soar.
The camp allows kids to be kids. Children discover new skills, new friends and an inner confidence on what they can accomplish when given the opportunity. By being with each other, they also get a chance to bond, build camaraderie and learn from each other.
Two campers that stood out, recalls Simmel, were Michael and Savannah. Both with motor skill challenges, Michael saw his developed skills were just what Savannah needed to learn. He followed her everywhere she went, resulting in friendship and peer support that everyone looks for. At the end of camp, the pair received the brand new "Buddies Award" for working together.
At camp, there is a "Show Me What You Got" time when each participant takes center stage and demonstrates the skills they've learned and achieved.
The goal of the Bounce Out the Stigma project is to motivate and educate young people with disabilities in promoting healthy life choices and becoming aware of disability issues.
Since its launch, the organization has grown the number of programs and camps it offers and is now available in 20 different states.
For details on the programs and camps Bounce Out the Stigma offers, visit www.bounceoutthestigma.org or call 855-997-3900.
To read more in Making a Difference magazine, see below: