STRAIGHT TALK: A Vision for My Life
by Martha Haythorn
My name is Martha Haythorn and I am 18. I just finished my senior year at Decatur High School. When I was seven years old, I went with my parents to speak with our senators. And, I have been advocating for people with disabilities ever since.
In April, I went to the Disability Policy Seminar in Washington, DC to advocate for people with disabilities. I went through the support of Stacy Ramirez and The Arc Georgia. It felt exciting and empowering to go to a big gathering to meet other self-advocates who share my mission to raise my voice.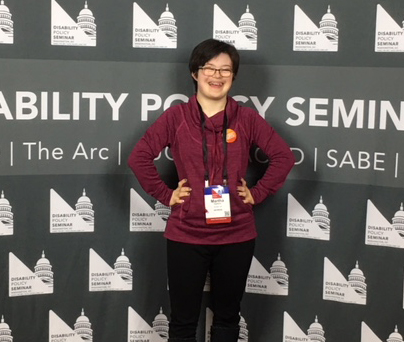 Martha Haythorn attended the Disability Policy Seminar in Washington DC in April. She will be back at Decatur High School in the fall to work on job skills and prepare for inclusive postsecondary education.On the trip, I also got to know people from the Georgia Council on Developmental Disabilities. This was really cool. I especially loved meeting Evan Nodvin's sister, Alison, who is an advocate in Washington. I am big fan of Evan's!
While I was in Washington, I met with two disability advocates, Liz Weintraub and Michael Gamel McCormick They have been advocating for people with disabilities for a long time and they were able to help me identify my gifts for advocacy. They are my mentors.
I went to two workshops to learn about Medicaid and voting rights for people with disabilities. Medicaid helps people with disabilities have the support they need to live and work in our community. It also is important for our healthcare. People like me need Medicaid and need to take a stand.
I will be kicking off a video blog in July with The Arc Georgia called Advocacy Diva. I will be interviewing Liz, Michael and other self-advocates. I would also like to interview parents, teachers and elected officials.
I got a chance to vote for the first time this May. I learned at this conference that I have the right to have any person I choose in the voting booth with me. My father, Trace, went with me and helped me understand what I needed to do.
For my Senior Project at Decatur High, I made a video on disability advocacy. I interviewed four people about their experiences of disability. Five other young adults with developmental disabilities and I also spoke before the Decatur City Commission this spring.
At school this fall, I will be the Vice President of Partnerships for Success. This group helps students with and without disabilities get to know each other.
It is important for young people to speak up and share their experience. It takes a lot of courage to advocate, but when we raise our voices it feels empowering. Young people have important stories to tell.
I have a vision for my life: I want to have a job, live in an apartment and be married. Elected officials need to know these things to have a better understanding of the lives of people with disabilities.
I hope that our leaders will think about what we are saying. We want to live our lives to the fullest and they are making decisions that affect us.
To read more in Making a Difference magazine, see below: