REAL COMMUNITIES: Clarkston Celebrates Community's Diversity during Annual Culture Festival
With a little over 12,000 citizens, Clarkston, GA is an extremely diverse city active in community engagement. Every year in April, the town celebrates that diversity with the annual Clarkston Culture Fest (CCF), which "highlights the best of what Clarkston has to offer."
Supported by Al-Tamyoz Community Building Group, a Georgia Council on Developmental Disabilities (GCDD) Real Communities Partner, the CCF was held on April 28 and is a day of education, celebration and cultural entertainment. Area musicians and artists portrayed the cultural diversity – including local school groups – and there were plenty of kid-friendly activities.
GCDD's Real Communities support communities who welcome and utilize the gifts of everyone, including those who have been historically marginalized and work together toward common goals.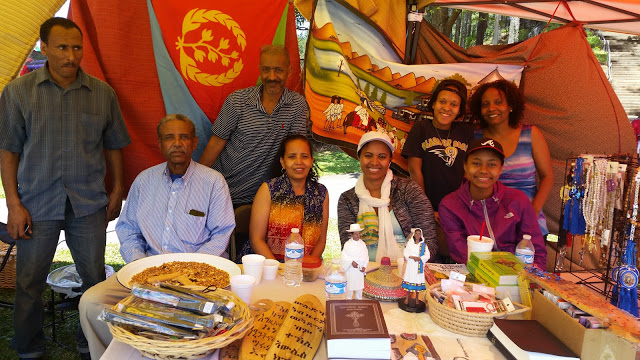 Eritrean booth at the Clarkston Culture Fest
CCF also partnered with Refuge Coffee in their annual 5K Walk/Run, which benefits employment of refugees, job training and social networking in Clarkston.
The City of Clarkston, located in DeKalb County, has been identified as the most diverse city in the nation. The residents come from more than 50 countries and there are over 111 languages spoken in Clarkston.
Festival attendees also participated in the Culture Village, interactive booths celebrating the community's diversity. A major continued focus of the festival, the Culture Village, highlights different cultures represented in Clarkston. Each booth is staffed by a Clarkston resident who educates festivalgoers about the language, traditions, unique customs and dress of each represented culture.
Cultures of Bhutan, Afghanistan, Pakistan, Wales, the Sudan, Nepal, Nigeria, India, the Philippines and Eritrea were represented this year among others.
Because of its growing popularity, the event was moved this year to the James R. Hallford football stadium, which has a capacity of 15,000. Thousands of attendees, including Clarkston Mayor Ted Terry, Clarkston Police Chief Christine Hudson and numerous city council members, enjoyed the festivities.
New this year was a classic car show, presented by Positive Growth Inc., a nonprofit organization whose mission is to strengthen the lives of children, youth, adults and families in Atlanta during difficult life transitions.
To view photos and learn more about the Clarkston Culture Fest, visit www.clarkstonculturefest.org.
To read more in Making a Difference magazine, see below:

Tags: Advocacy, Making a Difference