Expert Update: Creating the Gold Standard of Disability Hiring
This is an excerpt from Randy Lewis' talk at the Impact Business Speaker Series at Georgia Tech's Scheller College of Business.
My son, Austin, has autism. He didn't speak until he was age 10. He's trying to make up for lost time if you ever get a chance to talk to him. He was the first student with autism to go to his school. He drives. He's sometimes my chauffeur to the airport. He has a great sense of humor.
He has no friends. He has never been invited to a party and never received an email. He probably reads at about a fifthgrade level. I've never played a game with my own son. Not even a game of catch. And most people like him would never be offered a job.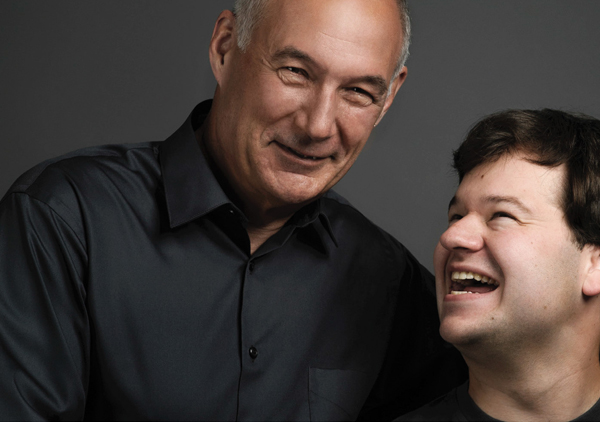 Randy Lewis, former Sr. Vice President of Walgreens, Peace Corps volunteer, Fortune 50 executive and accidental advocate, led Walgreens' logistics division for sixteen years as the chain grew from 1,500 to 8,000 stores. Lewis introduced an inclusive model in Walgreens distribution centers that resulted in 10% of its workforce consisting of people with disabilities who are held to the same standards as those without disabilities. Its success has changed the lives of thousands with and without disabilities and is serving as a model for other employers in the US and abroad. He is pictured above with his son, Austin.A job can mean the difference in life. Security, friendships, possibilities. But when it comes to getting a job – what I do know as a parent and as an employer – is that people with disabilities die the death of 1,000 cuts. The unkindest of which is a belief by most people that people with disabilities really can't do the job. It's a great thing to do if you can afford it, but otherwise it's a charity thing to do and that's what I knew [Walgreens] was facing.
We started out trying to hire some people with disabilities. We hired some groups who were bringing in people with disabilities and we gave them certain tasks to do. We were getting them team member T-shirts, name badges just like everyone else. I remember this woman comes up to me, in our Dallas center, and she shows me a picture. Now, I didn't know if she worked for us or was part of the group, but she must have seen the confusion on my face because she followed with, "Oh, I'm not one of them. I'm their sponsor."
"Them."
It struck me like a slap in the face. Those folks were not doing traditional jobs, they weren't earning the same pay, and they weren't with "us." So, I knew we had to do better.
So, we said, let's ask for volunteers who would like to work with some of the folks in that group, let's hire them and give them a chance.
One of the people that we hired was a man named Chuck. Chuck is on the [autism] spectrum. He had graduated from college with a degree in accounting. He had never been able to get a job, but we hired him. We learned that Chuck's favorite color was purple because every time a purple token would pass through his area, Chuck would stop, let out a yell of joy, and start dancing. Something we had never seen.
So maybe this is something we can tolerate in a work environment? Which would we prefer from our employees? Dancing or complaining? Easy choice – dancing.
Perhaps there's a group of people out there like us who could do the job, but would never be allowed to because of these invisible walls we have around ourselves.
So, we decided that if we're going to hire people with disabilities, we're going to start with jobs. And we want a big number, because if this works, we want to be able to demonstrate to the world that people with disabilities can perform as well as anybody else.
If we hire one or two, people can say, "That's great, Walgreens. You're a big company. You can afford that." We wanted to demonstrate that beyond a reasonable doubt, people with disabilities can do the job – and not just jobs for people with disabilities.
Business is not a charity. We have shareholders that are just as demanding as any other company. People with disabilities had to do the same job, receive the same pay and be evaluated on the same performance scale. We needed to measure it, so that's why we said one-third of the workforce had to be people with disabilities. We said we're going to change the way people view people with disabilities.
We changed our hiring process. Traditionally, we would put an application out there, and we'd screen them using a computer. We'd pre-screen them, call them up on the phone, have a little pre-interview, and you get called in for a final interview. That's the process. But we knew people with disabilities, people like Austin, would never be able to get through that process. We needed an alternative.
Now, my son, Austin, exposed me to all the challenges, but he also exposed me to all the possibilities and opened up my thinking. That's how we knew what we had to do. We needed a way for people with disabilities who can demonstrate their ability to do the job in nontraditional ways.
We found an expert on people with disabilities. We asked them to find 200 people for our Anderson, South Carolina center – 75 on day one and 10 a month thereafter. They understood our jobs, went out and then did the pre-screening. They found the people that they thought would be successful in our environment. Then, we would bring them in, provide the job coaches, and Walgreens would provide supervision and let them do the work on a trial basis. We'd pay them during this period and when they're successful, we hire them.
One of the people who heard about this was Desiree, who lived in San Diego. Desiree has a rare muscle condition that requires she use a walker every once in a while. She packed up her bags, moved her family across the country a year – a year – before we opened, just for the chance to be in line. She's a manager at that building today. A person who we would have never hired, because we would have assumed that it would be too difficult for her to get to all the parts of the building, is now a manager of the center in South Carolina.
People ask, "How did this turn out?" This turned out to be the most productive center in the 100-year history of our company. What we had hoped to achieve worked. People with disabilities perform the same work safer and have less workers compensation costs. That's a big concern among employers.
We also heard, "It's going to cost more," or "This is more dangerous, so there are going to be more accidents," or "Their health costs are going to go up." Again, these are things that are claimed, but have no evidence in data. We did not find that. Our healthcare costs did not go up, it was the same. Our retention was better and our absenteeism was less.
The center is the most productive in the company's history. Over 30% of the workforce has a disability. Most had never been able to secure a steady job before. Within four years, over 1,000 people with disabilities were working in centers across the country.
This is a group that shows up. This is all that we hoped for.
To read more in Making a Difference magazine, see below:
Save
Save
Tags: GCDD, Making a Difference, Expert Update, employment,, disabilities,