Employees with Disabilities Take Legislators to Work
By Jennifer Bosk
The Georgia Council on Developmental Disabilities (GCDD) has made integrated employment of individuals with disabilities a top goal in its Five Year Plan.
That's why State Representative Sheila Jones (D-District 53) saw first-hand how Matthew Roush, an operations analyst at SunTrust, has been so impactful to his team. The visit was part of GCDD's third annual Take Your Legislator to Work Day (TYLTWD), which kicked off during October's National Disability Employment Awareness Month (NDEAM).
TYLTWD is an opportunity for employees with disabilities in Georgia to invite their legislator(s) to visit them at work. The goal is to show the far-reaching benefits to employers, employees and communities alike of hiring people with disabilities and create opportunities to form and nurture relationships with their elected officials.
Forming Relationships
Through a partnership program between Briggs & Associates and Atlanta Public Schools, Matthew Roush interned in several different departments at SunTrust. He is now a permanent employee with benefits. The SunTrust team learned what Roush needs to be successful; accommodated his visual impairment by providing double monitors with large text that enable him to work as efficiently as possible; and supports his growth as a person and an employee.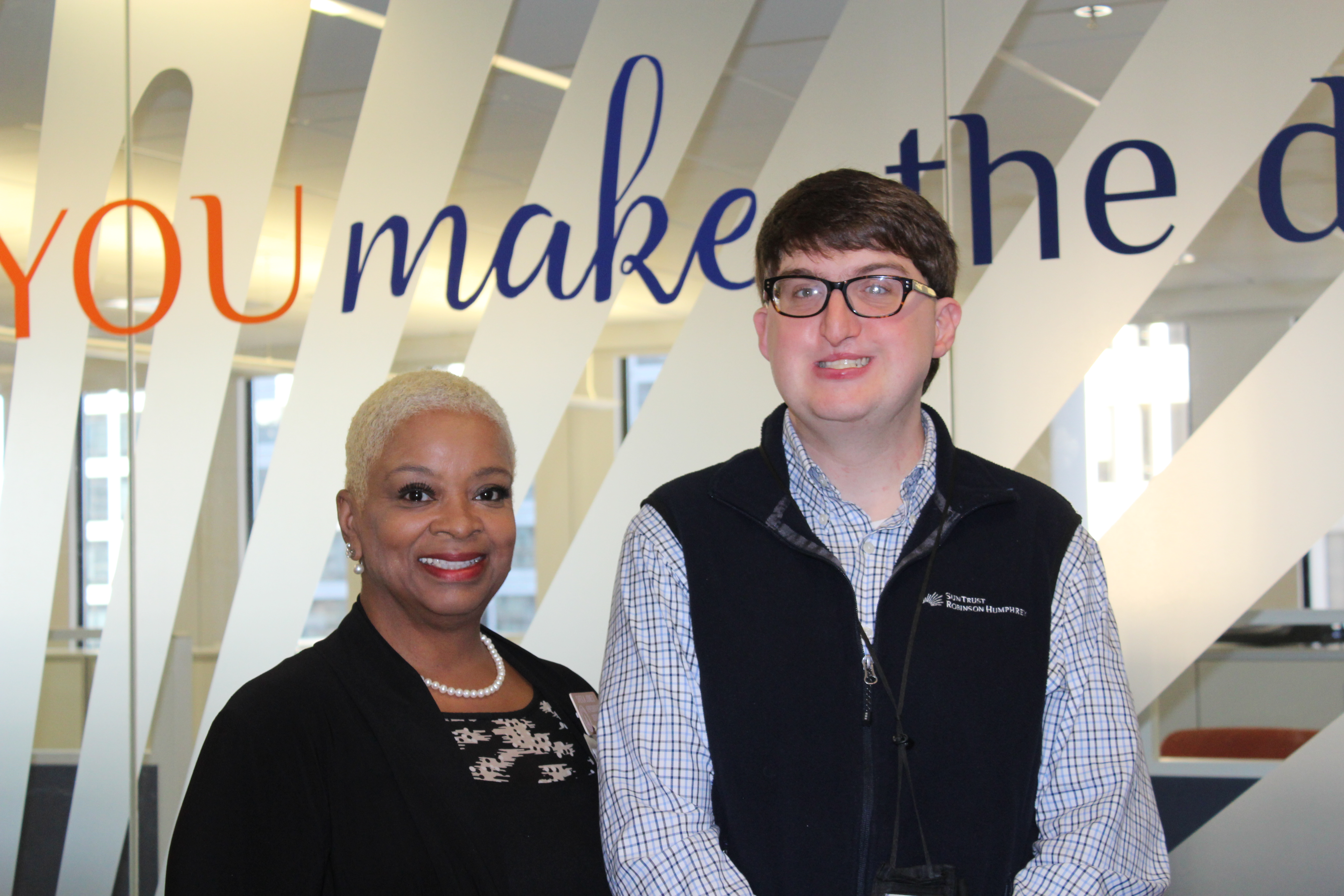 Rep. Sheila Jones (D-District 53) visited Matthew Roush at SunTrust Bank in Atlanta where he works as an operations analyst.His job as an operations analyst includes data entry, document scanning and monitoring quality control while using assistive technology to help with his visual impairment. Roush also has a hearing impairment and an intellectual disability.
Through TYLTWD, Rep. Jones met Roush, visited his workplace and spoke to him about his job duties and great coworkers.
"I was so thrilled when I received the invitation to participate in this special day. I enjoyed the time I spent at work with Matthew. It was great to see him at his desk working on a computer and using the scanner without assistance. It showed me that with job training, people with disabilities can perform their job just like everyone else. Matthew's work is necessary and needed at the company where he is working," said Rep. Jones.
In Peachtree Corners, GA, Jack Prettyman welcomed State Representative Scott Hilton (R-District 95) to his place of work, Wesleyan School, to advocate and show the work he does as a member of the facilities and ground crew.
Prettyman, 23, who is diagnosed with Down syndrome, works weekdays from 8 AM to noon and is one of the busiest people on Wesleyan's campus. He walks nearly 15,000 steps a day crossing the grounds while he handles recycling, sweeping mats, mopping the gym floor, setting up cafeteria tables and dusting benches.
He also took Rep. Hilton on a full campus tour, pointing out sites at the private school as well as his job duties.
"It was awesome to see the critical role Jack plays in Wesleyan's operations. Jack is a valuable member of the team," Rep. Hilton said. "I loved the positive impact he has on everyone around him from students, faculty and administration. It was great to see the joy Jack experienced in his work environment – the work is really important to him.
"I am proud of Wesleyan School for seeing opportunities to employ those with disabilities."
GCDD's Goal
The Council is working to strengthen meaningful employment opportunities that include a livable wage with career advancement; strengthen financial inclusion and asset development efforts for individuals with developmental disabilities; and educate businesses about the diverse workforce.
State Senator Elena Parent (D-District 42) agrees. "I'd like to see more businesses recognize that hiring individuals with disabilities is a win-win. My biggest takeaway was that jobs for people with disabilities are vital. The business gets a dedicated employee and the employee gets self-confidence and a sense of purpose."
Sen. Parent spent TYLTWD with Christine Sass at Taziki's Mediterranean Café located in Decatur. Sass, 26, is diagnosed with autism and cerebral palsy.
"Christine is doing great work for Taziki's. She knows her duties and moves through them efficiently. The job also gives her the ability to practice her interpersonal skills and to be part of a team," Parent explained.
"I prepare the dining room for opening," Sass said, which includes tasks such as putting down chairs, wiping down tables, rolling and placing silverware, bagging cookies, setting up the drink machine and sweeping the floor.
To Sass, the best part of her job is getting paid and adds the greatest thing about the company she works for is that her colleagues are friendly.
Through her experience and opportunity, Sass wants people to know that, "People with disabilities want to work; but, it is important to find the right job."
The Legislative Impact
While building these meaningful relationships are important and benefit both the employer and employee, TYLTWD allows elected officials to understand the positive impact of publicly funded employment supports when they see people with disabilities in action.
Rep. Hilton, who participated for the first time in TYLTWD, shared that he "would love to see the Georgia legislature find ways to incentivize the private sector to encourage the hiring of individuals with disabilities."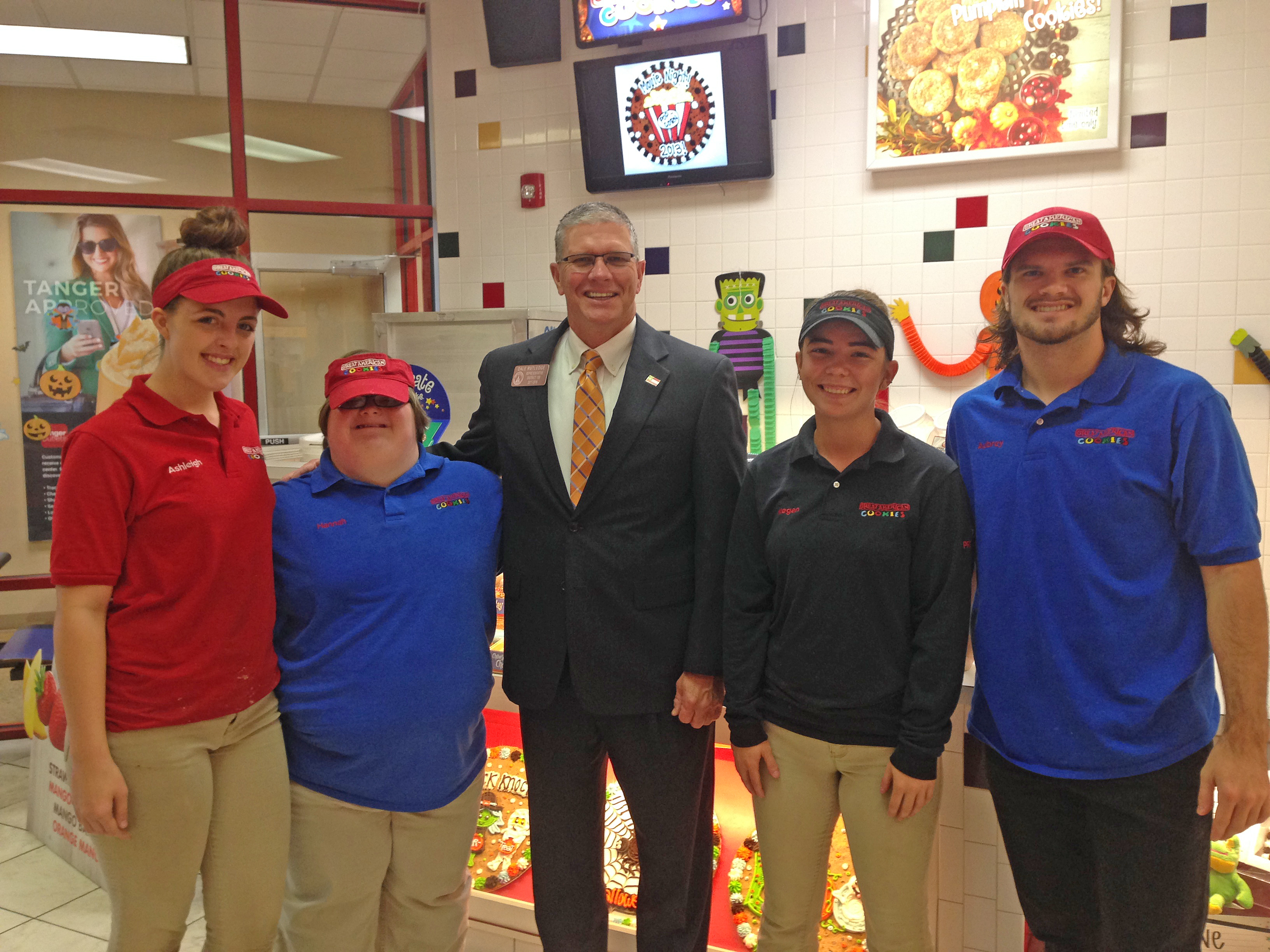 Hannah Hibben was visited by Rep. Dale Rutledge (R-District 109) at the Great American Cookie Company in McDonough
Georgia has begun focusing more on employment for people with disabilities. While a handful of organizations are working on finding employment for individuals with developmental disabilities, the work needed to make Employment First happen in Georgia continues to need a strong advocate push – engaging with both the community and legislators about employment issues.
Employment First is an approach to promote the full inclusion of individuals with varying degrees of abilities in the workplace and in the community. Currently 32 states have an official Employment First policy (based on legislation, policy directives, etc.).
While Georgia has Employment First efforts and initiatives underway, no official policy has been created just yet to make integrated employment the preferred service option.
Sen. Parent also explained that the legislature needs to make progress in eliminating the backlog of people waiting for Medicaid waivers, which can enable more people to take advantage of employment.
In 2014, the Home and Community Based Settings (HCBS) Rule, passed down from the Centers for Medicare and Medicaid Services, focused entirely on community living and inclusion. The HCBS waivers work to make sure individuals are given full access to the greater community – including opportunities for competitive and integrated employment, a community life conducive to all abilities, control over their own finances and the same services anyone receives.
The passage of the HCBS Rule in 2014, the Workforce Innovation and Opportunity Act (WIOA) and the Achieving a Better Life Experience (ABLE) Act are all shoring up support for Employment First practices in Georgia by building a strong foundation for integrated and inclusive communities.
"Passing legislation that has more impact on corporations hiring people with disabilities is a way the legislature can show their support. The legislature can be invited to discussions to find out ways it can be more involved in Take Your Legislator to Work Day, as well as other programs involving working with people with disabilities," said Rep. Jones, after her visit with Roush.
Business Partners
When the question of why Elizabeth Cicerchia wanted to work in early child care came up during State Senator Michael "Doc" Rhett's (D-District 33) TYLTWD visit, Cicerchia shared that some of the jobs she held previously were simply "just jobs."
But she knows the work she does at Kids R Kids of West Oak in Marietta is what she wants to do as her career. Cicerchia, 35, is diagnosed with Down syndrome.
When seeing all Cicerchia does on the job, Sen. Rhett said the statement "yes, I can too" comes to mind.
"As a retired educator, I worked with children with disabilities from pre-K through high school. We helped them develop life skills in each grade with the goal of preparing them for gainful employment, just like any other student, upon graduation. The collaboration between the school system, community and business interests is a vital link towards helping anyone contribute in a positive manner to our society," Sen. Rhett said.
Advocating for Employment
GCDD believes visiting an employee at work is the best way to show legislators that people with disabilities want to work and are as capable as anyone at working in real jobs for real wages.
The legislators shared how TYLTWD showed them the win-win results of employees with disabilities and the employers who hire them including the positive impact it makes on all communities.
"People with disabilities who are willing to work should be given a chance to show that they can and will do the job. I believe it is important for people without disabilities to have an opportunity to see up close people with disabilities doing and enjoying their job," said Rep. Jones.
To keep the momentum and encourage more community members to advocate for employment for people with disabilities, GCDD will hold its Employment First Advocacy Day during the 2018 legislative session on January 31, 2018.
"Wanting to pursue a career is never a courageous act, regardless of whether the job seeker happens to have a disability or not. We all need help and support in some form or another to do our best, but that human truth doesn't negate anyone's potentially amazing contribution to an employer," said Julie Hicks, the career specialist from Briggs & Associates who coaches Cicerchia.
GCDD thanks all of the employees and employers who participated in Take Your Legislator to Work Day. The Council also recognizes and thanks all of the Georgia legislators who took time to attend and learn about employment options for people with disabilities in their communities.
Hannah Hibben – visited by Rep. Dale Rutledge at the Great American Cookie Company in McDonough
Emily Shaw – visited by Rep. Clay Cox at disABILITY LINK in Tucker
Austin Pahr – visited by Rep. Jason Ridley and Sen. Chuck Payne at Nob North Golf Course in Cohutta
Christine Sass – visited by Sen. Elena Parent at Taziki's in Decatur
Bayley Bristow – visited by Sen. Fran Millar at The Elaine Clark Center in Chamblee
Jack Prettyman – visited by Rep. Scott Hilton at the Wesleyan School in Peachtree Corners
Elizabeth Terzich – visited by Sen. Mike Dugan at the Carroll County Animal Hospital in Carrollton
Patrick James Barlow – visited by Sen. Steve Henson at the Park Springs Retirement Community in Stone Mountain
Matthew Roush – visited by Rep. Sheila Jones at SunTrust Bank in Atlanta
Mikel Miller – visited by Rep. J. Collins at the Ingles in Villa Rica
Tyler Blanton – visited by Rep. Steve Tarvin at Unique Fabricating in LaFayette (Visit http://newschannel9.com/news/local/take-your-legislature-towork-day-provides-unique-opportunities to access WTVC Channel 9 ABC news) (This link is no longer active.)
Katrina Parsons visited by Rep. Beth Beskin at disABILITY LINK in Tucker
Elizabeth Cicerchia – visited by Sen. Michael "Doc" Rhett at the Kids R Kids Pre-School in Marietta
Project SEARCH Interns Reuben Stephen, Nick Brundidge, Rayshun Grant, Rashaan Davis, Darrius Elias, Tionna Evans, Sam Thomas and Deshunte Banks – visited by Rep. Carolyn Hugley at TSYS in Columbus
Project SEARCH Interns: Te'Airra Simpson, Zitavia Freeman, Kemma Paulk, Jimmy Lee Holliman and Iesha Curtis – visited by Rep. Dominic LaRiccia at the Coffee Regional Medical Center in Douglas
Michelle Phoenix – visited by Rep. Mickey Stephens at Rise Biscuits & Donuts in Savannah
Project SEARCH Interns and Graduates: Brian Odom, Marnell McGill, Arthur Arnold, Herman Curry, Derrick Edwards and Gary Ceasar – visited by Rep. Darlene Taylor at Archbold Medical Center in Thomasville
To read more in Making a Difference magazine, see below:
Save
Save
Tags: Advocacy, Making a Difference, employment first, employment,