Real Communities Spotlight: Al-Tamyoz Community Building Group
Using the power of networking and relationship building to explore the development of community projects, the Exceptional Community Building Group (Al-Tamyoz) looks to build an inclusive community in the greater Clarkston area.
As a Georgia Council on Developmental Disabilities (GCDD) Real Communities Partnership, Al-Tamyoz looks to create equal opportunities for people with and without disabilities while creating inclusive partnerships with local rganizations, people and groups.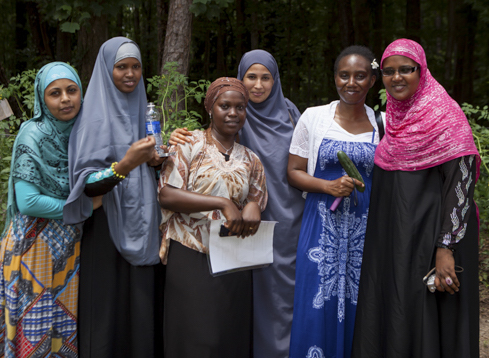 "We want to teach the community by experience that people with disabilities are actively involved and that they can make major change," said Basmat Ahmed, executive director at Al-Tamyoz. "We identify people by their gifts and try to match them with or create a project in the community where that individual could use their gift or enjoy an opportunity for a job."
Al-Tamyoz's goals center around building, supporting and engaging the Clarkston community with the support of their community builders. These community builders, which include youth and adults with and without disabilities from Ethiopia, Nigeria, Sudan and the US, work on several projects throughout the year.
One group, called the Universally Diverse Group, is made up of high school seniors all from different high schools. At the time of this writing, they are working on collecting donations for the survivors and victims of Hurricanes Irma and Maria as well as looking to raise money for a breast cancer awareness 5K run where donations will go to the Breast Cancer Foundation.
Working with city council members and other local government officials has been beneficial in creating inclusive events for Al-Tamyoz as well. "My Community and I," a weekly local radio show brings in those city council members to announce opportunities around the city for people with developmental disabilities. One of the many adult projects, "My Community and I" is hosted by community builder Sulaimon Salam, who is blind.
Every month, Al-Tamyoz organizes network gathering events and invites people of all different cultures to come together and engage in productive conversation. Its major city networking event, Culture Village, had almost 3,000 participants from 60 different cultures in attendance. Other networking events have included Thank Your Mentor Day, International Women's Day and its disaster workshop, which is designed to show how to support people with disabilities during a disaster.
Most of Al-Tamyoz's projects are headed up by people with disabilities who also take on many community building leadership roles. "All of our projects are inclusive of people with and without developmental disabilities," Ahmed stated. "But, when we have our public events, we tend to focus a little more on inviting people with disabilities because, in some cases, they feel unwelcome."
Ahmed has found that the response from the whole Clarkston community has been overwhelmingly positive, especially the city government.
"Mayor [Edward] Terry and the city council members are very active in our events," she said. "They've helped us in building connections and work directly with our community overseers – we've built great relationships."
To partner with Al-Tamyoz, apply for a mini-grant or learn more about their monthly events, visit www.gcdd.org/.
To read the entire magazine, see below:
Save
Save