APSE Focuses on Integrated Competitive Employment Climate
by RJ Moshay
Changes are on the horizon in Employment First, and the Association of People Supporting Employment First (APSE) stands ready to help navigate these uncharted waters at its upcoming two-day regional institute in Atlanta, November 2-3, 2017, at the Crowne Plaza Atlanta Midtown.
For the third time, APSE is hosting its annual Regional Institute in partnership with the Department of Labor's (DOL) Office of Disability Employment Policy (ODEP) and its Employment First State Leadership Mentor Program (EFSLMP).
To learn more about the organization while gaining perspective on how its conference will demystify the nuances of competitive integrated employment, the Georgia Council on Developmental Disabilities (GCDD) recently visited with Jenny Stonemeier, interim executive director of Maryland-based APSE.
Untapped Employment Market
Based on ODEP's framework for organizational transformation, APSE designed this year's institute to help disability services providers build their capacity for supported employment with the goal of serving individuals with disabilities in competitive integrated jobs in their communities.
With a significant focus on organizational change, participants will have an opportunity to engage with subject matter experts as well as business leaders who have successfully transformed their models from segregated settings to integrated settings, resulting in real work for real pay.
As the only national membership association focused on exclusively on integrated employment, APSE's theme for the institute is "Organizational Change: From Workshops to Workplaces."
"This conference is a place where leaders, who understand organizational change as necessary, will come together to learn from those who have already transformed their organizations," said Stonemeier.
Sessions and information provided will be geared towards all of those who are a part of organization transformation. The targeted audience includes: people with disabilities who receive services and their family members; direct service workers; mid to upper level management; CEOs and CFOs and board members.
Organizational Change
But, there is a bigger goal at hand. Only 34.7% of people aged 16 – 64 with disabilities are employed. Nationwide, there are 56.7 million people with disabilities in the US, per the 2010 Census. This is unacceptable to APSE and other proponents of Employment First.
A key tenet in APSE's purpose is to further the Employment First principle where employment is the first and preferred outcome in the provision of publicly-funded services for all working age citizens with disabilities, regardless of the level of disability.
The Employment First movement is gaining more traction than ever. Federal laws, regulations and funding shifts have changed the landscape of public supports and services for individuals with disabilities.
The Regional Institute will be laser-focused on several of these policy and federal law shifts including:
The Achieving a Better Life Experience (ABLE) Act, allowing individuals and families to open tax-free savings accounts to maintain health, independence and quality of life without the fear of losing SSI and Medicaid benefits.
Workforce Innovation and Opportunity Act (WIOA), providing increased opportunity for youth with disabilities to be supported in competitive integrated employment. WIOA also has the potential to limit the use of sub-minimum wages.
The Centers for Medicare and Medicaid Services (CMS) and Home and Community-Based Waiver Services (HCBS) Settings rule requiring individuals to have opportunities to seek employment, work in competitive integrated settings, and engage in community life.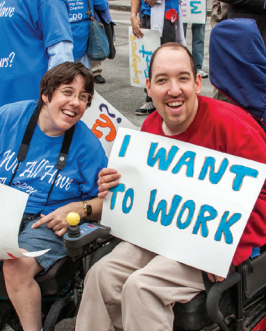 Employment First expects that employment is the first and preferred outcome in the provision of publicly-funded services for all working age citizens with disabilities, regardless of the level of disability
This year's Regional Institute is slightly different from previous gatherings in that the focus is on the preparedness of each attendee's organization for change and developing a specific plan for success.
From organizational to departmental to team and workforce structure, these two days will enable participants to work directly with subject matter experts and leave the event with a specific plan for how to implement organizational change. There will be more time to network and work on plans with hands-on support from presenters.
These changes facilitate the transformation from a congregate service delivery model to integrated and community-based employment services, but with this, comes "pain points of how to implement," Stonemeier shared. "There is an investment of will and capital, both human and financial, to produce change."
All sessions will be general so attendees can collaborate with peer organizations as well as organizational experts. Attendees will leave with a roadmap for organizational success.
The institute will kick off with an opening keynote address from GCDD Executive Director Eric Jacobson and Council member Evan Nodvin, followed by two days of hands-on interaction with subject matter experts regarding best practices in change management, from stakeholder engagement to having the right team in place to execute.
A highlight of the conference will be a panel of Georgia-area self-advocates who work in competitive integrated employment. The Institute will conclude with a keynote from Doug Crandell, from the College of Family and Consumer Services at University of Georgia.
"We want our attendees to walk away with a 'rock solid' plan for implementing change first thing Monday morning," Stonemeier said. "A step-by-step, stage-by-stage plan to address the necessary changes to reach the goals. The plan will start with a vision for change, the phases of change, the steps necessary within each of those phases, the team members involved, the outcome measures, and definitions of success."
APSE's Focus
Founded nearly 30 years ago, APSE reports that it is the only national organization with an exclusive focus on integrated employment and career advancement opportunities for individuals with disabilities.
APSE is a 3,000+ and growing national nonprofit membership organization. With chapters in 38 states and the District of Columbia, APSE's membership roster includes individuals with disabilities, families, disability professionals and businesses that come from all 50 states and Puerto Rico, as well as several foreign countries.
Through advocacy and education, APSE leads the charge in advancing employment and self-sufficiency for all people with disabilities.
Visit www.apse.org/2017regionalinstitute for an in-depth look at the agenda for the 2017 Regional Institute.
APSE REGIONAL INSTITUTE ATTENDEE BREAKDOWN
41% Director of Employment Services
14% Executive Director
11% Developmental Disability Agency Personnel
9% Direct Service Personnel
7% Family Members and Individuals with Disabilities
9% Disability Employment Services Agency Leadership (senior managers, board of director)
2% Mental Health Agency representative
7% other
To learn more about APSE, visit www.apse.org.
For a comprehensive listing of Employment First tools and resources nationwide, visit the State Employment Leadership Network (SELN) site at www.selnhub.org.
GEORGIA EMPLOYMENT FIRST RESOURCES
To read the entire magazine, see below:
Save