Growing Entrepreneurship and Self-employment
by RJ Moshay
October is National Disability Employment Awareness Month. The campaign is led by the US Department of Labor's Office of Disability Employment Policy, but its true spirit lies in the many observances held at the grassroots level across the nation every year.
Great strides are being made around the country and across the State to integrate people with disabilities into the workforce through entrepreneurship and self-employment.
In America, being employed and working are very important to everyone's self-esteem and long-term financial independence – this is particularly true in the disability community.
"When you have a job, you have a continuous source of feedback that you are a contributing member of society," said psychotherapist Charles Allen in an article in USA Today. "That's not to say you go to work thinking, 'Hey, I'm a valued member of society.' The idea is largely subconscious. You feel it in the depths of your brain."
"Being employed helps you feel wanted and that you're contributing to your finances," adds psychotherapist Elizabeth Lombardo in the same article. "It gives you social support."
These statements from the mental health community echo the sentiment of the Employment First movement and those of US Secretary of Labor Alexander Acosta in explaining this year's theme, Inclusion Drives Innovation.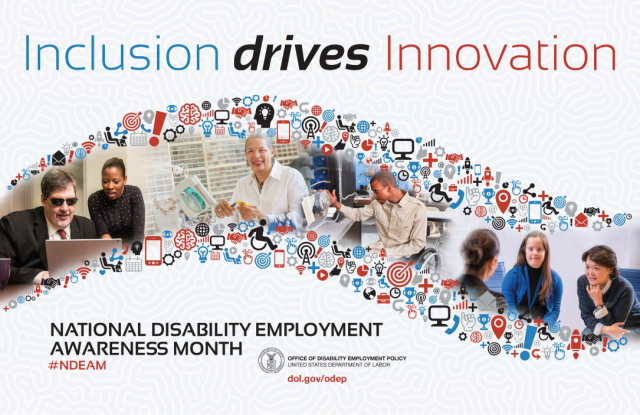 The poster for NDEAM promotes the 2017 theme – Inclusion Drives Innovation.
"Americans of all abilities must have access to good, safe jobs," Acosta said in the news release announcing the theme. "Smart employers know that including different perspectives in problem-solving situations leads to better solutions. Hiring employees with diverse abilities strengthens business, increases competition and drives innovation."
As Jenny Stonemeier, interim executive director for the Association of People Supporting Employment First (APSE) shares, inclusion is not limited to proper supports for people with disabilities.
"It's a holistic approach towards making a business more engaged across the board," Stonemeier said. "Inclusion Drives Innovation means I can be more responsive not only to my employees but, to my stakeholders, board, vendors, etc."
While everyone touts the benefits of work, many in the disability community have historically been concerned about the impact employment would have on their Supplemental Security Income/Social Security Disability Income (SSI/SSDI) benefits and resources. Though each case is unique, these concerns have been somewhat mitigated by the advent of the Workforce Innovation and Opportunity Act (WIOA), the Achieving a Better Life Experience (ABLE) Act and The Centers for Medicare and Medicaid Services (CMS) Home and Community-Based Waiver Services (HCBS) Settings rule.
With the changing tide of federal laws and some state provisions, many are more rapidly exploring options outside of sheltered employment and moving into more competitive and integrated work environments, one of the hallmarks of Employment First. Still others, with the help of various federal, state and nonprofit entities, are jumping into the uncharted waters of entrepreneurship and self-employment.
The perfect storm of the seismic changes in the global business arena, coupled with advances in technology has increased the attractiveness and practicality of entrepreneurship for many people, including individuals with disabilities.
Per the US Small Business Administration (SBA), individuals with disabilities who are participating in the labor market have a higher rate of interest in pursuing self-employment and entrepreneurship. According to the US Census Bureau, individuals with disabilities are twice as likely to be selfemployed as the general population, 14.7% compared to 8%.
Sowing the Seeds for Entrepreneurial Success
The lack of access to capital, quality mentors and sound business counsel can be barriers to entrepreneurship, and these can be exacerbated for the disability community.
Fortunately, traditional public service providers such as vocational rehabilitation (VR) and small business development professionals are working with nonprofits, the private sector and non-traditional resources such as micro enterprises and microboard organizations to advance entrepreneurship as a viable and flexible route to economic independence.
"The businesses that grow and stay are the ones that get technical assistance, support and training who understand the financial opportunities of business," said Elizabeth Wilson, executive director of the Georgia Micro Enterprises Network (GMEN), a nonprofit that supports and funds viable microbusinesses in Georgia.
VR, behavioral health and community services professionals, people with disabilities and their families recently attended SOAR: A Pathway to Self-Employment seminar at the All About Developmental Disabilities (AADD) Family Support Center in Decatur, Georgia.
The seminar was hosted by two nonprofits, Synergies Work, Inc., that focuses on financial independence through entrepreneurship and Georgia Microboards Association (GMA), that provides technical assistance to people with disabilities and their families. The one-day seminar provided attendees an opportunity to learn how to successfully become self-employed. Seminar topics included business networking, managing benefits and building good credit.
"We are coordinating and collaborating with organizations to see how we can bring in the financial resources for people to take the next jump forward in starting a business," said Aarti Sahgal, founder of Synergies Work.
Ryan Johnson, executive director of GMA, stresses the importance of goal setting in achieving entrepreneurial success. "It's important that your goals represent what you want. We start at the biggest goal that we can, then we break that down into small manageable pieces and then progress to making those goals a reality," he said.
Along with goal setting, understanding the nuances of financing and accessing capital plays a huge role in economic viability for entrepreneurs. Over the past few months, the US Small Business Administration and the University of Georgia – Athens Small Business Development Center (UGA SBDC) hosted The Credit School at five metro Atlanta locations. Sponsored by PNC Bank, the full-day intensive boot camp specifically designed for minorities, women, veterans and people with disabilities (but open to all business owners) provides startups and small business owners an exclusive opportunity to learn from experts who have already helped thousands secure business loans.
The Credit School participants walk away with a better understanding of:
What SBA loans are, how they work and how to get one.
The impact of negative personal credit and what you can do about it.
How bankers think and why it matters.
How other small business owners successfully got funded.
Commercial bankers, SBA lenders, and certified development companies.
To address concerns of how entrepreneurial endeavors can impact SSI/SSDI benefits, Sally Atwell and Curtis Rodgers, who both work in the Benefits Navigator Work Incentive Planning and Assistance (WIPA) program at the Shepherd Center in Atlanta, highlighted the importance of how Social Security views income called Net Earnings through Self-Employment (NESE) and how that income affects eligibility for benefits.
"The most important thing I can tell you about being self-employed is record keeping," said Rodgers. "The need for accurate accounting when it comes to Social Security and the IRS is crucial."
Atwell agreed that, "Record keeping, reporting and tax returns – those are the keys if self-employment is your goal."
While accurate finances are important to building a strong business, so is developing a robust network. Ashish Thakur, executive director of the Atlanta CEO Council, a relationship driven nonprofit dedicated to helping executive leaders build trusted and long-lasting relationships, supports the necessity of building a human network.
Reaping the Rewards
Hundreds of individuals in the State of Georgia have sown the seeds of success by accessing the necessary training, mentoring and resources to reap the financial rewards and self-sufficiency derived from entrepreneurship and self-employment. Synergies Work has helped a number of entrepreneurs with disabilities pursue their dreams in such varied capacities as coffee cafes and the visual arts.
In addition, here are several examples of other Georgia entrepreneurs.
Born three months premature, Portsmouth, VA native VaShaun Jones, 41, has been unstoppable from day one. Despite having some level of low vision since birth, the now Atlanta-based affable and enterprising former MCI/WorldCom executive has always had to hustle since boyhood days as a newspaper carrier and a subscription payment collector.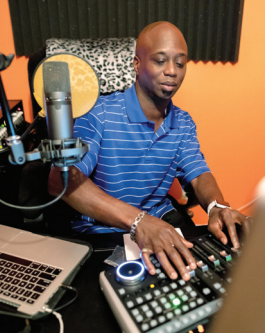 VaShaun Jones, who is blind, set up his business with assistance from the GVRA – outfitting him with new Apple computers, phones and studio equipment necessary for virtual/online learning.Those days as a newspaper carrier focused on customer service and collection set the stage for Jones' successful career in collections and customer service at large corporate entities and law firms. However, a detached retina, diabetes and various conditions related to his premature birth led to gradual loss of sight and complete blindness at age 30.
"All my life, I had lived and worked in a sighted world, and responded accordingly," Jones said, who has learned how to walk with a cane. "I was living the same life, but, now, 'in the dark.'"
Having not been a part of the disability system, he was unaware of the various resources available, found himself out of a job, and ultimately, homeless. With the help of friends, he was able to connect with the Georgia Vocational Rehabilitation Agency (GVRA) and secure a counselor.
Concurrent to his work with the GVRA, he began accessibility testing for Apple and discovered he had a knack for computers and was good at instructing others. He saw a niche for a business opportunity, and he took his knowledge from the corporate world, and from launching three businesses pre-total blindness, to develop a path for entrepreneurship in his new reality.
Jones availed himself of the requisite courses and trainings outlined by the GVRA to developed a business plan with input from the SBDC and SCORE (Service Corps of Retired Executives). In December 2012, Jones' GVRA case was closed and he reports that he was the first individual to have a case closed in the entrepreneurial track.
The GVRA helped Jones set up his business, Fedora Outlier, LLC, outfitting him with new Apple computers, phones and studio equipment necessary for virtual/online learning. Jones' company name is inspired by his love of hats and one of his favorite business tomes, Malcolm Gladwell's Outliers: The Story of Success.
Jones has come a long way from post-blindness homelessness and his five-year odyssey of adjusting to his new life. Fedora Outlier now boasts over $1 million in revenue, with a global team of 32 employees based in locales such as the US, Japan, Canada and Barbados.
A believer in diversification, in addition to individual clients who are blind, Jones also works with the Department of Education, the GVRA and the Veterans Administration (VA). What's more is that all of Jones' employees are either blind or have low vision.
In encouraging others to engage in advocacy, Jones advises members of the disability community to get to know their legislative representatives, and to build a relationship with the State Rehabilitation Council as it's "our voice of the consumer."
Jones is excited about this year's NDEAM theme, Inclusion Drives Innovation. As to how he sees the theme playing out, he advises, "Include us, the disability community, in the problems as well as in identifying the solutions. That drives innovation."
"Budding" Entrepreneurs
For those who find Fedora Outlier too heady for their liking, Athens-based Good Roots provides a more "terra firma" training ground for "budding" entrepreneurs.
A program of independent living center Multiple Choices, Good Roots is a micro enterprise training and production program for isolated individuals. Isolation can be based on many factors, including disability, but the result is often the same – poverty, limited resources and lack of opportunity.
Good Roots trainees learn the art and science of growing seedlings, and the rudiments of small business ownership, while contributing to their local communities through the production and sale of quality organically grown vegetable,
herb and flower seedlings.
"We help people sow and grow," said UGA-trained botanist and Good Roots coordinator Stephanie Bergamo. "We've watched people come here, learn to work with their seedlings and others, and just blossom in the process."
Good Roots trainees use the monies made from seedling sales to supplement their income and have a sense of ownership. Trainees use their earnings to purchase bicycles or computers to further their educational and/or vocational pursuits.
Sheronda Kessler, a Good Roots trainee, has been making dolls for 15 years. Her dolls become book buddies, outfitted in majestic regalia, armed with a storybook and ready to take on the world. Kessler combined her love of dolls and storytelling with the training she received at Good Roots to secure income to further her studies in Early Childhood Education at Athens Technical College.
For Everything, There is a Season…
The season for inclusion is now.
"Approaching any realm of life – personally, professionally, recreationally – with an inclusive frame of mind, stimulates one to think outside of the box, that is, to innovate," added Bergamo.
Entrepreneur Resources
www.askjan.org — Information about self-employment and starting a business from the Job Accommodation Network (JAN), a free service of ODEP.
www.sba.gov — Federal agency that provides assistance to current and prospective small business owners.
www.ncwd-youth.info/road-to-self-sufficiency — Road to Self-Sufficiency: A Guide to Entrepreneurship for Youth with Disabilities — ODEP-funded guide that shows how entrepreneurship education can be implemented and offers suggestions on how to introduce self-employment as an option for all youth, including youth with disabilities.
www.usa.gov/start-business — Information on starting and growing a business.
www.score.org — Resource for finding a small business mentor.
www.bls.gov/careeroutlook/2014/article/self-employment-what-to-know-to-be-your-own-boss.htm —Information from the Bureau of Labor Statistics on selfemployment.
www.synergieswork.org
www.multiplechoices.us/programs.html —Good Roots program at Multiple Choices, Inc.
To read the entire magazine, see below:
Save