STRAIGHT TALK: Revolutionizing Accessibility
By Brandon Winfield
The journey to where I am now all started nearly a decade ago. As far back as I can remember, my love for dirt bikes trumped everything else. I got my first bike at five years old, crashed really hard one time and retired ... for about five years. I got my next dirt bike when we moved back to Georgia and things had changed a lot. There was now a clutch, gears to shift and jumps if you wanted to be even the slightest bit competitive.
I loved dirt bikes, but the main key to racing them was my biggest fear – jumping! I still remember my Dad's words to this day: "If you want to race motocross, you're going to have to learn to jump this bike." And so I did.
My desire to be a great motocross racer outweighed my fear of falling, and I did anything it took to be as competitive as the kids that I saw in the magazines and on the movies. Within my first two years of racing, I had accomplished my dream of racing for American Honda. That is still one of the proudest moments of my life. I was on my way to doing what I wanted to do: race motocross professionally.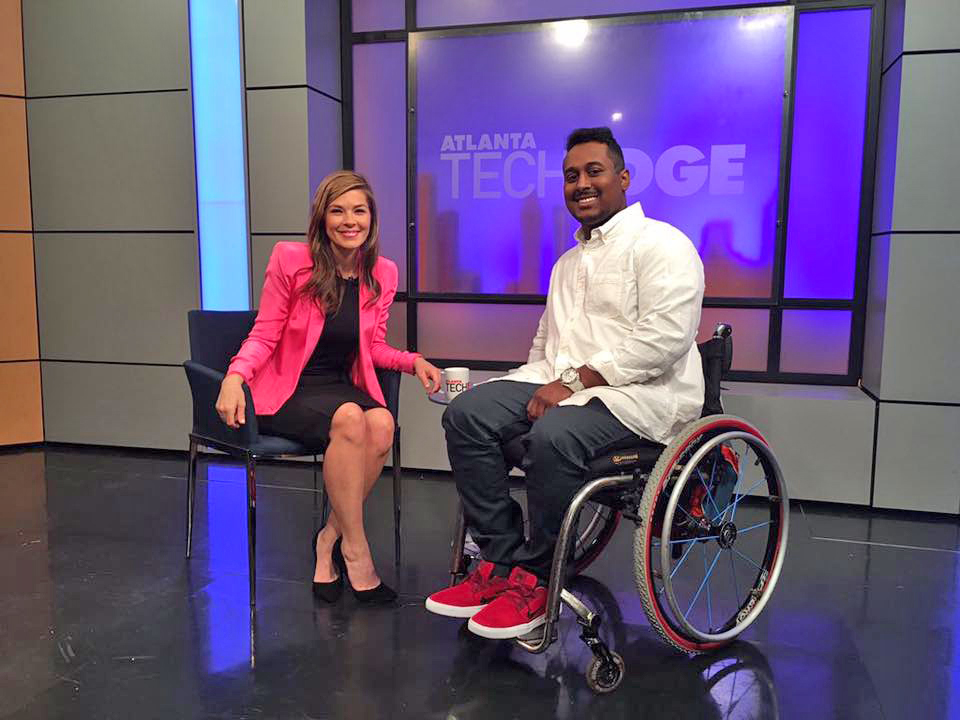 Brandon Winfield, founder of ParaPerks, a mobile application where people can review and rate the accessibility of a location they visit, was interviewed by Titania Jordon on Atlanta Tech Edge.
A short two years later, that was all taken from me at the age of 14. I broke my spinal cord clean through at the T7-T8 level. As tough as it could be some days to come to terms with the new life that I would be living, I did my best to keep a positive outlook. I was quickly released from rehab and went back home trying to make my life as normal as possible.
I took that energy and tried to never let things slow me down. I traveled around the country with my friends to motocross and action sports events. We went to bars, restaurants, lounges and clubs all in the pursuit of a great time.
However, through all these experiences in new places, I noticed a common trend. While some locations I visited would be handicap accessible, a lot of other features of the place weren't. This was always frustrating, when we would show up someplace and figure out that I couldn't get through the front door or maybe the bathroom was too small.
After a New Year's visit to church with my mom and sister, they left me with some words that stayed with me: "Instead of focusing on New Year's resolutions to better yourself, why not focus on a way to better your community?" It came to me that day as soon as I reached my car: There needs to be an app, where people can review and rate the accessibility of a location they visit. This would take away a lot of the guesswork when people went out to enjoy themselves.
And so was born ParaPerks – a mobile application that would allow people to live their life as I have – wide open and full of memories and experiences. I didn't want fear of the unknown to slow anyone down. ParaPerks aims to be a lifestyle mobile application that focuses on what our users CAN DO and not on what they can't do.
I dream that one day this mobile app changes accessibility around the world through the power of unity. I hope that everyone joins in on our adventure to "Revolutionize Accessibility.".
Follow ParaPerks' journey at www.paraperks.com, on Facebook at ParaPerks or on Instagram at @paraperksllc.
To read the entire magazine, see below:

Listen to the audio version of the magazine by clicking on the orange "Play" button below: