Talent and Jobs Are Building Stronger Communities
By Jennifer Bosk
Grassroots efforts are building stronger communities in both Macon and Lawrenceville by showcasing the talents and work skills of people with disabilities. These successful efforts are promoting awareness, changing attitudes and encouraging inclusion among everyday citizens – all driven by people who decided to take charge and make change in their own communities.
Community based movements must rely on engaged community members at the local level to work together toward common goals to improve their community. These movements and organizations encourage community members to contribute by taking responsibility for and addressing the needs they see in their community.
Across Georgia, many community leaders have found ways to make their cities and towns more inclusive and better integrate people with and without disabilities through improved accessibility and transportation. Others have developed inclusive businesses that are providing meaningful employment or formed art groups that allow people to express themselves through performance or visual arts.
In some cases, local community members have taken it upon themselves to address specific needs in their hometown to create more inclusive opportunities for people with disabilities and integrated more and more local citizens with the disability movement.
Musically Inclined
In Macon, community members organizing around the talents of people with disabilities and the local residents are sitting up and taking notice. Amazingly, a 15-year-old found a way to bring beautiful music to the community as a gift and bring purpose to many people's lives.
Leah Duval grew up with two wonderful influences in her life, the love of singing and the love for her 47-year-old aunt who has developmental disabilities. A 10th grader at Howard High School in Macon, Duval has combined those two loves into one wonderful service project – Gifted Harmony.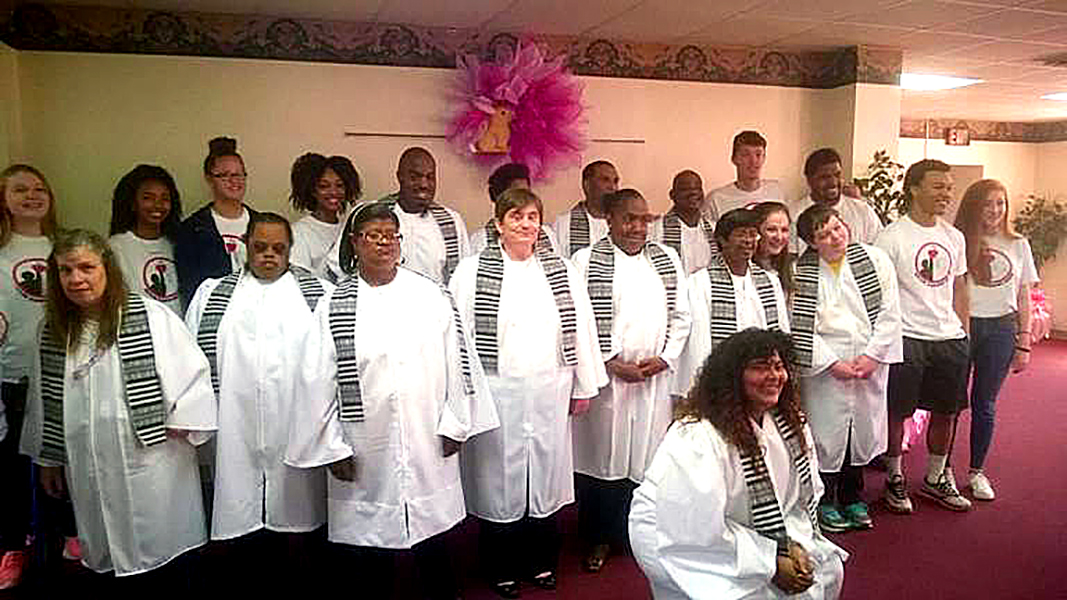 Leah Duval, kneeling center, is shown with members and volunteers of Gifted Harmony.Gifted Harmony brings together people with and without developmental disabilities who love to sing and to share their talent with the Macon community. Gifted Harmony is an inclusive chorus made up of a dozen singers of a variety of ages and races, all with disabilities ranging from Down syndrome to autism, which blends their singing with members of Leah's high school choir. This enriches the songs and the experience and allows for mentoring and interaction between the high schoolers and the members with developmental disabilities.
Since the beginning, community reaction was welcoming. The chorus has performed for Mercer University, Central Georgia Technical College, a muscular dystrophy fundraiser, and Hazzard Baptist and First Baptist churches. In addition, the community rallied around the group with First Baptist Church on New Street donating rehearsal space for the chorus while other local businesses provided funding for chorus T-shirts, choir gowns and a post-concert reception.
Impact on the chorus members who have disabilities has been great, too. Leah mentions one chorus member on the autism spectrum who was extremely shy and would not sing very loud. Now she has become the chorus' most powerful singer, is extremely social and has developed strong bonds with the other chorus members.
Gifted Harmony has also developed a dedicated following that goes from event to event to hear the chorus sing. "The impact on the community has been mind-blowing," says Leah's mother, Wanda.
Nandi Isaac is a member of Gifted Harmony. Nearly 34 years old, Nandi is diagnosed with Down syndrome, is legally blind and loves singing. "This is the first blended chorus and includes all abilities, ages, color and races. But, all that goes away when they sing," explains Nandi's mother, Nalini.
"Leah, the chorus director, is very aware of the gifts of others," adds Nalini, describing a recent performance where everyone had a role in addition to singing. Some members read scripture, others took an offering. Nandi read a poem.
Since joining the chorus, the biggest change in Nandi is her willingness to put her time and talent into it. Nandi owns and operates Scan with Nan that digitizes and saves printed photographs and memorabilia. "After looking after her day-to-day business, she didn't always like to go out during what Nandi likes to call her 'me time.' But when the chorus calls, she goes," her Mom says.
In addition to the chorus and her business, Nandi serves on the board of the Georgia Council on Developmental Disabilities (GCDD) as a self-advocate and on the Department of Behavioral Health and Developmental Disabilities' (DBHDD) Developmental Disability Advisory Council. She participates on an advisory group for Participant Direction, a program that allows for personal choice and control over the delivery of 19 waiver services for those who live in their own private residence or the home of a family member. But when Nandi sings, explains Nalini, "there's joy and a dynamic of something really going on!"
Like Gifted Harmony, other community organizations are also changing lives and communities across the Georgia landscape using the arts, including ABEL 2 in Atlanta whose mission is to enhance the quality of life for people with disabilities and the underserved by creating music and arts opportunities for employment and entertainment. The organization provides artistic programming to inspire, educate and equip their attendees to become agents of change in their own lives and in the lives of those in their communities.
Sweet Tooth
Meanwhile, in Lawrenceville, GA, a business is having a sweet impact on its employees and the community.
About a decade ago, Tempa and Michael Kohler started thinking about plans for their son Bradley who was born with Fragile X syndrome. Bradley would soon be aging out of the county-supported programs and his parents were helping him look for employment.
The Kohlers soon realized there weren't a lot of employment options available for people with disabilities, so they took matters into their own hands. Tempa's love of baking inspired Special Kneads and Treats, a bakery employing adults with and without disabilities. Currently, the business employs 16 adults with disabilities, has four volunteers and has 150+ potential employees on a waiting list.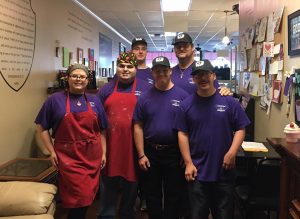 Besides finding a way to address an ongoing employment issue for the disability community, Special Kneads and Treats also focused on uplifting the entire Lawrenceville community by giving back.
The group works with local food ministry cooperatives, elderly care facilities, battered women and children's homes and medically fragile children's homes as well as many locally owned businesses and community outreach programs to provide for those less fortunate or in need with specialty baked goods and services.
"Our program provides strategic partnerships between local business and government enterprises in these same communities. Special Kneads and Treats, Inc. facilitates job skill training in the bakery by providing a safe environment for the workers and serving as a resource center for individuals in the community while providing holistic life skill development through love and caring for all residents," as stated on the bakery's website.
Approximately, 600 customers come through the door each week purchasing almost 1,800 cupcakes as well as other cakes, cookies and treats. Sometimes up to 30 free birthday cakes and sweets are pro donated to various other nonprofits and specialty groups in support of special needs or those less fortunate.
The bakery will soon move to a larger space where more people with and without disabilities will be employed; and the building will be more suitable for those requiring wheelchairs and walkers. In addition, the larger facility will allow the bakery to produce more products in support of people who deserve employment opportunities and provide for those who face economic challenges. Eventually, the founders hope the facility can be used as a distribution point to feed into small store fronts in surrounding cities, which in turn would allow for more special needs employment and community outreach.
Building Stronger Communities
Building stronger, more inclusive communities comes in many different forms. Most importantly, community enhancements rely on individuals and community leaders to recognize the needs and the potential of their own community and work to make it more inclusive for everyone.
Is there a community builder, group or business working hard to make your community more inclusive and integrated for people with disabilities?
Reach out to GCDD at and share your story!
To read the entire magazine, see below:

Listen to the audio version of the magazine by clicking on the orange "Play" button below: