Real Communities Spotlight: Forsyth Farmers' Market
On any Saturday from 9 AM to 1 PM at the south end of Forsyth Park on Park Avenue in Savannah, the Forsyth Farmers' Market (FFM) sells a wide array of fresh vegetables, fruits, breads, meats and cheeses while educating patrons on proper food preparation and cooking. The mission of the market is for people to come together in an inclusive space that is positive and promotes local food access for the larger Savannah community.
As a Georgia Council on Developmental Disabilities (GCDD) Real Communities Partnership, FFM has served as a corner-stone in developing a more welcoming neighborhood and providing opportunities for people with and without disabilities for community connection and contribution.
Mixed Greens, a grassroots group, interfaces with FFM and hosts a variety of learning opportunities and interactive projects, embracing shared and inclusive life experiences. "We have offered programs in Mindful Eating and Food Awareness to encourage and support the use of fresh produce and home prepared foods," says Patricia Richardson, who is a co-community builder with the group. "We will start a film series on food access, community gardens and universal accessibility next month."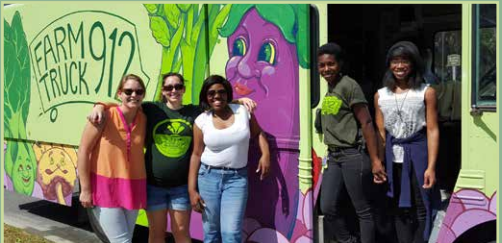 Created five years ago, Mixed Greens began meeting at people's homes and local offices before deciding on William's Court, an apartment complex for the elderly and people with disabilities. There they would engage farmers and gardeners in the community and learn about their experiences growing food.
Currently the office and meeting place is located within Wesley Oak Methodist Church campus where Mixed Greens has begun a community garden, collaborating with the church and neighbors. Some produce from the garden has been sold on Farm Truck 912, a portable market that travels to "desert neighborhoods" to deliver fresh produce. Desert neighborhoods are areas that do not have access to fresh food. There is an herbalist on board who, along with the farm truck manager, educates people in the neighborhood how to best use the produce and the concepts of farm to table.
To expand access, FFM allows neighbors who use SNAP (Supplemental Nutrition Assistance Program) /EBT (electronic benefits transfer) to shop for healthy food. The system also offers a "double value" program for SNAP/EBT shoppers where they receive $100 of fresh produce for $50. Creating choice and assistance to all in the community for healthy food is part of their mission.
Currently, Mixed Greens is collaborating with SUGA, Savannah Urban Garden Alliance, which connects community gardens in the city with: local school gardens; LIFE, Inc.; local and regional Rotary Clubs; and Hospice Savannah. One of Mixed Greens goals is to create space where there is open conversation about life and health patterns (including issues with disability) that are sometimes difficult to address. By partnering with GCDD, FFM and Mixed Greens seek to increase their local and statewide organizational relationships.
Growing FFM isn't easy and the bulk of the work done is through volunteerism. They encourage volunteers of all kinds to come out and help with the market, in the garden or through programming. Each year, volunteers contribute more than 1,300 hours.
Since, 2014, three part-time co-community builders with disabilities have taken on active leadership roles. "Mixed Greens has been an integral part of hospitality at FFM and beyond," says Richardson. "We have used the Real Communities four commitments to guide our work and we have experienced them come to life in our experiences with Mixed Greens."
To sign up to be a volunteer, be a sponsor of the Forsyth Farmers' Market or to learn more about Mixed Greens, visit www.gcdd.org.
To read the entire magazine, see below:

Listen to the audio version of the magazine by clicking on the orange "Play" button below: