Back to School with IPSE 
by RJ Moshay
Across the country, families and friends extended well wishes and celebrated recent graduates from preschool to PhDs. Social media posts were chock full of videos and photos of smiling graduates in traditional cap and gown attire, flanked by proud loved ones, teachers and mentors.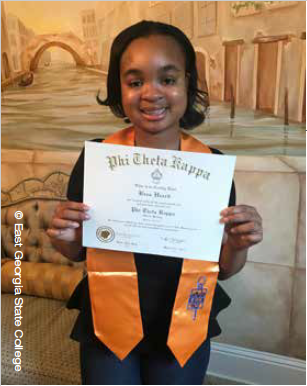 Brea Heard, a student in the East Georgia State College Choice program, was inducted into Phi Theta Kappa, an academic honor society for the top students across the entire campus. For many, the next logical step is post-secondary education, ranging from community college to a traditional university. Graduating to new beginnings is the common phrase, but, unfortunately, this has not been a realistic expectation for students with disabilities … until recently.
With Inclusive Post-secondary Education (IPSE) programs, students with intellectual and developmental disabilities (I/DD) can now realize their dream of continuing their studies in a university setting with their peers. In addition to helping students build self-confidence and become more independent, this education further prepares them to pursue meaningful careers.
Nationwide, there are more than 250 IPSE programs, up from 119 in 2012, per Think College, a national organization focused on advancing inclusive higher education for people with intellectual disabilities. A project of the Institute for Community Inclusion at the University of Massachusetts Boston, Think College also serves as the National Coordinating Center for 25 federally-funded Transition Post-secondary Education Programs for Students with Intellectual Disabilities (TPSID) projects.
In 2007, the IPSE movement took off in Georgia with a small group of concerned individuals including Georgia Council on Developmental Disabilities (GCDD) Executive Director Eric Jacobson, parents, teachers and Atlanta area providers who desired to create more positive and productive outcomes for students with disabilities.
In 2009, the Kennesaw State University (KSU) Academy for Inclusive Learning and Social Growth became the first IPSE program in the state, with three students.
From these grassroots and upstart endeavors, 2011 saw the formation of the Georgia Inclusive Post-secondary Education Consortium (GAIPSEC) with the engagement of professors, parents, KSU, several state agencies including the Georgia Department of Education, advocates and GCDD, the Consortium's legislative lead. In 2012, the Consortium hired its first single point of contact to coordinate the program, and began going after legislative funding in earnest, shared GAIPSEC's Susanna Miller-Raines, MSW, current statewide coordinator.
Housed within the Center for Leadership in Disability at Georgia State University, GAIPSEC provides information, training and technical assistance to individuals, families, secondary education programs, colleges and universities. GAIPSEC has been instrumental in growing the number of IPSE programs in Georgia, which now celebrates having seven programs across the State. The individual campus IPSE program sizes range from two students to 50 students in the 2016-17 academic year.
Miller-Raines shared that the "secret sauce" for the Consortium's success in nurturing Georgia's IPSE programs has been the buy-in from state partners.
"We're not fighting against something or to correct something," Miller-Raines said. "We're creating a brand-new inclusion path." Miller-Raines added that the Individuals with Disabilities Education Act (IDEA) has been around in K-12, and that the IPSE concept was the "next logical step."
ON CAMPUS
Critical to a successful implementation at the campus level has been obtaining unconditional support from campus administration and the student body at large.
Each of Georgia's seven IPSE campus-based programs resonates with the spirit and culture of its host campus. This helps ensure that IPSE students get the typical and wholly integrated college experience, and walk away with outcomes like those of typically matriculating students.
The KSU Academy for Inclusive Learning and Social Growth has grown from just three students in its inaugural year, to over 50 students during the 2016-2017 academic year.
The Academy offers a fully inclusive college experience to students with I/DD who do not meet the university requirements for admission as degree-seeking students. It includes enrollment as non-degree seeking audit students in typical university courses alongside degree-seeking students.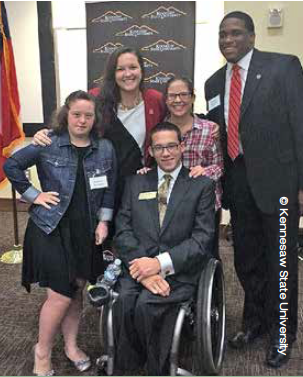 The Kennesaw State University Academy for Inclusive Learning and Social Growth sent students Charlie Miller, Brielyn Roper-Hubbert and Janet Keller on a 10-day visit to the United Arab Emirates (UAE).
In recent years, the Academy embarked upon more daring and enriching endeavors such as sending three of its students – Charlie Miller, Brielyn Roper-Hubbert and Janet Keller – on a 10-day visit to the United Arab Emirates (UAE). The Academy students were part of a larger KSU contingent that included five Exercise Science and Sports Management students and three staff members.
The trip, considered the first of its kind where students with disabilities were full participants, included stops in Abu Dhabi and Sharjah. "This is inclusive," said Dr. Ibrahim Elsawy, the Academy's executive director.
As part of the alternative spring break, Academy students worked as volunteers for a community service project, attended a class at Sharjah University and visited with non-governmental organizations. Along with other KSU students, they visited the Sharjah Sports Council and attended athletic events.
Elsawy chose the UAE because of the country's progressive work with students with disabilities.
While the KSU Academy's globetrotters build independence and gain a sense of service in a distant land, East Georgia State College's (EGSC) CHOICE (Creating Higher Education Opportunities to Increase College Experiences) program works to instill these same virtues within its students at a "terra firma" level.
Located in the small town of Swainsboro in southeastern Georgia, the program launched in 2015 with three students. In concert with the CHOICE curriculum of career and life skill courses, students take a core of required regular college courses and electives related to their career and life goals.
In developing the program, an exploratory team comprised of EGSC administrators, volunteers and special education experts reviewed best practices from Think College, regularly participated in webinars and personally visited the IPSE programs on the campuses of Vanderbilt University (TN), Western Carolina University (NC) and Clemson University (SC).
The CHOICE program is a Comprehensive Transition Program (CTP) as designated by the US Department of Education. One benefit of the CTP is that students are eligible to apply for financial aid. For CTP designation, a program's students must spend at least half of their time in the program in activities with students without disabilities in inclusive courses and work-based training.
Sandy Springs resident Amy Watson, mother of CHOICE student Brea Heard, beams with pride when speaking of her daughter's experiences at EGSC. With an extensive background in secondary special education, Watson, a current doctoral candidate, visited several IPSE programs, including two highly acclaimed programs in Vermont and Florida. Ultimately, Watson and Brea selected EGSC's CHOICE because of the campus feel, program curriculum and the vision of CHOICE program director Davis.
Brea had an excellent first year, complete with an internship at Swainsboro Middle School. She went on to be inducted into EGSC's chapter of Phi Theta Kappa, an academic honor society for the top students across the entire campus.
CHOICE recently awarded two students, Daizah Mariah Kelly of Garfield and Benjamin Henry Scott of Swainsboro with the CHOICE Program Certificate of Accomplishment in Work Readiness Skills at the 56th Commencement Ceremony at East Georgia State College in May 2017.
The New Kids on the IPSE Block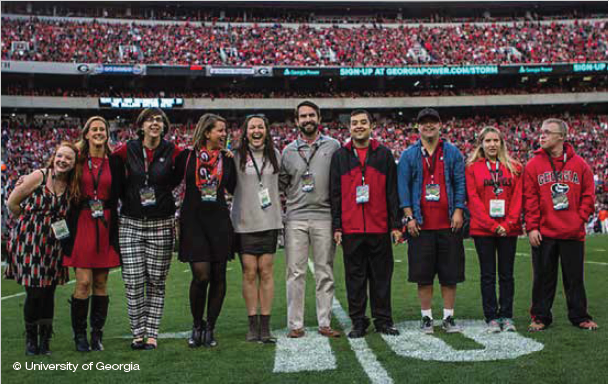 Destination Dawgs with the Student Government Association at the University of Georgia-Auburn football game at Sanford Stadium in Athens, GA.Hosting its inaugural class of five students last Spring, University of Georgia's Destination Dawgs program design was "informed by, and aligns with, several national best practices to support students with disabilities to prepare for employment via inclusion in higher education," said Carol Britton Laws, executive director.
At #DawgNation, inclusiveness for students with disabilities became the platform that two executive teams of the Student Government Association (SGA) either ran on or heavily advocated for an IPSE program. The UGA SGA's lobbying and advocacy efforts garnered nationwide media attention, serving as a cornerstone for campus engagement.
Arkansas native Darby Miller, UGA '17, arrived on campus in the Fall of 2013 with a family legacy of service and a solid personal work ethic. Mesmerized by then SGA Vice President Jim Thompson's passion for the implementation of an IPSE program at UGA, Miller went on to become a member of the Freshman Senate and, thus began her SGA and student advocacy career.
Miller subsequently joined an SGA Executive branch, and the team continued the IPSE advocacy efforts of the previous SGA administration. They researched other IPSE programs, including those at Vanderbilt University, Clemson and KSU.
SGA's dream of an IPSE program came to life with the Destination Dawgs program's new student orientation in Fall 2016.
When Tennessee native Jordan Huffman and his family relocated to the Northwest Atlanta suburbs during his middle school years, he immediately became a die-hard "Bull Dawg," and boldly proclaimed that he would be going to UGA for college.
His mom, Kathryn Junod, was quite familiar with the IPSE concept after having studied Vanderbilt's programs and offerings during Huffman's grade school days in Tennessee. By the time he entered high school, the number of IPSE programs had grown exponentially. However, UGA's Destination Dawgs program would not launch for nearly a year after Huffman's graduation from Forsyth County's Lambert High School.
"Mr. Unstoppable," would not settle on attending one of the other fine GA-area IPSE programs. Huffman spent another semester in high school and applied to be in the inaugural class of the Georgia Destination Dawgs program, despite fierce competition. "I wanted to manage his expectations," said Junod. "He was already accepted to other programs, but his heart was set on being a Bulldog."
Persistence and patience paid off. Huffman received a letter of acceptance from UGA in the fall of 2016; and his video of reading his acceptance letter went viral and was even posted as online content for the NBC Today Show's website. (See page 20 for link to video.)
The SGA-led approach of rallying the student body to help drive momentum of a fully integrated IPSE program at UGA was a game changer in IPSE program development, achieving national headlines. The evolution of the Destination Dawgs is now considered a best practice-type approach for other schools seeking to establish IPSE programs, shared Cate Weir, M.Ed., Think College program director.
"UGA has done a fabulous job of this in terms of it emanating from their student body presidents and then it really was part and parcel of 'this is something UGA wants to do and we're proud of it,'" said Weir.
In concert with SGA support, Destination Dawgs students received phenomenal respect and admiration from their peer mentors and typically matriculating students at large.
"We were extremely diligent in looking for the right peer mentors," said Anna Berrier Lawrence, Destination Dawgs coordinator. "We wanted people who would be truly committed, and not just seeking another activity for their resume."
On their own, mentors and UGA friends coordinated a baseball outing to celebrate the birthday of Dawgs student Justin Mejia. The activity was completely planned outside the auspices of the program, and Justin even received a baseball autographed by several of the ball players.
The Payoff
After all the lobbying, administration research, parental sacrifices, student body advocacy, securing funding and sheer willpower, some may wonder if it is all worth it.
The results speak for themselves. On the ground, campuses report that IPSE students are fully engaged in the learning process, and making great headway. Examples include Georgia State Senator Butch Miller's son Charlie's life-changing trip to the Middle East with KSU's Academy and UGA's Destination Dawgs student Huffman recently being awarded a $5,000 scholarship from Ruby's Rainbow, an Austin, Texas-based nonprofit that grants scholarships to adults with Down syndrome.
Advocacy-wise, GCDD spearheaded a legislative ask of $300,000 in new funding for the IPSE programs for program sustainability and to provide scholarship opportunities for young adults who wish to attend but are unable to afford the tuition and fees. GCDD's advocacy efforts were wildly successful, achieving a windfall total of $325,000 in new state funds "for scholarships and operations" within the Georgia Vocational Rehabilitation Agency (GVRA) budget. Also, $175,000 of the IPSE funding established in previous years within the GCDD budget was shifted to GVRA.
The benefits of shifting funding to GVRA are massive in that for every state dollar in the GVRA budget for IPSE, there is a potential to draw down up to four federal dollars.
The opportunities for IPSE in the State of Georgia are practically limitless – giving a chance to all students with disabilities for a bright and meaningful future after high school.
IPSE RESOURCES
GEORGIA-BASED IPSE PROGRAMS (as of June 2017)
To read the entire magazine, see below:

Listen to the audio version of the magazine by clicking on the orange "Play" button below:
Save