ADVOCACY ALERT: GVRA Proposing Policy Changes for IPSE Support

Support for IPSE Students at Risk from GVRA Proposed Changes to Post-Secondary Policy – Attend a GVRA Public Hearing to Voice Your Concerns.
Inclusive Postsecondary Education (IPSE) in Georgia has made remarkable gains in the last several years. Four colleges and universities are now recognized as Comprehensive Transition Programs (CTPs), with an additional four preparing their applications to become CTPs or awaiting approval. CTP is a recognition by the United States Department of Education that IPSE programs may receive after submitting an extensive application. Recognition from such a high authority as US DOE, should be recognized by GVRA as sufficient evidence for a meaningful credential under WIOA.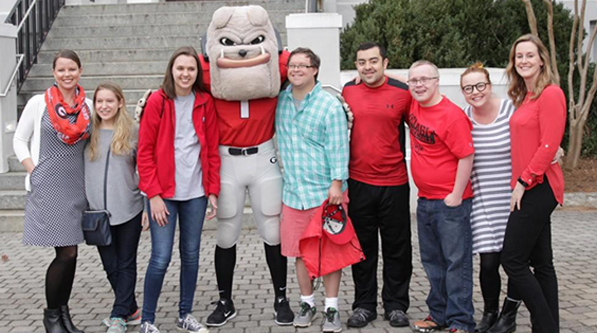 UGA Destination Dawgs is one of Georgia's IPSE programs and is a Certified Transition Program.The Georgia Vocational Rehabilitation Agency's (GVRA) support has played an instrumental role in ensuring access for IPSE students in Georgia – and to providing programs with a plan for sustainability. We are concerned that the proposed changes to GVRA policy related to CTP will make IPSE programs less accessible to students who might wish to attend these programs and make sustainability more difficult to achieve. We strongly request that GVRA support continued access for every student in Georgia who wants to attend an IPSE program. We believe that the IPSE programs are vital contributors to GVRA's mission and the WIOA Common Performance Measures.
The proposed changes can be viewed here: https://gvs.georgia.gov/sites/gvs.georgia.gov/files/REVISED%20DRAFT%20PUBLIC%20HEARING%20Draft%20policy%20changes%20for%20May%2015%202018.docx
The State Rehabilitation Council will be hosting public hearings in six Georgia cities. We have fliers and information for three of the cities attached. We will share more information as we have it. If you wish to make public statements at the hearings, you must sign in when you arrive. Public comments should be kept to 5 minutes or less. Written comments can also be submitted here: https://gvs.georgia.gov/webform/provide-comment-proposed-policy-changes
Public Comment Meeting Dates:
March 13 from 9:30 a.m. to 11:30 a.m. and 5 p.m. to 7 p.m.
Islands High School Auditorium
170 Whitemarsh Island Road
​Savannah, GA 31410
Download the Savannah flyer here.
March 15 from 5 p.m. to 7 p.m.
Augusta-Richmond County Public Library - Headquarters
823 Telfair Street
Augusta, GA 30901
March 20 from 6 p.m. to 8 p.m.
Bibb County Schools Professional Learning Annex
2007 Riverside Drive, Suite D
Macon, GA 31204
March 21 from 6 p.m. to 8 p.m.
The Tommy Nobis Center
1480 Bells Ferry Road
Marietta, GA 30066
Download the Marietta flyer here.
March 22 from 6 p.m. to 8 p.m.
The Oaks at Lanier College and Career Academy
2723 Tumbling Creek Road
Gainesville, GA 30504
Download the Gainesville flyer here.
April 19 from 5 p.m. to 7 p.m.
Georgia Vocational Rehabilitation Agency Albany VR Office
1107 West Broad Avenue, Suite A
Albany, GA 31707