GCDD Announces the Dottie Adams Scholarship Fund

To support dedicated advocates like Dottie Adams, the Georgia Council on Developmental Disabilities (GCDD) is proud to announce on August 5, 2020 (which is Dottie's birthday) that its Learning Opportunities Support Fund will now be the Dottie Adams Scholarship Fund. The fund awards small grants to help individuals with disabilities and their families attend advocacy, learning events and conferences to become trailblazing advocates. Learn more about the scholarship fund.
Rem
embering Dottie Adams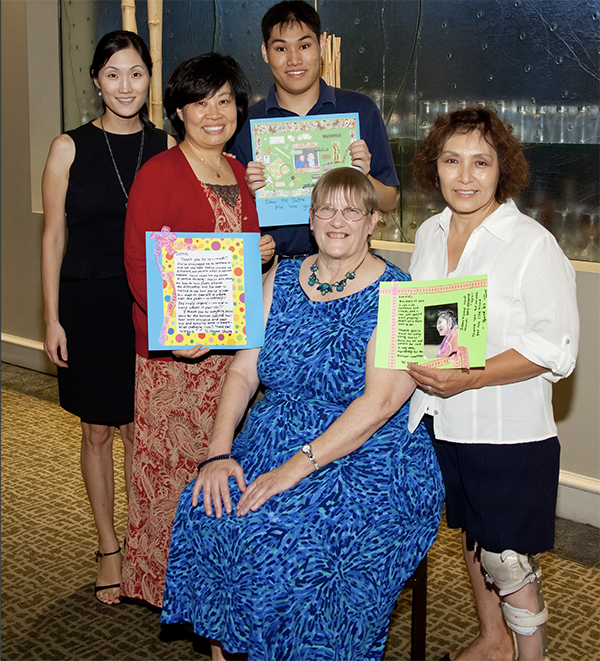 Dottie (center) with members of the Real Communities Korean Coalition at the 2012 Making a Difference Appreciation Ceremony.Throughout her 35 years of advocacy for the disability community, Dottie Adams was known for pouring herself into the work she loved and appreciating the people she worked with. She was proud to be a child of the 60s and believed that she and her friends could, in fact, change the world.
Her work with people with disabilities began in Fitzgerald where she used her skills as Girl Scout leader and summer camp counselor to teach school-aged children with disabilities. In a short period of time, she saw a lot of progress as the kids gained confidence in their own abilities and she found a new passion in her own life.
Her career spanned decades where she worked to transition people from institutions to their communities. She then joined the Georgia Council on Developmental Disabilities where she brought innovation, creativity and pioneered some of the Council's mission-driven values of today.
She developed Futures Plans for Person Centered Planning, a way of focusing on an individual's interest, goals and dreams in order to help them enjoy more meaningful lives. She was one of the founding members of the Children's Freedom Initiative to ensure that Georgia children would have the opportunity to live with families in loving homes by moving them out of institutions into the community.
Dottie brought Project SEARCH to Georgia and served as its State Coordinator for GCDD. Project SEARCH is a nationally acclaimed employment program, involving local businesses, community organizations, schools and vocational rehabilitation agencies to create internships for high school students with disabilities.
With over 30 years of service with people with intellectual and developmental disabilities during her lifetime,

Dottie

Adams

was a leader, innovator and force for the disability community.