A Time to Be Proud
Making a Difference will feature five guest columns by Mark Johnson on the legacy of the ADA and how national and state groups are commemorating the anniversary. This is the third installment.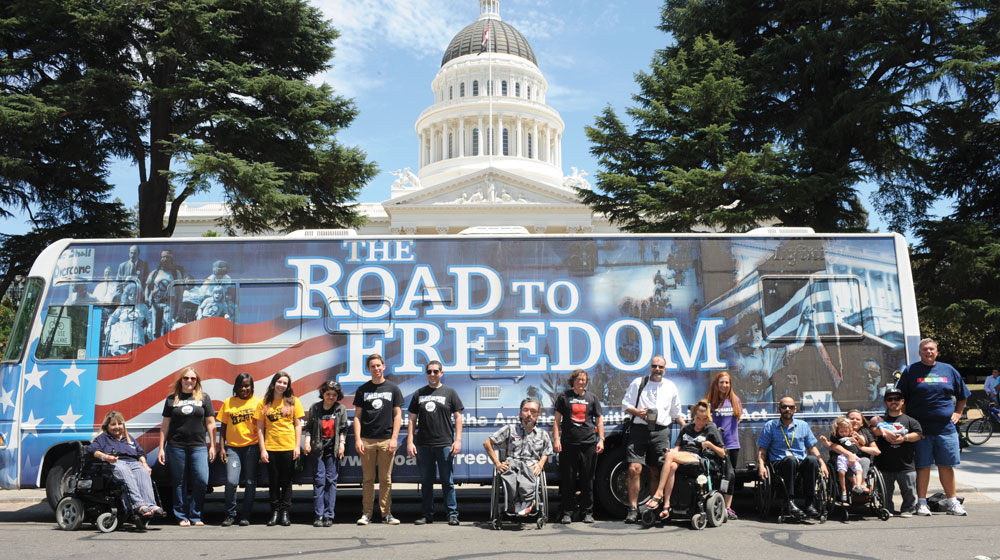 By the time you read this version of my ADA25 series, much will have happened around the celebration of the 25th anniversary of the Americans with Disabilities Act (ADA).
Georgians with disabilities, advocates and supporters will have marched in the MLK Jr. Parade in Downtown Atlanta representing ADA25, and The ADA Legacy Tour will have kicked off in TX. We will have rallied at the 17th annual Disability Day at the Capitol despite the wet, windy and cold weather. Many will have attended Presence is Power and people would have represented ADA25 at the 50th anniversary of the Selma-to-Montgomery march.
At the same time, the ADA25 Faith and Disability initiative will have kicked off. The Collaborative on Faith and Disability is partnering with the Interfaith Disability Advocacy Coalition (IDAC) and The ADA Legacy Project on this initiative. IDAC is planning a celebrative interfaith service in Washington, DC on July 26, 2015. It has also passed a Pledge to Recommit to Full Implementation of the ADA and is urging its member religious organizations to do the same.
The Georgia legislative session will have ended and hopefully attendants will get a pay raise, more waivers will be available and Georgia will have become a Employment First State.
And finally, your plans for the 25th anniversary of the Americans with Disabilities Act will be firmed up, and The ADA Legacy Project has made it very easy for you to engage in the 25th anniversary. On the website (www.adalegacy.com), you can find resources like:
• A guide on How to Celebrate ADA25
• T-shirts to order
• The ADA Pledge for individuals and groups to recommit to the landmark legislation.
Throughout the celebration, we reminded everyone to preserve, educate and celebrate the law that has allowed people with disabilities to have equal rights and become a part of the community as a whole. We have a lot to be proud of, but we must not forget what we fought for. During the celebrations, The ADA Legacy Project is seeking a recommitment from the community in regards to the full implementation of the ADA.
Join us in helping get 2,500 signatures on the recommitment of the ADA. Sign the ADA Pledge, adaanniversary.org/pledgeon
Pledge to Recommit to Full Implementation of the ADA
On July 26, 1990, President George H.W. Bush signed into law the Americans with Disabilities Act (ADA) to ensure the civil rights of people with disabilities. This legislation established a clear and comprehensive national mandate for the elimination of discrimination against individuals with disabilities.
On July 26, 2015, we will celebrate the 25th anniversary of the signing of the ADA. The ADA has expanded opportunities for Americans with disabilities by reducing barriers and changing perceptions, and increasing full participation in community life. However, the full promise of the ADA will only be reached if we remain committed to continue our efforts to fully implement the ADA.
On the 25th anniversary of the Americans with Disabilities Act, I will celebrate and recognize the progress that has been made by reaffirming the principles of equality and inclusion and recommitting my efforts to reach full ADA compliance.
NOW THEREFORE, I (name), ___________________
______________________________ do hereby reaffirm that I will continue to work toward full ADA compliance.
You Get Proud by Practicing
by Laura Hershey
If you are not proud
For who you are, for what you say, for how you look;
If every time you stop
To think of yourself, you do not see yourself glowing
With golden light; do not, therefore, give up on yourself.
You can get proud.
You do not need
A better body, a purer spirit, or a Ph.D.
To be proud.
You do not need
A lot of money, a handsome boyfriend, or a nice car.
You do not need
To be able to walk, or see, or hear,
Or use big, complicated words,
Or do any of those things that you just can't do
To be proud. A caseworker
Cannot make you proud,
Or a doctor.
You only need more practice.
You get proud by practicing.
There are many many ways to get proud.
You can try riding a horse, or skiing on one leg,
Or playing guitar,
And do well or not so well,
And be glad you tried
Either way.
You can show
Something you've made
To someone you respect
And be happy with it no matter
What they say.
You can say
What you think, though you know
Other people do not think the same way, and you can
keep saying it, even if they tell you
You are crazy.
You can add your voice
All night to the voices
Of a hundred and fifty others
In a circle
Around a jailhouse
Where your brothers and sisters are being held
For blocking buses with no lifts,
Or you can be one of the ones
Inside the jailhouse,
Knowing of the circle outside.
You can speak your love
To a friend without fear.
You can find someone who will listen to you
Without judging you or doubting you or being
Afraid of you
And let you hear yourself perhaps
For the very first time.
These are all ways
Of getting proud.
None of them
Are easy, but all of them
Are possible. You can do all of these things,
Or just one of them again and again.
You get proud
By practicing.
Power makes you proud, and power
Comes in many fine forms
Supple and rich as butterfly wings.
It is music
when you practice opening your mouth
And liking what you hear
Because it is the sound of your own
True voice.
It is sunlight
When you practice seeing
Strength and beauty in everyone,
Including yourself.
It is dance
when you practice knowing
That what you do
And the way you do it
Is the right way for you
And cannot be called wrong.
All these hold
More power than weapons or money
Or lies.
All these practices bring power, and power
Makes you proud.
You get proud
By practicing.
Remember, you weren't the one
Who made you ashamed,
But you are the one
Who can make you proud.
Just practice,
Practice until you get proud,
and once you are proud,
Keep practicing so you won't forget.
You get proud
By practicing.
© www.laurahershey.com
Mark Johnson is the director of advocacy for the Shepherd Center, the top spinal cord & brain injury rehabilitation hospital in the nation. Johnson also serves as the council chair for The ADA Legacy Project.
Tags: Making a Difference