A Recap of the 2015 Legislative Session
As this article goes to print, there are still two legislative days left until the cries of "Sine Die," the official end of the legislative session. This is the first time in a few years that the final day did not occur before April Fool's Day. In fact, the 2015 session will end almost two weeks after last year's session. Although only two days remain, there are still several issues that are unresolved, including the final outcome of the FY 2016 budget.
Please continue reading to learn some highlights of what happened in the 2015 General Assembly and what advocates are working toward. Note that the information is current as of this issue's print deadline, so please be sure to go to www.gcdd.org and click on "Public Policy" to read the final legislative wrap-up edition (Issue 8) of GCDD's newsletter Public Policy for the People for the final outcome of the budget and other highlights.
FY 2016 Budget
A quick overview: This is the second year since the recession hit that state agencies were not asked to reduce their budgets. For the fourth year in a row, Georgia's economy has shown modest growth. The total budget for FY 2016 is $21.8 billion state dollars, and since Georgia operates with a balanced budget approach, any funds that are added in one area must be taken away from somewhere else. Major funding priorities of this budget were education and transportation. Two of the many controversial issues heavily debated were whether or not non-certified, part-time Georgia school employees, such as school bus drivers, can remain eligible for the State Health Benefit Plan as well as a proposed excise tax (for transportation).
Governor Nathan Deal also added to the state's "Rainy Day" fund because the actual revenue was greater than what had been anticipated. Just as in recent years' budgets, the 2016 budget essentially provides small measures of relief.
GCDD Advocacy Days
The FY 2015 budget was the final year in which the Georgia state budget had a prescribed number of waivers required by the Department of Justice Settlement Agreement, which largely focused on individuals leaving institutional settings. Further, since the Governor did not include any of the Unlock the Waiting Lists! asks that focus on addressing needs of individuals with disabilities needing services in their communities within his budget recommendations, this made our legislative advocacy, alongside our grassroots advocates, all the more critical. And advocate we did!
GCDD held five separate advocacy days leading up to our annual Disability Day at the Capitol: We Need Waivers; ICWP Raise the Rate Day; Kids Need Real Homes, Not Nursing Homes Day; Employment First Day; and Youth Day. These advocacy days were a huge success! Almost 200 attendees participated in our advocacy days, and many spoke of being able to find their voice for the first time. Furthermore, legislators learned about issues facing Georgians with disabilities. Keep reading to see the fruits of our labor.
Unlock the Waiting Lists! Campaign
The Unlock the Waiting Lists! Campaign focused on a small number of key additions to the budget. One of these key issues was to address the impossibly low Medicaid reimbursement rate of the Independent Care Waiver Program (ICWP). ICWP, allows young and middle-aged adults with significant physical disabilities or Traumatic Brain Injuries to live in the community instead of nursing facilities. Currently, the state Medicaid reimbursement rate for ICWP Personal Support is between $11 and $15 an hour, making it by far the lowest reimbursed Medicaid waiver in Georgia. After a home health agency takes their cut, working caregivers can get as little as $8 an hour. This low rate makes it almost impossible to find qualified caregivers. Further, it endangers the lives of Georgians who receive ICWP and increases the likelihood that they will suffer abuse at the hands of poor caregivers. Likewise, it causes waiver recipients or their family members to miss valuable work time due to caregiver issues.
The House put in a $.50/hour increase for Personal Support Services for ICWP, and the Senate put in an additional $.50/ hour for a total increase of $1/hour with language that the increase must be directed toward the direct support professionals (those working caregivers providing the direct care to individuals with disabilities). We hope that we keep the full $1 per hour increase in the final budget, but the final outcome is not known as of print time.
Another major issue that Unlock tackled was the enormous waiting list of over 7,500 for the NOW/COMP waivers. If you are a Georgian with significant developmental disabilities, you have three choices. One is to spend your life in a facility, like a private intermediate care facility or a nursing home, and your second choice is to get a NOW or COMP waiver. These waivers are only available to people whose disabilities are significant enough to qualify for ongoing care in a facility, and provide services and supports that allow people with developmental disabilities to live in real homes in their own communities. Virtually everyone would choose a life with a waiver rather than be stuck in a facility.
But there's a problem – just because you qualify for a waiver doesn't mean that you get one. And that's the third choice … to hang on as best you can, wait, hope and pray for a waiver. The House put in 75 new NOW/COMP waivers, and the Senate agreed. This agreement lets us be hopeful that these slots will remain in the final budget, but as stated before, the final outcome is not yet known as of print time.
Below is a summary of these Unlock the Waiting Lists! requests and what happened in the Georgia General Assembly: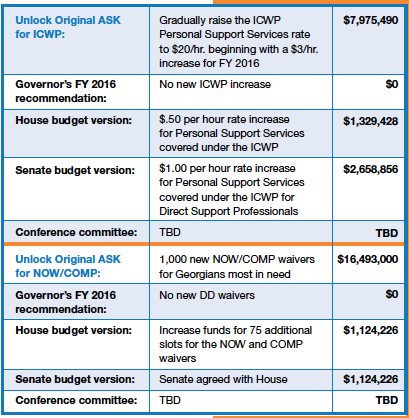 Employment First Policy
The Employment First Advocacy Day had the largest number of attendees of all the advocacy days. We are so excited about the momentum that the Employment First advocacy has gained and have received so many positive comments from legislators.
"Employment First" means that employment should be the first and preferred option for all people, regardless of their disability. Under an Employment First policy, employment in the general workforce at or above minimum wage is the first and preferred option for all working age citizens with disabilities. Not only would it benefit Georgians with disabilities who could realize their goals, but also family members of people with disabilities who would have peace of mind for their loved ones, Georgia employers who would gain excellent employees, and Georgia taxpayers who would gain more taxpaying citizens.
GCDD wishes to thank Rep. Katie Dempsey (R-District 13) for her leadership on Employment First. We thank her and all her co-sponsors for House Resolution 642, which will initiate a study committee on the benefits of an Employment First policy and Post-Secondary Education options for Georgians with disabilities. HR 642 PASSED and we anticipate a study committee will be appointed sometime after session ends. We are exploring ways for members of the Georgia State Senate to be involved as well.
Inclusive Post-Secondary Employment
On Monday, March 9, the Georgia Inclusive Post-Secondary Education Consortium (www.gaipsec.org) along with students and staff from various inclusive post-secondary education (IPSE) programs in Georgia gathered at the State Capitol to thank the Georgia General Assembly for its appropriations support in the Georgia state budget over the past two years. Senator Butch Miller (R-District 49) and several co-sponsors introduced
Senate Resolution 276 to commend the Georgia Inclusive Post-Secondary Education Consortium for its work to create opportunities for students with intellectual and developmental disabilities in Georgia who have historically not had access to postsecondary education opportunities.
Legislation
In order to pass, a piece of legislation must have passed both chambers in identical form by midnight on Sine Die. Governor Deal has 40 days to sign or veto bills that were passed. If he does not act on a bill within this time period, the bill becomes law. Since the 2015 session is the first year of a two-year cycle of the Georgia General Assembly, bills that do not make it this year will still be alive for consideration in 2016.
Haleigh's Hope Act (medical cannabis)/House Bill 1 – PASSED
This legislation sponsored by Rep. Allen Peake (R-District 141) allows the limited use of medical cannabis oil (no more than 5% or possess no more than 20 fluid oz. of tetrahydrocannabinol (THC), an active ingredient) to treat eight disorders: cancer, Crohn's disease, Lou Gehrig's disease (ALS), mitochondrial disease, multiple sclerosis, Parkinson's disease, seizure disorders and sickle cell disease. Before Georgians can begin using CBD oil the state will still have to set up the Low THC Oil Patient Registry. The Department of Public Health is charged with establishing procedures, rules and regulations to assist doctors in making the certifications that a patient has a qualifying condition.
Family Care Act (HB 92 and SB 242)
This legislation would allow individuals whose employers provide sick days the option of using up to five sick days to care for family members. The lobbying efforts for this are led by the Georgia Job Family Collaborative
(www.gaworkingfamilies.org). HB 92, sponsored by Rep. Tommy Benton (R-District 31) stalled in the House Industry & Labor Committee. Within days of the end of session, a new bill, SB 242, was dropped by lead sponsor Senator Mike Williams (R-District 27). We will follow this bill closely in the 2016 legislative session to see what happens.
HB 86 – PASSED
This legislation transfers the Division of Aging Services (DAS) from the Department of Human Services (DHS) to the Georgia Adult and Aging Services Agency.
Ava's Law (SB 1 to be attached to HB 429)
It was announced in a press conference within days of the end of session that SB 1, the autism insurance bill known as Ava's Law, sponsored by Senator Charlie Bethel (R-District 54), would be attached to HB 429 with some modifications. Prior to attaching the autism bill language, HB 429, sponsored by Rep. Ron Stephens (R-District 164), prevents health benefit plans from restricting coverage for prescribed treatment based upon an insured's diagnosis with a terminal condition.
This announcement comes after an agreement was reached between the chairmen of the House and Senate insurance committees that will allow some children with autism to be covered by insurance. Both chairmen expect that the combined bill will easily pass the Senate, and the modified bill should be accepted by the House.
Many disability advocates are passionate supporters of Ava's Law and the therapies it would cover, but there are some advocates who object to the bill, particularly its inclusion of Applied Behavior Analysis therapy.
While we remain incredibly grateful for the strides we made, we have only begun to scratch the surface of the real work that needs to be done in Georgia to improve the lives of people with disabilities. So please join our advocacy network to see how you can be involved!
GCDD Needs YOU –Join our Advocacy Network TODAY! Go to www.gcdd.org, scroll down to the bottom, and click on the green button "Join our Advocacy Network" and follow the instructions.
Tags: Advocacy, Making a Difference