EXPERT UPDATE: The New Rules and The Waiting Lists
By Dave Zilles
Individuals with disabilities want to live and have the same rights as those without a disability. The Americans with Disabilities Act defines an individual with a disability as "a person who has a physical or mental impairment that substantially limits one or more major life activities, a person who has a history or record of such an impairment, or a person who is perceived by others as having such impairment." In reality, all of us might eventually have a disability. Everyone wants to be safe and healthy, have a place to live and have family and friends as well as a meaningful day, which could include employment or activities in the community.
In Georgia, according to the recently released 2014 Annual Disability Statistics Compendium, the total population of Georgia is 9,800,887 with 12.4% (1,211,831) having a disability. They define a disability as having a difficulty with; hearing, cognitive, ambulatory, self-care and/or independent living. Many of these individuals are living by themselves and receiving daily care (if needed) by a family member or friends. Many older adults are taking care of their children with disabilities as they themselves age and are not able to provide the support.
What is the answer if you are no longer able to get the services and supports you need to live a normal and healthy life? One alternative that is available is to enter institutions like a nursing home for your 24-hour care. The preferred choice of many is to continue to live in their own home and receive the necessary services and supports they need based on their individual person-centered care plans in the home.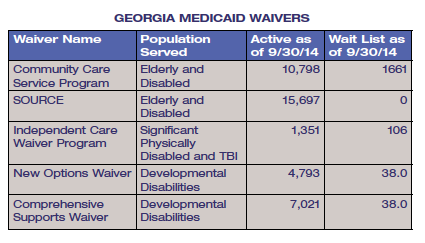 In order to receive these services in your own home, you need to pay for them from your financial resources or be on Medicaid and request to receive a Home and Community-Based Waiver. These waivers provide a variety of services that include case management, personal care support for activities of daily living, residential settings, day services and supported employment.

Georgia currently offers five waivers for the Elderly and Disabled, people with developmental disabilities and the significant physical disabilities, which include those with Traumatic Brain Injury (TBI). There are currently 39,660 individuals being served by these waivers with 9,145 on a waiting list.

Home and Community-Based Services
The Centers for Medicare and Medicaid Services (CMS) released their final rule on Home and Community-Based Service (HCBS) Settings on January 10, 2014, which was passed down as an official mandate in March.
This rule strengthens the requirements for personal autonomy, community integration and choice in home and community-based services funded through Medicaid. It makes clear that the requirements apply to both residential and non-residential settings and sets specific and more stringent rules for provider-owned or controlled residential settings. It requires an independent assessment of individual needs and strengths and a person-centered planning process to ensure that individuals receive the services they need in a manner they prefer.
The final rule creates a single definition of a home and community-based setting for Medicaid waivers. The rule describes home and community-based settings by being more integrated in the greater community and focused on the individual's choosing.
To continue advocating for a more integrated community and ensure the best quality of life for people with disabilities, the new rule also determined what a setting is not.
For provider-owned or controlled residential settings, the rule states the following additional requirements (that can only be modified using a process described below):
• Units or rooms must be a specific physical place, the kind that could be owned or rented in a typical landlord-tenant agreement
• Individuals have privacy in their living or sleeping units, meaning that
- Units have lockable doors and entrances, with only appropriate staff having keys to doors
- Individuals who share rooms have a choice of roommate in that setting
- Individuals can furnish and decorate their own units within the limits of the lease or agreement
• Individuals control their own schedules, including access to food at any time
• Individuals can have visitors at any time
• The setting is physically accessible to the individual
The rule states that the following are never home and community-based settings:
• Nursing facilities
• Institutions for mental diseases
• Intermediate care facilities for people with intellectual disabilities
• Hospitals
Why Is This Important? Why Should We Care?
As parents or self-advocates we need to understand what these new rules mean for our loved ones. This new rule is all about choice with a focus on what the individual needs and how they want to live their lives in the most integrated community setting.
For the first time, Georgia is seriously looking at all the current HCBS services and making an assessment of the current providers to see if they meet the objectives of the new rule. We want to see the best for our children – as parents, not just as caregivers or advocates. By moving the settings to be more people-centered, we can see our children succeed by contributing their talents in a more integrated community.
What can I do?
Our voices need to be heard. We represent almost 40,000 individuals receiving services as well as the 9,000 on the Medicaid Waiver Waiting Lists. Get involved: tell your story to your legislator. If you think your loved one is experiencing a service or support that does not meet these rules, let us know at .
There will be more updates in the future and you should look to GCDD (www.GCDD.org) and Unlock the Waiting Lists! (www.UnlockTheWaitingLists.com) to keep you informed.
Dave Zilles is a parent advocate and a public policy consultant for Unlock the Waiting Lists!
Tags: Making a Difference