Real Communities: The Ripple Effect: Basmat Ahmed and Clarkston Community Leaders Share the Wealth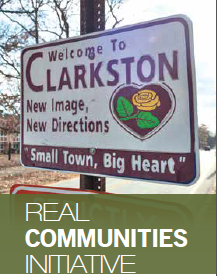 After various events, Basmat Ahmed returned to the place that she called her first home in the United States. She was 18 years old when Ahmed and her family came to Georgia, and began their life in the US at Jubilee Partners in Comer, GA in 2006.
Started in 1980, Jubilee is an on-site ministry that has helped over 3,000 refugees from over 30 countries become acclimated to the US by providing comfortable homes, intensive English classes and other important cultural information to families and individuals who resettle in the US. "When we left Jubilee, I knew I'd be back one day to help the place I called my first home," said Ahmed, who is originally from Sudan.
In 2011, she started her work as a community builder with the Clarkston International Community Garden, a project of Global Growers Network, in partnership with GCDD's Real Communities Initiative. Ahmed brought to her work a background in community organizing and the experience of having a brother with a developmental disability. This experience, along with her work with Real Communities, brought the 26-year-old awareness for inclusion and finding ways to make everyone, people with and without disabilities, a part of the community.
Then, she and other grassroots leaders became focused on the bigger picture in the city, focusing on building connections across cultures and sharing opportunities by using community assets to support each other through exciting projects. Clarkston is on the south end of DeKalb County and is one of the most diverse areas in the State. It is home to 60 different ethnicities and 26 different languages.

"Clarkston is very rich, and we should share the wealth," said Ahmed. "There are a lot of community leaders but how do we bring everyone together? How do we continue forming inclusive communities?"

Diverse community leaders in the area and from organizations such as Women Watch Afrika, the Clarkston Interfaith Group, Clarkston Development Foundation, the City of Clarkston, the Avalon Ambassador, and GCDD – as well as individuals who live in Clarkston – came together and formed the Clarkston Relationship Builders Group (CRBG), and its mission is to create a relaxed and safe environment where people understand and value each other, giving voice, visibility and support to people with different abilities through relationship building.
Members of the Clarkston community, families and GCDD went to Jubilee to tour the facilities. The group noticed that the 35-year-old facility wasn't accessible for people with disabilities. "The facility didn't have wheelchair ramps or accessible restrooms, and our group could contribute resources to make Jubilee more accessible for its residents," Ahmed said. By partnering with local companies and organizations, they hope to have a working project established soon with Jubilee.
"With my experience through Real Communities, I didn't go back alone," said Ahmed. I went back with a group of people whose mission is to make a difference and build strong community relationships."
To volunteer with the Clarkston Relationship Builders Group, contact Basmat Ahmed at
BASMAT AHMED is a community builder and helped found the Clarkston Relationship Builders Group (CRBG).
Tags: Making a Difference, Real Communities