Employment First Begins a Worthwhile Path to Success
People work for many reasons. For some, it provides a sense of self or meaning in one's life; for others it is the social context of meeting and associating with others in a common effort or goal; and for still others, it is the means by which to gain status, either personal or economic, which allows for choice and discretion in determining one's "life quality." These are the words with which we open our website, www.employmentfirstgeorgia.org, and they are core beliefs behind the idea of Employment First.
Employment First is the idea that employment in the general workforce is the first and preferred outcome for working age citizens with disabilities. Under an Employment First policy, publicly funded services for citizens with disabilities emphasize integrated employment in the community at or above minimum wage as the primary option. The reality is that virtually everyone with a disability is able to work with support in the right situation. Employment First is not "Employment Only" – it doesn't take away choice or mandate that people must go to work. Rather, a true Employment First culture seeks to identify the gifts, talents and goals of all working age citizens with disabilities, and to support each individual in a career path that fits those gifts, talents and goals.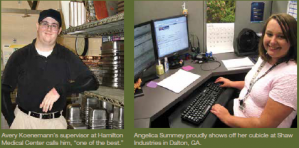 That may not be an easy path, but it is a worthwhile one. Just ask Angelica Summey, who is proud to be an employee at Shaw Industries in Dalton, GA. Today, you can find Summey in her cubicle, speaking with customers about orders and shipping. But a few years ago, her career path was far from clear. As a high schooler, she learned valuable skills through GCDD's Project SEARCH internship program at Hamilton Medical Center, but none of the hospital rotations Summey experienced were the right fit for her. So, she tried a job in retail, but quickly discovered that wasn't her path either: "There were too many distractions," she said.
A second internship rotation connected Summey with Shaw Industries. And when Summey got the chance to work in the inventory department, she and her support team realized that the focused environment was a match for her goal-oriented style. Outside of work, Summey's employment at Shaw has helped her fulfill another type of goal – purchasing her own car – and she's planning to move into her own partment with a friend. When asked how her job makes her feel, Summey simply says, "I can stand on my own two feet."
Across town, Avery Koenemann takes a philosophical approach. As a full-time employee on the food services staff of Hamilton Medical Center, Koenemann appreciates that he is part of a team supporting patients and families during some of the most difficult times of their lives. He explains, "I know I'm helping someone to heal. It's those small things that make a big impact. One person going the extra mile shows that they care about that person. Patients really don't want to be here, so I try to go that extra mile."

Dollars and Sense

According to the well-respected survey of individuals with disabilities, the National Core Indicators, the majority of Georgians with developmental disabilities want to work in their communities like Summey and Koenemann, but only 14% of them do. One of the major
challenges lies in Georgia's current funding system. Under the Department of Behavioral Health and Developmental Disabilities (DBHDD), providers can be reimbursed up to $10,500 for supporting a person at a job in the community, but they can get more – up to $17,500 annually – for supporting a person in a sheltered workshop. Sheltered workshops typically employ people with disabilities to do repetitive work at or below minimum wage.
Financially speaking, that incentive is perfectly backwards. In fact, Georgia taxpayers should get a positive return on dollars invested when individuals with disabilities work in the community, not sheltered workshops. Researcher Robert Cimera, PhD, conducts policy research in the hopes of increasing the number of people with disabilities working in the community while lowering the cost of their services to taxpayers. Cimera looked at the cost effectiveness of employment services provided by vocational rehabilitation agencies across all 50 states to individuals with intellectual and developmental disabilities. In Georgia, he found that taxpayers reaped $1.61 in benefits for every $1 put into supporting individuals with disabilities to work in their communities.

And not only is our funding incentive backwards. With the waiting list for the New Options Waiver and Comprehensive Supports Waiver programs hovering around 7,000 individuals, many Georgians who want to work aren't getting the support they need to do so. In
a recent Unlock the Waiting Lists! survey that reached hundreds of Georgians in the disability community, jobs, jobs and more jobs came up over and over again. Not surprisingly, the greatest identified needs for people with disabilities were more and better quality services and supports and more employment opportunities.
As one parent put it, "Once a student has graduated from high school there are no guarantees on what services will be available. They need services and support just as a student with no disabilities is given. Please unlock the waiting list. A parent like myself will be forced to quit my job in order to provide my child with support. I need my job."
This is a concern that we at GCDD hear time and time again as we connect with people across the State – people need supports, and they want jobs. This is an especially critical need for students who are finishing high school. They want to work, but with no employment supports readily available and transportation a major challenge, today's promising young students become tomorrow's couch kids.
So if people want real jobs and it makes good financial sense to support them in those jobs, what are we waiting for? The time is ripe to make Employment First the reality in Georgia.
Envisioning an Employment First Georgia
What will a Georgia in which employment is truly first look and feel like? It starts with two things – a presumption of competence and an agreement of principle. We know that all individuals with disabilities have valuable gifts to contribute.
Under Employment First, we presume both as a disability community and as a greater society that virtually everyone can work in the right situation with the right supports. For Employment First to truly work, we cannot start making exceptions and drawing lines. We can't say, "Janie can work, but Peter can't." If someone is marked "unemployable" and everyone around them starts treating them as such – and worse yet, if they start believing it themselves – there's no room for growth in an environment like that. But the reality is we don't know how to fully measure human potential. And if we prioritize Employment First and commit to its principles, potential has the nourishment to take root and bloom.
In an Employment First Georgia, all children, regardless of their level of disability, will be encouraged to dream, to explore and prepare for their careers. Parents and teachers will have quality tools with which to support their sons, daughters and students – tools like student-led Individualized Education Programs (IEP) and self-determination curriculum. Internships will happen early and often, and preparation for life after high school will be well underway by ninth grade. It's not enough to finish high school. High school is supposed to lead to something – a job, access to higher education and ultimately a career. The level of expectation will be raised and supported across the board.
The career and work options supported by our system will be readily available, varied and flexible. Most of the Georgians currently accessing employment supports receive supported employment because it is the service most widely available. But supported employment, which involves supporting an individual in an existing job, is only one path to integrated employment. There is customized employment, which is the creation of a job for a specific individual based on their talents and an unmet need in the business community.
Customized employment is generally preceded by job discovery taking a more holistic, in-depth look at a person than a traditional vocational evaluation. There is also self-employment, in which a person utilizes a talent or skill to support their own enterprise. Employment situations evolve and grow throughout a person's lifetime, and a good Employment First system recognizes this truth and is designed accordingly. There has to be room for creativity, flexibility and individuality.
For an adult receiving segregated employment or day services – or not receiving day services at all –Employment First is about education and choice. Adults in these situations will get the opportunity to learn about integrated employment, and those who are interested will get the support they need to explore employment.
For Employment First to thrive, we have to get smarter and more creative about transportation. Especially in areas without well-developed public transportation systems, people need a way to get to work. Going back to creativity and flexibility –we could build a transportation budget as needed into each individual's employment services. We could create employment by providing would-be drivers with accessible vehicles, and then giving them the freedom to design their own routes around the needs of the community with extra incentives for transporting others to and from work. There are worlds of advantage to be gained from shared transportation, and with some innovation surely we can harness that spirit to get Georgians with disabilities where they need to go.
For all of this to happen, we need to make a serious ongoing commitment to provider training and capacity building. Something we hear from folks in various regions across the State is that they would like to work but can't find a provider to support them. And something
we hear from many providers is that they're interested in offering employment services but aren't sure how. As we shift Georgia to a State in which employment is truly the first option, providers need quality, ongoing hands-on training.
From a policy standpoint, making this vision a reality entails several key changes. Employment policies and procedures need to work together across all the key agencies – the DBHDD, the Department of Education, Georgia Vocational Rehabilitation Agency, and the state Medicaid agency, Department of Community Health. Funding needs to incentivize integrated employment and reward positive employment outcomes. Agencies need to engage in data sharing, braided funding, joint strategic planning and a shared commitment to Employment First.
Which brings us back where we started – the need to presume competence and agree on principle that Employment First is where we want to and must go.
Ultimately, Employment First is about the value of people and the value of work, the value of work in peoples' lives, and all the good things that can happen when a person is learning and growing in a career path that's right for them. Those of us who are blessed to have that kind of job know the unique feeling of satisfaction that comes from a hard day's work or the completion of a successful project – and the deep fulfillment that comes from the chance to serve and connect with others through our work.
Paula Clark, longtime employee at the Rehabilitation Center of South Georgia, sums it up: "It's about the people. I just love it."
D'ARCY ROBB is the former public policy director for Georgia Council on Developmental Disabilities.
Tags: Making a Difference, employment first