Real Communities: Quilts Display Gifts and Talents of Congregation
On a 26-by-26 wall at Centenary United Methodist Church that was once bare now hang handcrafted quilts designed and made by Dottie Adams, GCDD's Individual and Family Supports Director.
GCDD's Real Communities Initiative, Adams got close to the people that make up the congregation and their work in the Macon community. A project she took on all on her own, Adams designed six quilts and eight small banners that best represented the congregation.
"It's a very diverse group of people and I just wanted to tell their story through something I already love to do," Adams said. With various textures, colors and patterns, the quilts exemplify the work that Real Communities, along with using personal gifts, is doing to help people achieve a better sense of self and connection to community.

Located in College Hill Corridor in downtown Macon, GA, Centenary United Methodist Church was founded in 1884. Once a vibrant congregation, over time and with changes in the neighborhood, the congregation's numbers dwindled. It became clear that both the church and neighborhood would not survive unless major changes were made. In 2005, the church began to work actively to reach out to and engage the surrounding neighborhood. The neighborhood reached back and saved the church.

One way this has happened is through the Roving Listener project, where youth with disabilities worked alongside youth without disabilities to participate in deep listening in the Beall's Hill, Huegenin Heights and Pleasant Hill neighborhoods of Macon during the summers of 2012 and 2013. Participants listened for gifts, skills and dreams of older and newer residents of this changing neighborhood. The Roving Listener project was such a huge success that the community opted to continue roving one day a month and host monthly community dinners throughout the year. This summer, the youth are using the information they collected to facilitate community dinners, encouraging neighbors to come together around common interests by offering mini grants for small community projects.

Bruce Anderson, founder of Community Activators, has been working with Centenary United Methodist Church to further identify and utilize church members' core gifts for the past year. "It was about engaging people in the congregation to find and use their gifts. It makes a profound difference in the way someone sees themself," said Anderson.

By engaging people in the workshops and all-day trainings, "we discovered a lot of gifts in our community that are hidden and underutilized," said Stacey Harwell. "We are also realizing that we are as community all more similar than different." These efforts and more have been captured in Adams' quilts which she started working on in November 2013. They display roving listening, the community garden, human rights, friendships, classes for ESOL (English to Speakers of Other Languages), Centenary School of Creative Education and more to allow the story of Centenary's work to be displayed artistically.

Smaller banners with "Thank You" and "You're Welcome" are quilted in eight different languages along with images to represent different talents. These pieces adorn dynamic and colorful banners that represent the inclusive community that Centenary is building through its work. Two larger quilts, measuring 13-feet wide that can be spread across two queen-sized beds, display gifts that Roving Listening, Core Gift interviews, and the programs through Centenary are discovering about its community.

Adams hopes that those who see them are able to see their personal story within the fabrics.

She says, "There are different ways people share their talents, and I am hoping they have a chance to see themselves in some way through the quilting."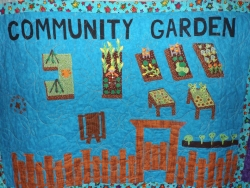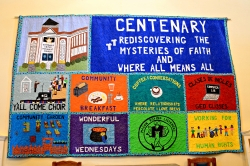 Tags: Making a Difference, Real Communities