Assistive Technology Paves the Way for Disabilities
Technology is a way of life now. The evolution of the Internet and proliferation of devices have vastly changed the way we interact and communicate over the past decade. Groundbreaking technological advancements that assist people with disabilities with daily living and work are finally keeping up with the mainstream.
Assistive Technology Industry Association, is any item, piece of equipment, software or product system that is used to increase, maintain or improve the functional capabilities of people with disabilities. Liz Persaud works for Tools for Life, an initiative that is part of Georgia's Assistive Technology Act Program. It is dedicated to increasing access to and acquisition of AT devices and services for Georgians of all ages and disabilities so they can live, learn, work and play independently and with greater freedom in communities of their choice.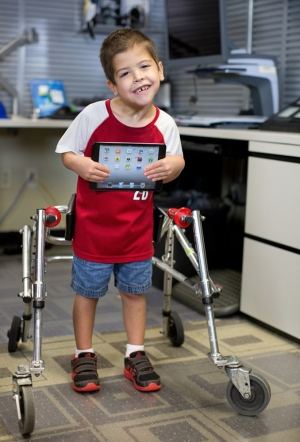 The purpose of the initiative is to provide technical assistance and develop webinars, in-person training, partnerships and collaborations for the State of Georgia. It includes an AT evaluation service called TechMatch which helps individuals find the right technology for their situation. "It varies from low tech to high tech devices – anything that can make acccess to everyday items and information easier," said Persaud, who lives with muscular dystrophy.

The range of low technology to high technology devices includes magnifiers; manual wheelchairs; calculators with audio outputs; computer software with screen readers and spell-check; and text-to-speech applications; and power wheelchairs that elevate, tilt and recline. At the Center for the Visually Impaired's VisAbility Store, many low to middle tech items such as reading machines and color identifiers are available to people with disabilities that assist people with everyday routines.

Under the Georgia Department of Education, the Georgia Project for Assistive Technology (GPAT) supports local school systems, colleges and universities to provide AT devices and services to students with disabilities. GPAT was not only working on adaptive and AT in hardware or software, but also equipment. And then, the program expanded to include colleges and universities in 2005.

"It started as a distributive training for colleges and universities, but then expanded to conversion of supplementary materials and textbooks to become more accessible for students with disabilities," said Christopher Lee, PhD, director of AMAC Accessibility Solutions and Research Center at the Georgia Institute of Technology.

Formerly the Alternative Media Access Center, AMAC came out of the University System of Georgia in 2005 to help post-secondary disability services offices provide complete, timely and efficient accommodations to students with print disabilities. AMAC has since grown to include development of technology along with training and technical assistance. It also includes AccessGA, formerly the Access IT, a joint initiative of the Georgia State ADA Coordinator's Office, AMAC and the Georgia Technology Authority. Its purpose is to support Georgia state agencies with Information and Communication Technology accessibility, promoting equal and timely access for employees and customers with a wide range of disabilities.

Development and Affordability

Development of voice-recognition software and predictable text in smartphones has revolutionized mainstream technology, and in turn, assistive technology as well. High tech devices and technology development such as voiceover and augmentative communication devices enable people with disabilities to communicate effectively.

Persaud utilizes 25 to 30 pieces of assistive technology in her daily life. Ranging from low tech to high tech, the ability of adaptive technology has allowed Persaud to live and maintain an independent life. "I use my voice for everything," added Persaud.

Muscular dystrophy causes a drastic drop in energy, and as these devices help Persaud navigate her daily life, they also minimize her use of energy. TextHelp is a predictive text software that allows Persaud to minimize keystrokes thus saving her energy. Accessible features like voiceovers and spellcheck applications like Ginger, a software that removes language barriers between people, prides itself in "reducing the stress associated with writing by ensuring grammatically perfect, typo-free text bursting with expression and meaning," according to Ginger's website.

"These are integrated and robust, and although they were created with the mainstream market, they are inadvertently becoming learning aids and useful for people with disabilities," added Lee.

However, technology, of any kind, can be financially daunting. The more innovative it is, the more it costs until it's demanded enough in mainstream markets to lower costs. About 10 years ago, when Rebecca Brightwell entered the AT field, she was shocked at how expensive this technology was and how monetarily inaccessible it was to families, children, students and adults who rely on it.

"There is definitely a need for assistive technology, but it is financially straining," said Brightwell, associate director of the Institute on Human Development and Disability at University of Georgia. She focuses on the area of AT.

Dragon, the most popular speech-recognition software, was developed over 20 years ago. When it first came into the market, it had an exorbitant cost of $25,000. Years later, the rising demand finally brought the prices to a reasonable $150-$700. The software is also available as a mobile application for smartphones. Brightwell also focuses on making assistive technology at a low cost.

"I realized that people wanted to learn and by finding simple ways to empower people to think creatively, we can make accessible, universal designs that can help people," she added. Brightwell engaged students to develop basic switches that could help a person who hadn't developed motor skills and who found it hard to turn a doorknob. Utilizing items like a CD case, stereo wire and some tape, she can make a switch in 30 minutes and enhance someone's way of life.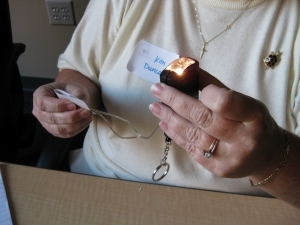 "These cost you $80, at most, and there are many small and simple ways that can lead someone towards independent living," Brightwell said.

As today's world becomes more technology driven, there is a growing segment of technology companies that are recognizing AT as a viable market. Ongoing development will result in greater accessibility and lower costs.

Section 508

It's not just technology devices that are becoming prevalent in our modern society. In addition to technology devices, there is greater focus on making the Internet more accessible. According to Section 508 of the Rehabilitation Act of 1973, the provision requires that Federal agencies' electronic and information technology is accessible to people with disabilities. The Information Technology Accessibility & Workforce Division, in the US General Services Administration's Office of Governmentwide Policy, has been charged with the task of educating federal employees and building the infrastructure necessary to support Section 508 implementation.

Although it works at the federal level, "the rule for the private sector lies within the Americans with Disabilities Act and the Department of Justice issued a ruling that it does apply to the states as well," said Arthur Murphy, PhD, and special project consultant with AMAC. Murphy specializes in user experience design and also served as a member of the committee responsible for drafting the US Section 508 Standards.

The Future of Technology

As we become more comfortable with voice recognition devices, speech-to-text applications and software, Lee talks about the future of technology.

"Robotics is the next step to help make everyone's life easier," said Lee. "The things you see on TV are now doable, and a couple of years ago they might have been a big deal. But as technology develops, robots will also become the norm and serve as an extension to the technology we already use. Over time, they are going to be more affordable as well."

Persaud agrees. "Robotics is exploding in the assistive technology field," she adds. At AMAC, she works with VGo, a tele-presence robot that allows Persaud to be present in the AMAC offices if she were to work from home.

From her Alpharetta home, she is able to connect with VGo and work at her offices at Georgia Tech. "This isn't like teleconferencing," she clarifies. "I, or anyone, can control the robot via telecommuting and be able to function and be productive at work as if I were physically there. I can go 'visit' my coworkers, sit-in on meetings and still be engaged in the office."

Ideas that were once out of the norm such as virtual reality and telepathy are also starting to be utilized to advance technology. For people who aren't verbal, "technology is advancing to be able to use brain waves to control objects or eye-gazes can be used to determine a selection," Brightwell adds.

Persaud also notes that recreational activities are getting the benefit of AT. Something as simple as a fishing rod that can be mounted to a wheelchair or bucket seats for those wanting to ski are just other ways that AT is allowing everyone to work, play and live in an inclusive community. These forms of technology are in prototype phases, but are being used to purposefully do something and are showing a lot of promise in terms of assistive technology. AMAC and similar groups are also focusing on technology that will benefit aging and wounded veterans.

By continuing to develop technology that focuses on large electronic print, speech-to-text, voiceover and now, robotics, the goal remains to promote independent living and inclusion in the community for people with and without disabilities.
To learn more about assistive technology and available resources, visit www.amacusg.org.
To learn more about AccessGA and its work in the State of Georgia, visit www.accessga.org.
by Devika Rao
Tags: Making a Difference